7 Artists to See at the Highmark Blue Shield Community Stage on Air Products Town Square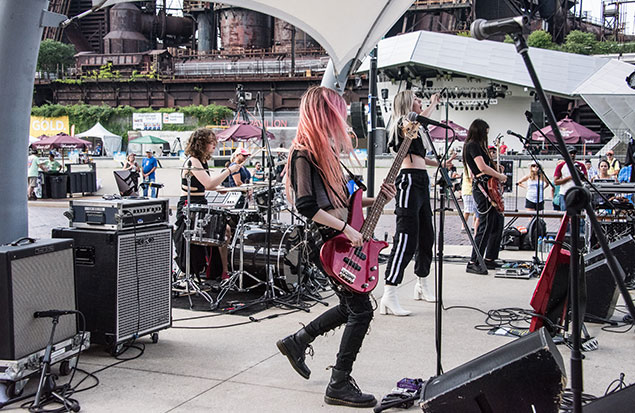 Written by Julie VanOsdol & Nia Marrow | Public Relations Interns
Sonic Blume
Saturday, August 6 @ 11 PM
Sonic Blume is composed of band members Max Connery (guitar/synths/vocals), Danny Murray (Drums) and Noah Sullivan (guitar/backup vocals). The band got its start in December of 2015 and is known for its "dreamy" sound with lively guitar melodies. The band was awarded the Asbury Music Award for Top Young Band (under 21) and nominated for song of the year and Best Local Album Release.
TIOGA

Friday, August 5 @ 11 PM
TIOGA is a Philadelphia-based indie rock/synth pop band that brings meaningful lyrics to their songs that are reminiscent of The Killers, Bleachers, and 1975. The quartet has most recently gained a new wave of recognition for its incredible single "I Put My Head Down". If you're looking for something edgy, but still want a catchy beat to dance to, you will not want to miss TIOGA.
Stella and the Voodoo Fish
Saturday, August 6 @ 2 PM
Stella and the Voodoo Fish are an exciting husband and wife-fronted rock music cover band from Pennsylvania. They describe themselves as playing the "I love this song!" type of rock covers, so the audience can have fun singing along to their favorite hits. These covers include Paramore, The Ramones, The Killers, and so many more. Stella and the Voodoo Fish are made up of Pam (vocals, percussion), JP (vocals, guitar), Chris S. (bass), Phil (lead guitar, vocals), Chris M. (drums, vocals), and Stefan (trumpet, keyboard, vocals).
Dylan Zangwill
Sunday, August 7 @ 4 PM

Most popularly known for his appearance as a contestant on season 16 of America's Got Talent, Dylan Zangwill is a 15-year-old singer and musician that is quickly rising to stardom from his roots in Pennsylvania. Zangwill is a rock n' roller by heart, creating a meaningful performance for audiences on three different instruments- guitar, piano, and Hammond, accompanied by his soulful voice.
haZy cosmic jive
Sunday, August 7 @ 2 PM
haZY cosmic jive is a professional Hawkes Bay cover band. They have performed at weddings, birthdays and corporate functions. The band's members include Kathryn (vocals/keyboard), Andrew (bass/vocals), Stephen (drums/vocals) and Joe (guitar vocals).
The BRUCE Show
Sunday, August 14 @ 2 PM
The BRUCE Show is a tribute to the influential Bruce Springsteen and the ensemble performs regularly in the New York and New Jersey areas. The show is comparable to an actual Bruce Springsteen performance and includes members Mike Fox (lead vocals/guitar), Rob Fox (lead guitar), Ed Courtney (bass), Frankie Schultz (drums), Bart Crum (saxophone) and Tom Hammer (keyboards).
Bastard Bearded Irishmen
Saturday, August 13 @ 11 PM
The Bastard Bearded Irishmen is a Pittsburgh-based Celtic rock n' roll band that always leaves their audience thrilled and energized. The band formed for the purpose of respectfully remembering those who have passed with an acceptance to move on, and their meaningful message has since shared the stage with The Rumjacks, Gogol Bordello, and more. The Bastard Bearded Irishmen are Jimmy Bastard (guitar, vocals), Sean-Paul Williams (bass, vocals), Dan Stocker (drums), Ryan Warmbrodt (guitar, vocals), Stephen Weiss (violin, vocals), and Jed Dixon (mandolin, vocals).