7 Artists to See at Wells Fargo Festplatz!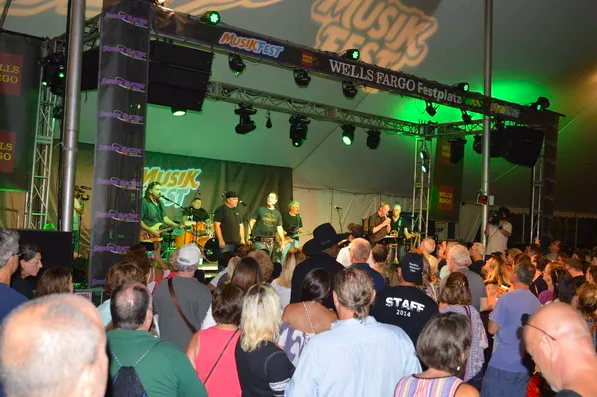 Written by Julie VanOsdol & Nia Marrow | Public Relations Interns
Go Go Gadjet
Tuesday, August 9 @ 6 PM
Go Go Gadjet is reinventing the music industry with its unique use of imagery to enhance the music experience and create its own specified sound. The band combines past and present styles of music together that will make you want to get up and dance! In 2017, Go Go Gadjet partnered with Coors Light to promote their debut single "Make You Feel Good" which has increased the band's popularity and they now have over 200,000 streams on Spotify.
The Amish Outlaws
Wednesday, August 10 @ 8:30 PM
Four out of the original six members of The Amish Outlaws were born and raised in Lancaster, Pennsylvania. The early stages of their lives were ruled by the strict Amish "code of conduct," before getting an opportunity to experience the outside world at 16. The Amish Outlaws are well known for jumping and gyrating on stage in their traditional Amish attire.
Strawberry Fields
Saturday, August 13 @ 8 PM
Strawberry Fields channels the legendary Beatles in respect to sound and fashion. The band takes the audience on a chronological journey starting in 1964 with classic songs from the Beatles. The band consists of members from the notable Broadway hit musical, Beatlemania. Strawberry Fields has performed around the country and world and currently holds the record for the longest-running Beatles show on Broadway.
Sofa Kings
Sunday, August 7 @ 8:00 PM
The Sofa Kings are a memorable and charismatic ten-piece band from Pennsylvania that cover all genres, including dance, music, motown, R&B, classic rock, and many others. The Sofa Kings are able to provide an exciting experience for all types of people with different tastes. In recent years, the Sofa Kings have competed in the WMGK House Band Competition, and achieved the winning title.
Garden State Radio
Friday, August 5 @ 8:30 PM
Through DJ mashups and medleys, Garden State Radio performs everyone's favorite throwback and modern hits. Enjoy their interactive concert experience and immersive light show that has been performed at many notable festivals, casinos, clubs, and more throughout the Garden State of New Jersey. Garden State Radio's performance is brought to you by Hannah (lead vocalist), Mike (guitar, bass, vocals), Ryan (drums, electronics), and Shawn (bass, guitar, vocals).
The Aardvarks
Saturday, August 6 @ 8:00 PM
FROM BILL WITHERS TO THE ROLLING STONES, KOOL AND THE GANG TO BLONDIE, THERE'S NO ARTIST, NO BAND, AND NO GENRE UNTOUCHABLE TO THE AARDVARKS.
There's only one requirement if this five-piece is going to slay the song: it has to rock. For more than 10 years, the 'Varks have been evolving and maturing (kind of) into the premier rock band of the Lehigh Valley, mixing time periods and styles of covers and original music into their non-stop, high energy sets. Paired with the group's individual and collective talent and tight delivery – they've got the real deal rock n' roll package. Be a part of it and come get down with The Aardvarks. Mike Rauscher, Ted Donatelli, Jay Morgan, Rod Walls, Jon Novak
The Wonton Soups

Friday, August 12 @ 6 PM
The Wonton Soups are an extremely popular Lehigh Valley band, known for their sounds of ska, funk, shanty, and pop. The band has been rewarded for the great value they have added to the local musical community, winning titles such as "Lehigh Valley's Most Handsome Ska Band", "Most Trombones in South Bethlehem", and most notably "Best in Soup" by the North American Soup Championships.