7 Artists to See in the PNC Series at Musikfest Café!
Presented by Yuengling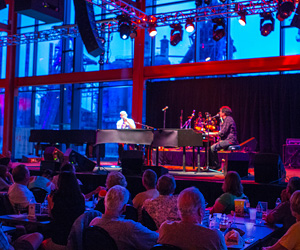 Written by Julie VanOsdol & Nia Marrow | Public Relations Interns
The SuperNaturals
Monday, August 8 @ 5:30 PM
The SuperNaturals are a seven-piece band that plays classic rock. Artists the band has covered are Chicago, Billy Joel, Elton John, James Taylor and many more! The SuperNaturals are based in Philadelphia and specialize in music from the 1960s, 1970s and 1980s. The band has played at venues such as taverns, outdoor summer concerts and private parties.
Bobby Clark Band
Sunday, August 7 @ 7:30 PM
National recording artist and songwriter Bobby Clark utilizes his distinctive high/low vocal range to appeal to the ear of every type of audience. His inspirations include Willie Nelson, Waylon Jennings, and Johnny Cash. Clark is backed by Keith Walck (guitar), and Jaron Belkey (bass).
Ricky and the Rebels
Thursday, August 11 @ 9:30 PM
Ricky and the Rebels are a five-piece high-energy rock band based in the Lehigh Valley. Enjoy covers from the '70s, '80s, and '90s with even a few hits from today, fronted by extremely talented performer Ricky Smith. Joining Smith are Jeff Parkhurst (guitar, vocals), Kenny Renninger (drums, percussion), Martin Hill (bass, vocals), and Rick Repsher (keyboards, vocals).

Major Kit & The Bionic Defection
Saturday, August 13 @ 7:30 PM
Based in the Lehigh Valley, Major Kit & The Bionic Defection is a smoky, bluesy, rock n' roll cover band. Enjoy music from your favorite legendary artists such as Led Zeppelin, The Rolling Stones, The Faces, Tina Turner, and more. The band consists of Kit Culpepper (vocals), Dave Evans (guitar), John McElroy (guitar), Brenden Hackett (bass), Rory Glass (keys), and Steve Culpepper (drums).
Philadelphia Funk Authority
Saturday, August 6 @ 10 PM
The Philadelphia Funk Authority provides the best music to get up and dance to! The band is known to perform throughout Pennsylvania, New Jersey, Delaware, Maryland and more. They have performed at parties, nightclubs, festivals and weddings. Band members include Dale Gerheart, Andy Kowal, George Hrab, Andy Portz, Brianna Parry, Matt Asti, Vinnie Puccio, Gary Rivenson and Kyle Hummel.
Magnum
Saturday, August 6 @ 8 PM
Magnum is an English hard rock band formed in Birmingham, England by guitar player and songwriter Tony Clarkin and Bob Catley (vocals). The band's success began with their third studio album 'Chase the Dragon' in 1982. The band split in 1995 but reunited in 2001 with their most recent album being ' The Monster Roars,' which was released in January 2022.

Mook and the Foztones
Friday, August 12 @ 7:30 PM
The Foztones are described as five of the finest seasoned jazz players in the Lehigh Valley. They are a classical jazz group that records their own unique and original music. The band consists of June Thomas, Mark Buschi, Pete Fluck, James (Jammer) Meyer, and John Sproat. They are accompanied by Mook Stanton, talented soul and R&B frontman.