7 Artists to See on Main Street!
Presented by Provident Bank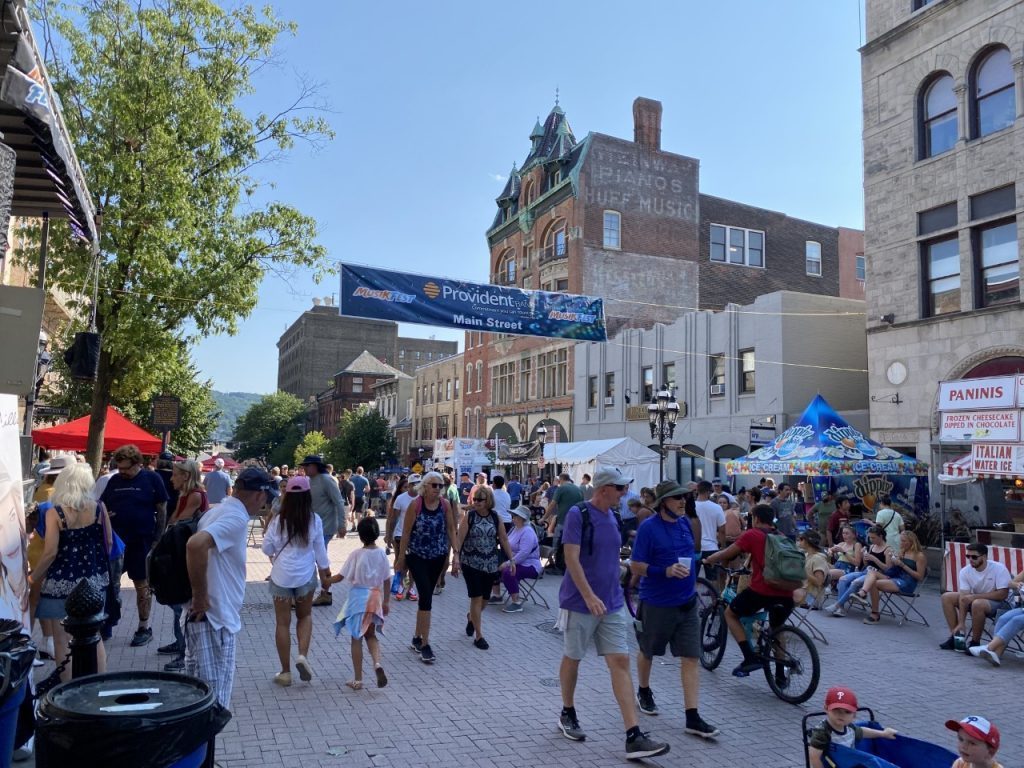 Written by Julie VanOsdol & Nia Marrow | Public Relations Interns
Katie Henry Band
Saturday, August 6 @ 8:30 PM
Katie Henry is a singer/songwriter and instrumentalist from New Jersey. The artist's 2018 album 'High Road' was nominated for an IBMA award. Henry is known for exploring a wide range of musical genres including blues, rock, R&B, funk, pop, soul and country. Henry's second album 'On My Way' was released worldwide on January 28, 2022.
Swamp Guard
Friday, August 5 @ 8:30 PM
From Macungie, Pennsylvania, Swamp Guard is described as "Making loud sounds with quiet instruments". Swamp Guard has drawn inspiration from artists across the entire musical spectrum to create their own original and memorable sound. Originally meeting as summer lifeguards, the trio has blossomed into a unique and special experience for all types of audiences.
Powder Valley Bang
Monday, August 8 @ 8:30 PM
Powder Valley Bang is an exciting rock n' roll band right out of the Lehigh Valley! The band has built a large amount of local fame, and has made many appearances at venues such as The FunHouse, Emmaus Theatre, Two Ton Brewing Co., and much more. For those looking to experience the fresh new age of original rock music, Powder Valley Bang is the perfect fit.
Carly Moffa
Tuesday, August 9 @ 8:30 PM
Carly Moffa is the definition of a true artist. Leaving college with just one semester left, Carly took her music on a solo tour across the entire eastern United States. Those lucky enough to see her act live got to experience her "songs about feelings". Through her music, Carly aims to inspire others to take a leap of faith and put their own talents out there, just as she did. Musikfest guests may also realize that she looks familiar, likely from her appearance as a contestant on season 16 of American Idol.
Mosey Beat
Thursday, August 11 @ 8:30 PM
Creating a perfect mixture of rock and roll, high energy dance grooves, and mellow waves, Mosey Beat is able to naturally feed off of their audience's energy, creating a personal and captivating musical experience. Based out of Phillipsburg, New Jersey, Mosey Beat consists of Taylor O'Connor (guitar, vocals), Blair O'Connor (drums, vocals), and Thomas Hart (bass).
Coopertheband
Wednesday, August 10 @ 8:30 PM
Coopertheband is an Indie Folk-Rock group from both Nashville and Jackson, Tennessee. The group has five members who share a love for music and travelling the world while spreading their unique sounds. Coopertheband has toured internationally in Canado, South America, Europe and Africa. The band's music has been featured on the hit TV shows NCIS and Without a Trace and on streaming platforms HBO, ESPN and TruTV.
Poor Man's Gambit
Sunday, August 14 @ 5 PM
Poor Man's Gambit is originally from Philadelphia, Pennsylvania and was formed in 2015. The band currently has three albums and has toured internationally. The latest album ' Land of Sunshine' is inspired by Irish musical traditions and other influences from England, Brittany and Scotland.