7 Artists to See on the Lutron Jazz Cabaret Stage!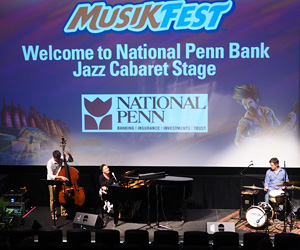 Written by Julie VanOsdol & Nia Marrow | Public Relations Interns
Stephanie Chou
Saturday, August 13 @ 8 PM
Stephanie Chou grew up in New York and combines classical western harmonies with influences of eastern jazz and pop. She studied mathematics and music at the University of Colombia and uses her bilingual ability to enhance her music and connect to her audience. Chou is a 2021 Jerome Hill Artist Fellowship finalist and a finalist for the iSING! 2020 Composition Competition in China.
The Witherbees
Friday, August 12 @ 8 PM
From Philadelphia, Pennsylvania, The Witherbees are a unique folk-jazz band, originally formed by singer-violinist Jacqui Armbruster and guitarist Mike Lorenz. Since their origin in 2018, The Witherbees have released their debut album, "Tribute Valley", along with two singles, "Linger" and "Lover Letter". The band's sound has been referred to as surprising, with tons of variety and quality.
Steve Sandberg
Thursday, August 11 @ 8 PM
Steve Sandberg is a three-time Emmy nominated jazz composer and musician, who is most widely known for his work as the lead composer and musical director for kids' shows "Dora The Explorer" and "Go! Diego, Go!". Sandberg adds his own gifted improvisation to the familiar sounds of classic world music and jazz. His music has been referred to as "Incredibly personal and precise in its direction".
Joy Ike
Sunday, August 7 @ 8 PM
Joy Ike is a Nigerian-American artist from Philadelphia, Pennsylvania. Throughout her years as a musician, she has found the most passion in pushing the boundaries to break out of her own creative headspace, and on a much larger scale the "American" sound in general. Her sound is experimental pop, in which the audience can strongly identify her fiery, free, and memorable personality. Ike has been praised by notable media outlets such as NPR and PopMatters.
Benji & Kristen
Sunday, August 14 @ 5:30 PM
Benji Kaplan is a performer inspired by Brazilian classical and popular music. His parents were both musical and visual artists who inspired Kaplan to follow in their artistic footsteps. He has performed at Cornelia Street Cafe, Dizzy's Club, Rubin Museum of Art and the notable Rio de Janeiro club "Beco das Garrafas." Kristen Mather is a renowned clarinet player who is known for immersing herself in her work and is based in New York.
Acute Inflections
Monday, August 8 @ 5:30 PM
Acute Inflections is a fresh and exciting jazz duo, made of Elasea Douglas (vocalist), and Sadiki Pierre (bassist). They are based in New York, but have traveled the country to perform their music for excited listeners, even sharing the stage with notable artists such as Jennifer Hudson and Keith Urban.
Dan DeChellis Trio
Monday, August 8 @ 8 PM
Dan DeChellis is a renowned pianist, composer, and improviser. He first established his presence in the Lehigh Valley music scene when he and his wife, Anita DeChellis, moved here to open a private music studio. His sound is described as a deep-dive exploration of classical improv, jazz, rock, and ambient music.