Let's Groove to These 7 Earth, Wind & Fire Top-10 Hits at Musikfest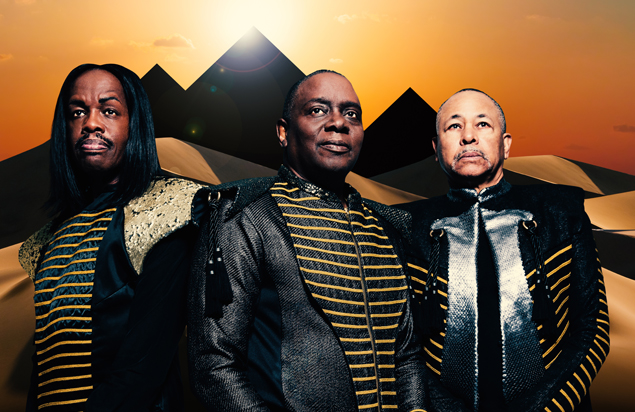 By Ben Youngerman, ArtsQuest Marketing Manager
If you love to groove, boogie & dance, this is the listicle for you! We're kicking off Musikfest 2019 one night early with Earth, Wind & Fire on the Wind Creek Steel Stage at PNC Plaza for Preview Night on Thursday, August 1! Tickets go on sale to the public Friday, March 22 at 10 a.m. You can ENTER TO WIN tickets here.
To get your body warmed up to dance, we've compiled this groovy group of the Rock & Roll Hall of Fame band's Top-10 hits! Celebrate nearly 50 years of Earth, Wind & Fire music with this playlist, presented in chronological order.
"SHINING STAR" (1975)
"Shining Star" was Earth, Wind & Fire's first #1 hit song, earning the group a GRAMMY for Best R&B Performance by a Duo or Group with Vocals!
"SING A SONG" (1975)
Also on the album Gratitude, "Sing a Song" spent a couple weeks on top of Billboard's Hot Soul Songs chart.
"GOT TO GET YOU INTO MY LIFE" (1978)
If there's any band that can make a song from The Beatles their own, it's Earth, Wind & Fire! The cover earned a GRAMMY for Best Instrumental Arrangement Accompanying Vocalist(s).
"SEPTEMBER" (1978)
Do you remember that this track hit #1 on the U.S. R&B chart?
"BOOGIE WONDERLAND" (1979)
Earth, Wind & Fire teamed up with The Emotions for this quintessential disco track that hit #6 on the U.S. Hot 100.
"AFTER THE LOVE HAS GONE" (1979)
This slow jam won Earth, Wind & Fire another GRAMMY, but had to settle for the #2 spot on the charts due to the popularity of The Knack's smash hit "My Sharona."
"LET'S GROOVE" (1981)
Another decade, another gold-certified song! Earth, Wind & Fire kicked off the 1980s with one of their grooviest hits in their entire catalog!
THURSDAY, AUGUST 1
Wind Creek Steel Stage at PNC Plaza