Artists to See at Moravian Church (Vesper Concert Series)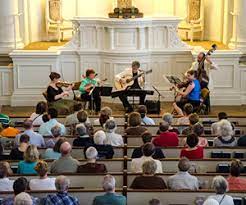 Written by Julie VanOsdol & Nia Marrow | Public Relations Interns
International String Trio
Tuesday, August 9 @ 7:30 PM
The International String Trio was formed in 1999 by lead director and guitarist, Slava Tolstoy. The band has been playing for a decade and has performed at over 1,000 venues. The musical ensemble is known for its distinct energetic sound and has played at numerous concert halls, jazz clubs, universities, schools and private home performances.
ARKAI
Friday, August 12 @ 7:30 PM
ARKAI is a string instrumental duo and winner of the 2021 Astral Artists National Auditions. Past performances include The MET Breuer, Rockwood Music Hall, the Juilliard School, Curtis Institute, and Carnegie Hall. The duo ventures across different genres by combining classical with the sounds of electrical rock. Alongside music, ARKAI is passionate about worldwide education, and their program 'Global Perspectives' allows for the opportunity to learn about artistic traditions from master artists around the world.