ARTSQUEST ANNOUNCES PLANS FOR MUSIKFEST 2021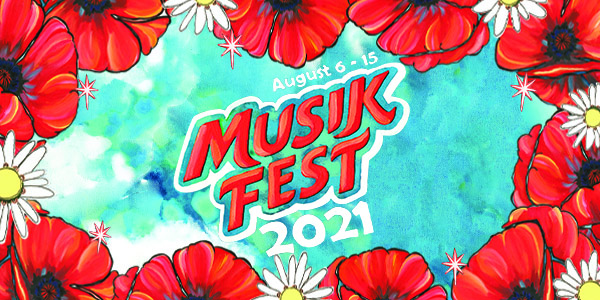 The largest free admission music festival in the nation returns in-person August 6-15, 2021, with a special preview night on August 5 featuring Darius Rucker.
BETHLEHEM, Pa. --
Musikfest
, the only music festival to be twice named the No. 1 Music Festival in North America by the USA Today/10Best readers' poll, will take place August 6-15, 2021. This festival will feature headliners, food vendors and free performances on stages spread throughout the city of Bethlehem, Pennsylvania. "This time last year, doors to arts and culture venues throughout the world were closing – some of them for good," Kassie Hilgert, President & CEO of ArtsQuest said. "We had no idea where we would be a year from then, but we knew for certain that nonprofit organizations like ours, especially in the arts world, were going to be one of the hardest hit. After all we've gone through together as a community, we are so proud to be partnering with the city of Bethlehem, and all our wonderful volunteers, sponsors and supporters, to put on the Musikfest we all know and love, once again."
THE MUSIC
Darius Rucker
will kick off the festival with a special preview night Thursday, August 5. Tickets for the show originally scheduled for 2020 will be honored.
Wind Creek Steel Stage performances will include:
Phillip Phillips
- Friday, August 6
Preservation Hall Jazz Band
- Saturday, August 7
Sam Hunt
- Sunday, August 8
Shinedown
- Monday, August 9 *previously purchased tickets will be honored
Jimmie Allen
- Tuesday, August 10
Colin Hay Band
- Wednesday, August 11
KT Tunstall
- Thursday, August 12
Zedd
- Friday, August 13
The Wood Brothers
- Saturday, August 14 *Closing night details to be announced. *Fireworks between 9:45 – 10 p.m.
Headliners rescheduled to 2022:
Willie Nelson
*previously purchased tickets will be honored
Poison
*previously purchased tickets will be honored
Kelsea Ballerini
*previously purchased tickets will be honored *Dates to be announced shortly All tickets previously purchased will be honored for their respective new dates. ArtsQuest will notify all ticket holders with details outlining next steps, including an option for those who want to support Musikfest by donating the cost of their tickets back to the nonprofit ArtsQuest. Tickets to Sam Hunt, Zedd, The Wood Brothers and KT Tunstall will go on sale to ArtsQuest members beginning Tuesday, June 1 at 10 a.m. Tickets will go on sale to the general public on Friday, June 4 at 10 a.m. Jimmie Allen, Phillip Phillips, Colin Hay Band and Preservation Hall Jazz Band tickets will go on sale to ArtsQuest members beginning Tuesday, June 8 at 10 a.m. Tickets will go on sale to the public on Friday, June 11 at 10 a.m. Rob Zombie - working to schedule, details coming soon. For more exclusive ticket access and advance purchase opportunities, become an ArtsQuest Circle donor. In addition, Musikfest is proud to offer more than 300 free performances. This year's artists will include Igor and the Red Elvises, Jimmy and the Parrots, Philadelphia Funk Authority, The Sofa Kings, Seth Witcher, Sunny War, We Banjo 3 and many more.
THE 'FEST
"We are working in partnership with ArtsQuest and our community public health and safety partners to put on the safest festival possible in order to support small business, tourism and economic development," Bethlehem Mayor Bob Donchez said. "For more than three decades, Musikfest has brought millions of people to Bethlehem. Now, more than ever, it is important to support ArtsQuest including the performers, artists, vendors and small businesses in any capacity possible." For the safety of all artists, community members, guests and vendors, ArtsQuest will continue to follow the latest CDC, state and city health department standards. The festival will take place both in the Historic Moravian District and SouthSide Arts District of the city of Bethlehem. Although this year will be slightly modified, we are thrilled to offer more than a dozen venues.
Historic Moravian District:
Hours: Friday August 6, 5 - 11 p.m. August 7 - 15, 12 - 11 p.m. Venues: IBEW Local 375 Liederplatz, Provident Bank Main Street, Hotel Bethlehem Platz, Martin Guitar Handwerkplatz, Zinzenplatz, T-Mobile Plaza Tropical, Wells Fargo Festplatz,Yuengling Lagerplatz and NJM Insurance Familienplatz
SteelStacks in the SouthSide Arts District:
Hours: Weekdays 4 - 11 p.m. Fridays 4 p.m. – 1 a.m. Saturdays 12 p.m. – 1 a.m. Sundays 12 p.m. – 11 p.m. Venues: PNC Series at Musikfest Café presented by Yuengling, Highmark Blue Shield Community Stage on the Air Products Town Square, Air Products Americaplatz at Levitt Pavilion SteelStacks presented by Coordinated Health, now part of Lehigh Valley Health Network and the Wind Creek Steel Stage at PNC Plaza *Hours and locations for this year's festival are subject to change.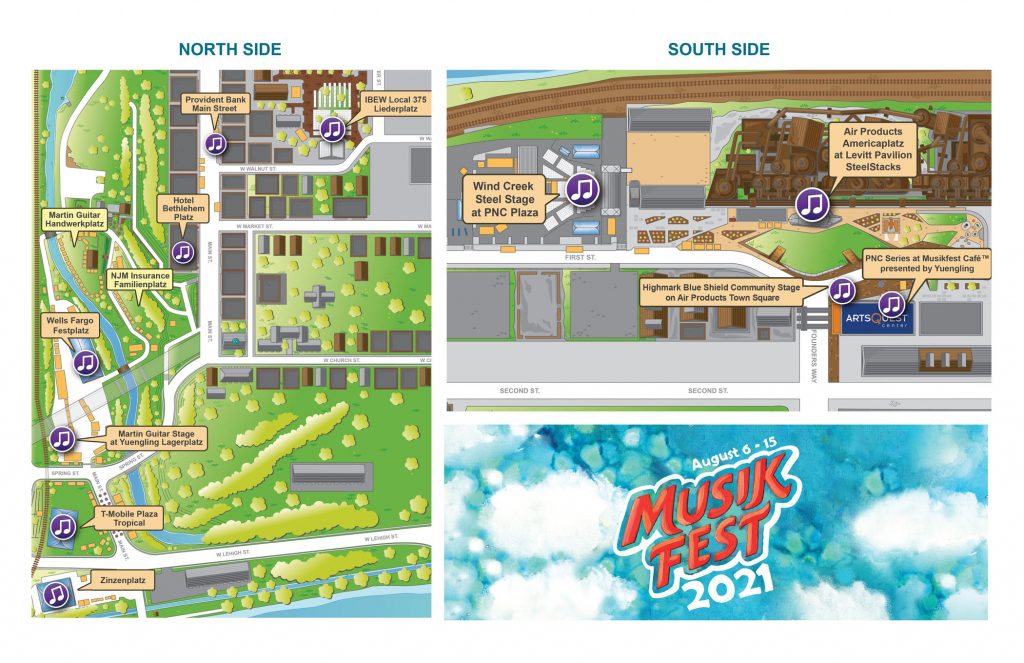 Second only to the music at Musikfest are the foods of the 'fest. Patrons will be able to enjoy a variety of food and beverage options, including festival favorites Aw Shucks Roasted Corn, Island Noodles and Heaven on a Bun, just to name a few. All participating food vendors will be announced later this summer. ArtsQuest's restaurant Palette & Pour will also be available for private parties.
THE IMPACT
"As a historic Bethlehem business owner, I'm delighted that Musikfest will be happening again this summer," Neville Gardner, owner of Donegal Square and McCarthy's Red Stag Pub on Main Street said. "I believe that Musikfest has been one of the greatest marketing devices for small businesses in Bethlehem and we look forward to the influx of visitors again this August." ArtsQuest and the city of Bethlehem annually welcome approximately one million people for Musikfest, with visitors coming from across the country and around the globe. Established in 1984, the festival provides opportunities for hundreds of performers, as well as local and regional small businesses, to support their livelihood via performances, food stands, artisan booths and more. Approximately 65 percent of artists each year are from the Lehigh Valley and surrounding Mid-Atlantic Region, while 70 percent of vendors are from the Lehigh Valley and surrounding region. Overall, the festival and its patrons had an economic impact of $77 million on the Lehigh Valley in 2019. "Musikfest is not only the dose of normalcy we all so desperately need right now, but it's also a ray of hope for the local businesses, artists and economy it supports," Hilgert said. "While this festival attracts millions of tourists to Bethlehem every year, it also creates lifelong memories. We are so eager to bring back this beloved cultural celebration to our community." As a nonprofit arts and cultural organization that offers 50 percent of its programs annually for free, ArtsQuest has been especially hit hard by the COVID-19 related shutdowns. In a typical year, ArtsQuest presents more than 4,000 in-person programs and events for the community, including 800 free concerts year-round. In March 2020, the ArtsQuest team went from planning a busy summer schedule, to not being able to offer a single piece of programming overnight, losing 90 percent of its revenue streams in the blink of an eye. Musikfest fans and community members who want to support ArtsQuest can visit ArtsQuest.org/Support. Members can enjoy a variety of virtual and in-person benefits, including the ability to purchase tickets at future Musikfests and SteelStacks concerts before the public. Musikfest is a volunteer-driven festival that benefits the Lehigh Valley and surrounding communities.
Click here to apply to become a volunteer.
ArtsQuest is also hiring for a number of part time seasonal and festival positions.
Click here to apply.
The festival is made possible thanks to the support of the city, the Bethlehem Redevelopment Authority, Bethlehem Area School District, Northampton County, Lehigh County the support of the corporate community and more than 1,000 volunteers and 2,000 supporting members. Musikfest 2021 dates are Aug. 6-15, with a special preview night on Aug. 5. For more information, visit musikfest.org. Additional details on Musikfest offerings will be announced throughout the summer.
About ArtQuest
ArtsQuest
's mission is to provide access to exceptional artistic, cultural and educational experiences using arts and culture as key elements of economic development for our urban communities. ArtsQuest™ supports this mission via the presentation of performing and visual arts, film, arts education classes and outreach, youth programming and cultural events. Through festivals such as its flagship event, Musikfest; the Banana Factory Arts Center; and the ArtsQuest Center at SteelStacks arts and cultural campus, ArtsQuest's programming reaches more than 1.9 million people annually. The organization's programs and events, approximately 50 percent of which are free to attend, have a combined economic impact of more than $136 million annually in the region. ArtsQuest is a proud member of
NIVA, the National Independent Venue Association
.