ARTSQUEST'S MUSIKFEST OFFERS AFFORDABLE TICKETS TO HEADLINE SHOWS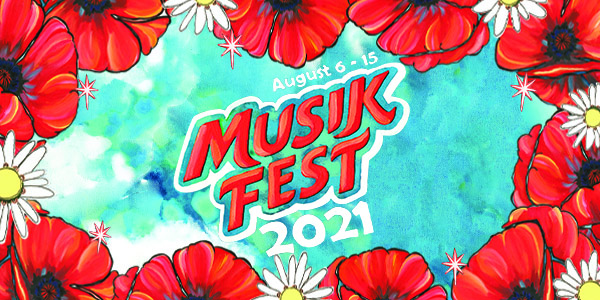 The public will have the opportunity to attend some of the top Wind Creek Steel Stage shows at a price of $15 per ticket.
BETHLEHEM, Pa. — Musikfest, taking place August 6-15, 2021, will offer amazing performance opportunities, without breaking the bank. Tickets start at $15 to see world-class musicians Preservation Hall Jazz Band, pop music star Phillip Phillips, rising country star Jimmie Allen, the legendary Colin Hay Band, top vocalist/songwriter KT Tunstall, American folk band The Wood Brothers and the inspiring Black Violin.
In the midst of a global pandemic and economic uncertainty, the ArtsQuest team has been working feverishly on plans for this year's 'fest. The team planned many different versions of the festival during this time of uncertainty and a number of this year's shows were originally booked with social distancing precautions. As health and safety guidelines continued to evolve, the team was left with only a couple weeks to plan and announce a full-fledged 'fest with venues at full capacity. This planning process gave ArtsQuest the opportunity to offer the public a chance to see prominent musicians at a price point they won't find anywhere else.
"A couple months ago, we did not know if we would be able to safely gather in person for concerts," Anne Sturm, Senior Talent Buyer and Executive Director of the Levitt Pavilion said. "It was no easy feat, but our team worked quickly to secure world-class artists for this year's main stage."
Since 1984, Musikfest, the largest free admission music festival in the country, has been a place to see top notch talent perform in person. Throughout the festival, hundreds of free concerts take place on stages throughout the city of Bethlehem, Pa. Each night of the festival, headline acts take to the Wind Creek Steel Stage. ArtsQuest is proud to feature many of this year's performers at a price point of $15.
Phillip Phillips
Georgia-bred singer/songwriter Phillip Phillips will perform on Friday, August 6. The American Idol winner, known for his hit songs "Home" and "Gone, Gone, Gone," has toured with John Mayer, shared the stage with Bruce Springsteen at the Rock in Rio festival and supported the Goo Goo Dolls' summer 2017 national summer tour.
Preservation Hall Jazz Band

New Orlean's own Preservation Hall Jazz Band will perform on Saturday, August 7. The group, known for standards and traditional New Orleans jazz for more than 50 years, also explores original compositions and Afro-Cuban rhythms.
Jimmie Allen

Delaware native Jimmie Allen will perform on Tuesday, August 10. His music is a mix of country, rock, R&B and pop. Allen has made history as the first Black artist to launch a career with two consecutive number one hits on country radio, with "Best Shot" claiming the top spot for three weeks and his second single "Make Me Want To" hitting the top spot in March 2020.
Colin Hay Band

The Colin Hay Band, led by frontman Colin Hay, will perform on Wednesday, August 11. They have appeared on "The Tonight Show With Jimmy Fallon," "Jimmy Kimmel Live!" and "ABC's Greatest Hits." Hay has also been publicly cited as an influence for artists James Hetfield of Metallica, Jeremiah Fraites of The Lumineers and Troy Sanders of Mastodon.
KT Tunstall

UK singer/songwriter KT Tunstall will perform on Thursday, August 12. Tunstall landed a Grammy nomination for Best Female Pop Vocal Performance and lent her tunes to a host of movies and TV shows like "Suddenly I See," which was used in the iconic opening scene of Meryl Streep's "The Devil Wears Prada."
The Wood Brothers

American folk band The Wood Brothers will perform on Saturday, August 14. The group's most recent studio release, One Drop Of Truth, hit #1 on the Billboard Heatseekers Chart and garnered the band their first Grammy nomination for Best Americana Album.
Black Violin

The classical, meets hip-hop group Black Violin will perform on Sunday, August 15, closing night of Musikfest. Individually and together, members Wil Baptiste and Kev Marcus have worked with the likes of Alessia Cara, 2 Chainz and Lil Wayne. They have also performed two sold-out shows at the Kennedy Center with the National Symphony Orchestra commemorating the 50th anniversary of Dr. Martin Luther King Jr.'s death.
"It is rare to see ticket prices so accessible for these nationally touring artists," Sturm said. "We are proud to offer our community an opportunity to see this high caliber of talent."
Country music superstar, and Musikfest favorite, Darius Rucker will open this year's Musikfest with a special preview night concert on Thursday, August 5. Chart-topping country music star Sam Hunt, world famous DJ/record producer Zedd and rock group Shinedown will also perform on the Wind Creek Steel Stage. Visit musikfest.org to purchase tickets and view the latest news on this year's 'fest.
Arts and cultural venues throughout the world were hit especially hard by the COVID-19 related shutdowns this past year. Many institutions had to close their doors for good. ArtsQuest is a nonprofit arts and cultural organization that typically offers 50 percent of its programs annually for free.
In March 2020, the ArtsQuest team went from planning a busy summer schedule, to not being able to offer a single piece of programming overnight, losing 90 percent of its revenue streams in the blink of an eye. Musikfest fans and community members who want to support ArtsQuest can visit ArtsQuest.org/Support.