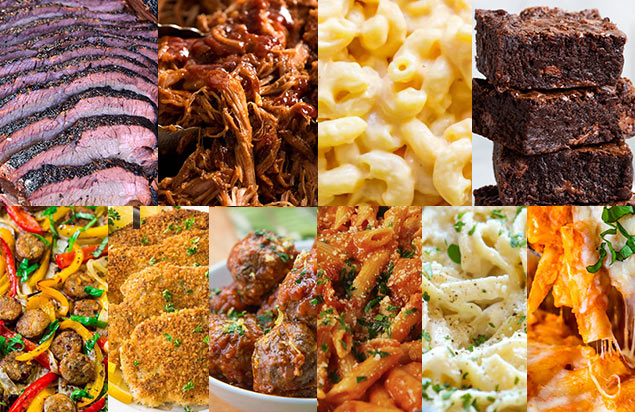 Create Your Own Office Lunch Break or Backyard 'Fest Party with a FestPack from Musikfest 2020!
A New Festival Catering Experience
No matter how you plan on celebrating virtual Musikfest this year – in the living room with close family, in the backyard with a small group of friends or via a Zoom party with your coworkers – ArtsQuest is offering a brand new catering option for you and everyone you're celebrating with. Say hello to the Virtual Musikfest dining must-have: 'FESTPacks!
While you tune in to Virtual Musikfest July 31 through August 9, enhance your gatherings and get-togethers with 'FESTPacks, a great way to enjoy a catered experience from wherever you chose to enjoy the festival. Those who purchase the ArtsQuest 'FESTPacks for their group will have two personalized menu options to choose from; Southern BBQ, featuring favorite comfort foods favorites like pulled pork and mac 'n' cheese or the Italian Ravello, with delicious Cheese Lasagna and Mini Cannolis for dessert. You can even add Musikfest mugs and other branded merchandise to your order for you and your guests! Those who submit an order will be given a designated time to collect their 'FESTPack at ArtsQuest via curbside pickup.
For those who typically held corporate events and gatherings during Musikfest week, you can still host through ArtsQuest by holding a Hybrid event, a new fluid combination of live and personalized service that will allow speakers, panelists and VIP's to be live-streamed, filmed or recorded in our beautiful Musikfest Café or Blast Furnace Room. These live or pre-taped programs will then be made available to your guests, employees or otherwise from their home computers, local offices or mobile devices. You can also arrange to have your staff pick up their 'FESTPack, to be enjoyed while they tune-in to the event. All proper local, state and national guidelines and policies will be followed regarding cleaning, food service and social distancing, to ensure that you and your guests will feel safe and at-ease during the event.
For more information on 'FESTPacks, booking a Hybrid event, wedding, virtual or in-person team building or other hospitality needs, please contact Chelsea at candreadis@artsquest.org or call 610-297-7116.
'FESTPack Menu Options:
Italian Ravello (10 person minimum)
Salads
Levy's Signature Caesar Salad • Campanelle Pasta Salad, Fresh Mozzarella, Roasted Plum Tomatoes, Basil, Julienned Cured Meats • Rolls and Butter
Entree (Choice of 2)
Italian Sausage, Peppers and Onions • Chicken Milanese • Cheese Lasagna, Marinara • Italian Meatballs, Marinara
Sides (Choice of 1)
Penne, Marinara • Fettucini Alfredo • Baked Ziti Vegetables • Chef's Choice Seasonal Vegetable
Desserts
Mini Cannolis and Seasonal Fruit Bowl
29.00 per guest plus taxes and admin fees
Southern BBQ (10 person minimum)
Protein (Choice of 2)
Pulled Pork • Pulled Chicken • Beef Brisket
Sides
Macaroni and Cheese • Corn on the Cob
Includes
Honey BBQ and Carolina BBQ Sauce, Cole Slaw, Tossed Salad with Balsamic, Ranch and Blue Cheese Dressing, House Made Spicy Kirby Dill Pickles, Rolls and Butter
Dessert
Cookies, Brownies and Seasonal Fruit Bowl
29.00 per guest plus taxes and admin fees
All packages are served in disposable containers and come with appropriate paper products and chafing dishes. All items can be picked up at ArtsQuest at a designated date and time.