From 'Cross-eyed Mary' to Classical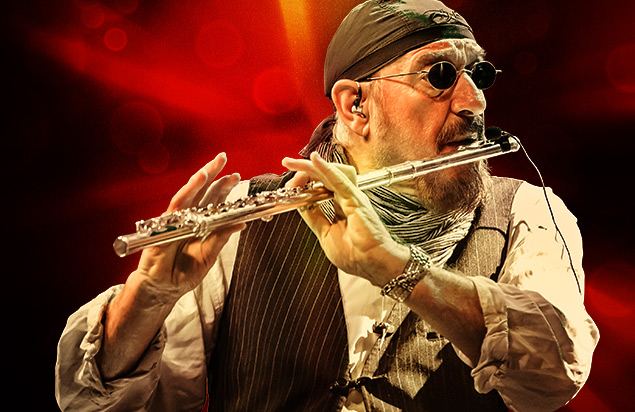 GRAMMY Winner Ian Anderson Bringing the Timeless Songs of Jethro Tull to Musikfest
By Mark Demko, Sr. Director of Communications
For almost half a century, Ian Anderson of Jethro Tull has delighted audiences around the globe with his dazzling flute playing that helped give the iconic rock band its unique sound. Rather than confining it to the background, he brought the instrument to the forefront, weaving its melodies and notes through many of the group's most well-known songs.
It should then come as no surprise that Anderson's most recent recording is "Jethro Tull – The String Quartets," a collaboration with the Carducci String Quartet and conductor and musician John O'Hara. The recording, which topped the Billboard Classical charts in April, features 12 re-imagined Tull classics, providing unique reinterpretations of some of rock's most iconic songs.
"It's really quite exciting music. Over the years I've worked with string quartets, with four symphony orchestras, with individual soloists playing violin and so on, so I'm not a stranger to that idea," Anderson says. "But this was an opportunity to take some classic Jethro Tull songs and dress them up in a different suit of clothes and let them cross the genre into more traditional, classical arrangements and writing."
For Anderson, transforming Tull's music through string arrangements was a natural progression following a lifetime of interest in classical sounds. And, while he's always enjoyed the genre, his intrigue with the flute actually began purely by accident.
As a young musician starting out in the 1960s, Anderson was looking to establish an identity that would set him apart from other artists. One day he walked into a music store and proceeded to trade his 1960 Fender Stratocaster for a flute and microphone.
"I picked it (out), took it out of the box, didn't know how to put it together, didn't learn to play it—it did nothing for me at all," he recalls. "I put it away…and I guess about four, five or six months later I took it out of its box again and managed to get a note out of it.
"That was somewhere in December of 1967 and by the end of January 1968 I was playing it every night on stage at the Marquee Club (in London) and getting noticed because I was the "flute player" in a blues band and nobody else was doing that, so I think I picked the right instrument."
Fans looking forward to the Musikfest concert Aug. 13 will be happy to know that Anderson is sticking to the more traditional Tull sound for his summer concert tour, performing the music that made the band one of the most popular acts of the 1970s and '80s. Recent setlists have him serving up a blend of the group's classics, as well as tunes from deeper in its catalog. Look for songs such as "Living in the Past," "Songs from the Woods," "A New Day Yesterday" and "Thick as a Brick," as well as two staples that are always in the rotation – "Aqualung" and "Locomotive Breath."
Anderson says "Aqualung" has special meaning to him because it's about homelessness and the plight of those who suffer. He even preforms a slightly different version of the song during his more intimate Christmas concerts in English Cathedrals during the holiday season.
"It's reminding people to be gracious of spirit and to help support people who are less fortunate," he says, "so songs like that have a fitting place whether it's a rock show or a classical concert or a charity Christmas concert or whatever it might be. It's easy to place that one as, I guess, one of my favorites and one that I feel really always belongs in the show."
JETHRO TULL by IAN ANDERSON
Aug. 13, 7:30 p.m.
Musikfest's Sands Steel Stage at PNC Plaza