Get to Know our 40 Service Electric Performers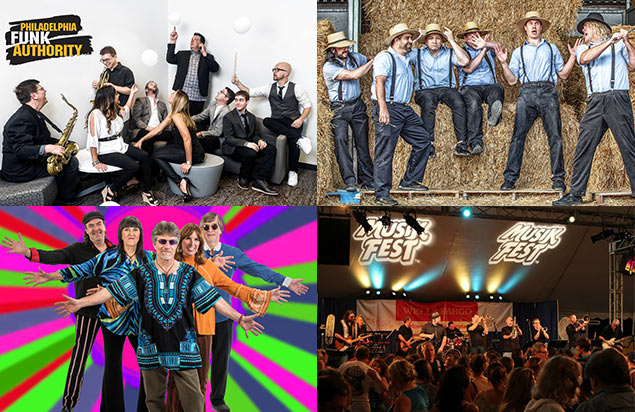 By Megan Pulver, ArtsQuest Social Media & Marketing Intern
This year has thrown us all for a loop, but that doesn't mean we have to go without Musikfest!
We've gathered 80 of our favorite artists for this year's celebration, with 40 being shown live by our pals (since 1984) at Service Electric Cable TV, Inc. Here, you'll find all the nitty-gritty details on our SECTV performers, many of which are Musikfest Café favorites, Lehigh Valley Music Award winners, and Grammy Award winners. Don't have SECTV? No worries, we'll have replays available at Musikfest.org.
If you're interested in snagging a new mug or finding out other ways to support our nonprofit organization, go to musikfest.org/together.
RED HOTTS
July 31: 5-7:30 p.m.
Instagram / Facebook / Twitter
These guys are red hot… oh wait, they're RED HOTTS! They bring the fire to every event with classic hits from every genre. This fem-fronted band is ready to kick things up a notch!
DAVE FRY
July 31: 7:40-8:20 p.m.
Musikfest Café favorite Dave Fry is coming back to Bethlehem. He makes every audience fall in love not only with his relatable ditties, but his goofy personality. He shows his flexibility and professionalism as a performer by being able to handle audiences of any age, especially families.
UUU
July 31: 8:30-11 p.m.
Instagram / Facebook / Twitter
UUU has been performing weddings, festivals, and every other fun event they could nab for the past 25 years. They know how to entertain crowds of all ages with their energetic personalities, musical expertise, and wide-spanning song selection.
AARON DUSSING POLKA
August 1: 12-1:30 p.m.
Aaron Dussing and his Polka Revolution are extremely passionate about their craft. Dussing started playing the accordion at age 8, having been influenced by the traditional German folk songs he grew up hearing. He now knows 20 different instruments and is versed in several different styles of polka. This group is the one to see if you love classic polka!
Jimmy Sturr Orchestra
August 1: 2:30-4 p.m.
Jimmy Sturr and his Orchestra have been turning heads for decades. They are known for being the top-rated polka music band in the world, with 18 Grammy Awards to their name. They have recorded with artists like Charlie Daniels, Boots Randolph, and a flock of others throughout their long and successful career.
ROI AND THE SECRET PEOPLE
August 1: 5-7:30 p.m.
Roi and the Secret People are a group of hand selected musicians by frontman Mike Roi. The band has won awards for "Most Outstanding Rock Band" and "Outstanding All Around Performer – Mike Roi" in 2017 alone. This group has drawn from the likes of Nick Lowe and Tom Petty to create a new alt-rock sound that they encompass over their latest album, Phoenix.
Seth Witcher
August 1: 7:40-8:20 p.m.
Instagram / Facebook / Twitter
Seth Witcher may be new to the scene, but he has lived in the Lehigh Valley and played music nearly his entire life. He even tours with the semi-hollow guitar that he built from scratch in his high school days. Witcher draws influence for his original alt-pop songs from artists like Ed Sheeran, Panic! at the Disco, and John Legend.
THE SOFA KINGS
August 1: 8:30-11 p.m.
Instagram / Facebook / Twitter
Musikfest favorites, The Sofa Kings are ready to take over another year in Bethlehem. The 10-piece outfit comes equipped with a horn section and vocals that (quite literally) blow you away. They cover all genres – classic rock, Motown, country, alternative, and Top Hits from the 1960s to today!
JOHN STEVENS POLKA
August 2: 12-1:30 p.m.
The John Stevens polka band is coming back to Musikfest! They have had the opportunity to play several festivals and two polka cruises since they came together 25 years ago. The band has also performed on numerous television specials in effort to promote polka music to younger audiences and keep the tradition alive.
Fritz's Polka Band
August 2: 2:30-4 p.m.
Instagram / Facebook / Twitter
In 1978, Fred Scherz Sr. formed Fritz's Polka Band and dedicated its name to his then eight-year-old son. Despite his passing, the band still carries his legacy, even becoming the first polka band to perform at the coveted Woodstock Festival. This group prides themselves in being anything but your ordinary Polka band, infusing country, rock, and blues into their traditional sound.
THE RENAISSANCE ORCHESTRA
August 2: 5-7:30 p.m
The Renaissance Orchestra is a ten-piece band that delivers only the most authentic live performances. They have won six Couple's Choice Awards and five Bride's Choice Awards from WeddingWire in their 15-year-long career. They have proven that they can own any stage with their unique vocalists and modern song choices.
Stefanie Johnson
August 2: 7:40-8:20 p.m.
If you enjoy artists like Kelly Clarkson and Taylor Swift, then you're going to love Stefanie Johnson! She was born and raised in the Lehigh Valley and grew up with a love for the guitar and songwriting. Her catchy pop-rock tunes caught the eye of many in the area and led her toward performing at Musikfest and hitting PA's top ten Independent Artists list in 2013.
Philadelphia Funk Authority
August 2: 8:30-11 p.m.
Philadelphia Funk Authority is known for their prowess across the entire northeast and beyond. They bring a wide variety of talent and song choice to every gig they play, and they'll definitely leave you wanting more.
Zaire
August 3: 5-7:30 p.m.
Musikfest Café favorites, Zaire, are bringing back their 3-piece acoustic trio. The band started out as a few friends jamming out in high school, but they've ended up sticking together for the past 40 years. They play music from some of their favorite artists like The Eagles, Tom Petty, Radiohead, and many more!
Kendal Conrad
August 3: 7:40-8:20 p.m.
Instagram / Facebook / Twitter
Kendal Conrad is nothing short of authentic. She is a country singer, award-winning songwriter, published author, self-appointed Swiftie, and horror movie fanatic. At Musikfest 2014, she performed "We Were Us" with Keith Urban and has also had the pleasure of performing at The White House, Wells Fargo Center, and for author Nicholas Sparks.
The Amish Outlaws
August 3: 8:30-11 p.m.
Instagram / Facebook / Twitter
If you haven't seen these guys before, you may have some questions, and you can find all the answers on their website. However, their shows are sure to leave you satisfied after hearing the likes of Snoop Dogg, Johnny Cash, Bon Jovi, and Dr. Dre. They aim to perform in a way that celebrates freedom and makes everyone feel like they're an "Amish Outlaw."
James Supra/Sarah Ayers Band
August 4: 5:30-8 p.m.
James Supra and the Sarah Ayers Band bring their talents together to deliver a unique blues performance with notes of jazz and rock and roll sprinkled throughout. Supra is known for his 19-year streak of winning Best Harmonica Player at the Lehigh Valley Music Awards and the first-ever LVMA Legacy Award. Sarah Ayers is also an LVMA award-winning performer, having snatched the titles of Best Female Vocalist and Best Singer-Songwriter. Together, they are a perfect recipe for a great night of blues.
Ben Tyler
August 4: 8:10-8:50 p.m.
Whether it's playing in bands, raising two kids, or practicing his songwriting skills, Ben Tyler does it all. Throughout his career, Tyler has opened for acts like Guster, Simple Plan, Tyler Hilton, and Ludacris. Today, he focusses on writing and fine-tuning his indie-folk tunes.
Rubix Kube
August 4: 9-10:30 p.m.
Instagram / Facebook / Twitter
Rubix Kube has brought "The Eighties Strick Back Show" around the country and to galaxies far, far away. They have been praised by talk show host Kelly Ripa and fans nationwide for being the ultimate '80s tribute band. They bring the most beloved icons of the decade to life in their shows: Cher, Prince, Madonna, Guns N' Roses, Michael Jackson, and countless others.
The Large Flowerheads
August 5: 5-7:30 p.m.
The Large Flowerheads are the complete visual and sensory experience of the 1960s. They pull personal favorite songs from the era, as well as crowd-pleasers, to leave everyone pleasantly surprised and looking forward to another outta sight gig.
Pentley Holmes
August 5: 7:40-8:20 p.m.
Instagram / Facebook / Twitter
Having survived a life-threatening brain aneurysm, Pentley Holmes now looks at life as a gift. He has always had a drive to perform, having taught himself guitar and vocals at a young age. Since his recovery, he has taken a different outlook on songwriting as well. Holmes fuses blues, soul, and pop into his folk-rock style.
Jimmy & the Parrots
August 5: 8:30-11 p.m.
Jimmy & the Parrots encourage their fans to "grab a beach chair, suntan oil, and their favorite drinks" to get ready for their island vibes. They cover your favorite vacay bands like Jimmy Buffett, Bob Marley, The Beach Boys, and Zac Brown Band. You'll leave feeling totally relaxed and rejuvenated, minus the tan.
Legacy Trio
August 6: 5-7:30 p.m.
The Legacy Trio aims to keep classic folk songs alive. They play hits from artists like John Denver, Simon & Garfunkel, The Weavers, and all of their other favorites from the '50s- '70s.
Dina Hall
August 6: 7:40-8:20 p.m.
Instagram / Facebook / Twitter
Dina Hall is a singer-songwriter, guitarist, percussionist, and recording artist from the Valley. She writes from the heart and often tackles the feeling of insecurity in her songs, making her music relatable to just about everyone. Currently, Hall is advocating #saveourstages with the National Independent Venue Association (NIVA). Find out more about this cause on Hall's website or by visiting nivassoc.org.
Start Making Sense
August 6: 8:30-11 p.m.
Instagram / Facebook / Twitter
As a tribute to the Talking Heads, Start Making Sense takes on the job of covering the entire career of one of the most iconic bands of the '80s. Frontman Jon Braun delivers a "spot-on" David Byrne while the remainder of Start Making Sense incorporates countless other live performance notes from the band.
Alexis P. Suter Band
August 7: 5-7:30 p.m.
Instagram / Facebook / Twitter
The Alexis P. Suter Band hails from Brooklyn, NY, and is ready to bring all the blues, roots, gospel, and funk to Musikfest. Miss Suter, the group's shining star, has a voice that is unmistakable. As her boisterous baritone reaches through a crowd, you can be sure that every person will stop and stare at the absolute powerhouse in front of them.
Jon Fadem
August 7: 7:40-8:20 p.m.
Instagram / Facebook / Twitter
Jon Fadem, guitarist for Start Making Sense and guitarist/vocalist for Family Circus Trio, brings his solo act to Musikfest this year. His love for the guitar began at age 13 and he has since been nominated four times for Best Electric Guitarist in the Lehigh Valley Music Awards.
Garden State Radio
August 7: 8:30-11 p.m.
Instagram / Facebook / Twitter
Garden State Radio covers the best pop-rock hits from the 90s, 2000s. and today. They not only handpick their favorite songs, but they also throw one of the largest lights shows presented by any cover band, like ever. They have been featured on American Idol, the Vans Warped Tour, MTV, and Fox's Fearless Music.
The Lesson Center
August 8: 12-1:30 p.m.
Instagram / Facebook / Twitter
The Lesson Center provides a sense of community and a place to learn for young musicians in the Lehigh Valley. 48 of their students get to perform at Musikfest every year after attending Fest Camp. They create 6 entirely unique bands and practice, practice, practice before hitting the 'fest stage at the end of summer.
Alex Meixner Band
August 8: 2:30-4 p.m.
Instagram / Facebook / Twitter
The Alex Meixner Band is a favorite of the National Folk Festival, Central Park SummerStage, and Steel Stacks lunch break for a reason. Meixner's love for Central European party tunes, jazz, polka, and family tradition has led him down a path to a Grammy nomination and collaboration with Jack Black at Sundance 2017. He aims to please fans of any age with his treasured accordion and enthusiastic celebration of music.
Cinnamon Jones & Eternal Soul
August 8: 5-7:30 p.m.
Cinnamon Jones grew up singing in Brooklyn's neighborhood choirs and has brought this love of Gospel music to the core of the songs she sings today. She also incorporates blues, jazz, R&B, and soul into her style. She has had the pleasure of touring with some of her favorite R&B, as well as acting in the films Dream Girls and Bubbling Brown Sugar.
Stacy Gabel
August 8: 7:40-8:20 p.m.
Instagram / Facebook / Twitter
Stacy Gabel is a recording artist and songwriter based out of Eastern PA. She has performed all across the nation, even living in various cabarets and bars throughout Los Angeles and New York City. Her goal today is to write her classic catchy tunes and connect with her audience as much as possible.
Boat House Row
August 8: 8:30-11 p.m.
Instagram / Facebook / Twitter
If you need a little Yacht Rock in your life, we've got you covered. Boat House Row will indulge you with all of your favorite tunes from artists like Toto, Hall & Oates, Michael McDonald, Kenny Loggins, Steely Dan and Christopher Cross. This group emulates '70s Southern Californian smooth, mellow rock that hits just right.
Tshila
August 9: 12-1:30 p.m.
Tshila is a singer-songwriter who incorporates poetry, hip-hop, and traditional African sounds into her music. She was born in Kampala, Uganda and currently works between New York City and Philadelphia. In addition to performing Musikfest in the past, Tshila has also been named one of the 20 Best Unsigned Artists in the World by the BBC World Service.
Slam Allen Band
August 9: 2:30-4 p.m.
Slam Allen is a modern-day Cupid. Messages of love and positivity radiate through him, his band, and his songs. Allen blends together a classic mix of blues, soul, R&B, and a dash of rock and roll. He has had the opportunity to play festivals all over the world, including Italy, Switzerland, Argentina, and many others.
Screaming Broccoli
August 9: 5-7:30 p.m.
Named in lieu of bands like Smashing Pumpkins and the Red Hot Chili Peppers, Screaming Broccoli brings you an unforgettable cover band experience. The band has an extensive song list and can cover any style of music to fit every event. They have been pegged as The Best Cover Band by readers of SiLive.com twice and have won the Couple's Choice Award by WeddingWire.
Leo Motolese
August 9: 7:40-8:20 p.m.
Guitarist and singer-songwriter Leo Motolese is ready to take on Musikfest. He currently performs in two different bands, Service Dog and Girl Hands, and is based out of Bethlehem, PA. This artist focuses his time on songwriting and perfecting his indie style.
Luisito Rosario & Orchestra
August 9: 8:30-11 p.m.
Instagram / Facebook / Twitter
Luisito Rosario grew up in New Jersey, but he has always let his Puerto Rican heritage shine through his work. He now has 20 years of experience as a Salsa singer and has worked with other bands like Los Hermanos Moreno and Larry Harlow from the Fania All-Stars. He is a staple in the world of Salsa music and is one to watch at this year's 'fest.
BONUS PLAYLIST!