HALF-PRICE TICKETS AVAILABLE FOR SHORT TIME / ENTRADAS A MITAD DE PRECIO DISPONIBLES POR POCO TIEMPO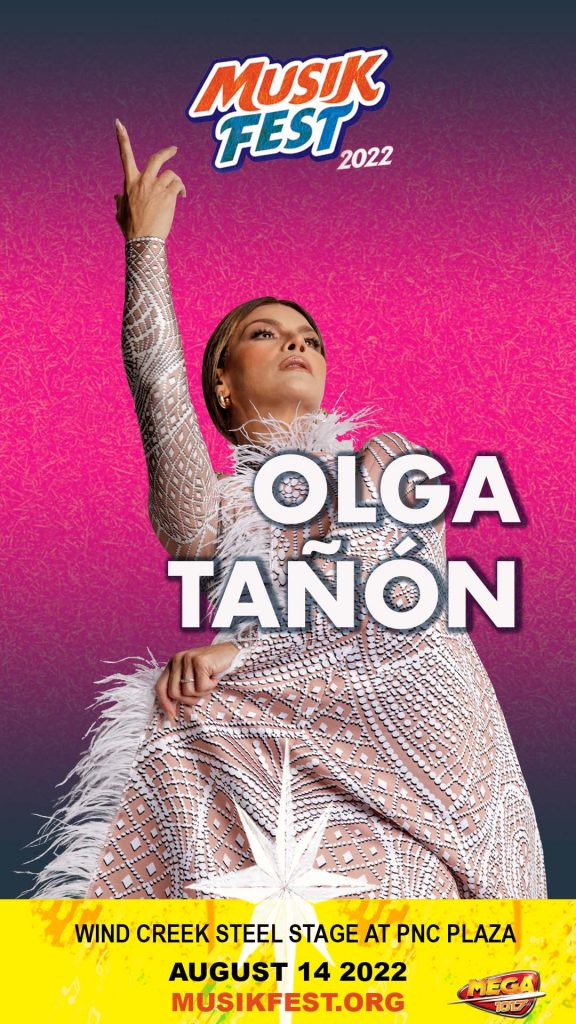 La Mega Radio, Musikfest present discount promotion for Grammy-winner Olga Tañón / La Mega Radio y Musikfest ofrecen una promoción de descuento para la ganadora del Grammy Olga Tañón
Bethlehem, Pa.— Musikfest and its partner La Mega Radio are excited to announce a special half-off ticket promotion for the 'fest's final 2022 performance at the Wind Creek Steel Stage at PNC Plaza featuring Grammy-winner Olga Tañón.
All tickets to Tañón's, Sunday, Aug. 14 performance — including the popular Steel Terrace — will be available to purchase for half-off, when applying the promo code "MEGA" beginning Friday, Aug. 5, at 10 a.m. This limited and special promotion will end at midnight on Sunday, Aug. 7.
Olga Teresa Tañón Ortíz is a Puerto Rican award-winning recording artist with two Grammy Awards, four Latin Grammy Awards and 30 Premio Lo Nuestro Awards. Additionally, Tañón holds the record for the most top 10 hits by a female artist on Billboard Tropical Airplay. Her most popular hits include "Basta Ya," "La Gran Fiesta," "Mi Eterno Amor Secreto," "Es Mentirosa" and "Como Olvidar." Tañón is the youngest of her four siblings and showed a love for music from an early age while also gaining recognition as an actress in the late '90s.
For more information, or to purchase tickets, visit the Musikfest website. Tickets may also be purchased at the box office located at SteelStacks.
Bethlehem, Pa.— Musikfest y su socio, La Mega Radio, se complacen en anunciar una promoción especial de entradas a mitad de precio para el último espectáculo del festival en 2022 en el teatro Wind Creek Steel Stage en PNC Plaza, con la ganadora del Grammy Olga Tañón.
Todas las entradas para la actuación de Tañón del domingo 14 de agosto —incluida la popular Steel Terrace— se podrán comprar a mitad de precio, ingresando el código promocional "MEGA", a partir del viernes 5 de agosto a las 10:00 a. m. Esta promoción especial y limitada terminará a la medianoche del domingo 7 de agosto.
Olga Teresa Tañón Ortíz es una artista puertorriqueña galardonada con dos premios Grammy, cuatro premios Grammy Latinos y 30 premios Lo Nuestro. Además, Tañón ostenta el récord de mayor número de éxitos de una artista femenina en Billboard Tropical Airplay. Algunos de sus éxitos más populares son "Basta ya", "La gran fiesta", "Mi eterno amor secreto", "Es mentirosa" y " Cómo olvidar". Tañón es la menor de sus cuatro hermanos y demostró su amor por la música desde una edad temprana, al tiempo que obtuvo reconocimiento como actriz a finales de la década de 1990.
Para más información, o para comprar entradas, visite la página web de Musikfest. También puede comprar las entradas en la boletería situada en SteelStacks.