Interview with +LIVE+'s Chad Taylor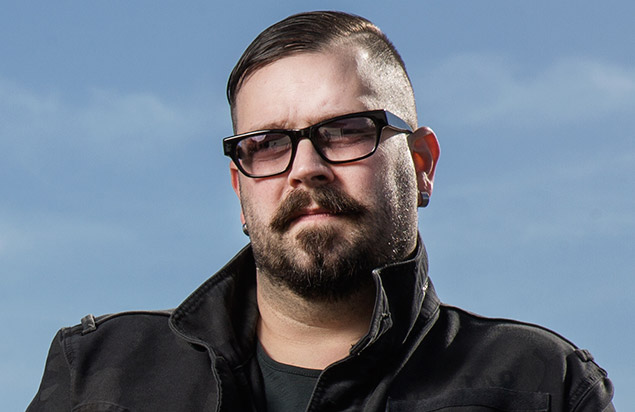 By Ben Youngerman, ArtsQuest Marketing Manager
Reunited, and it rocks so good! Eight years after lead singer Ed Kowalczyk left +LIVE+, and the interpersonal feuds that ensued, the original lineup is reunited and reinvigorated. Getting back together was a long and arduous journey, but the band and its loyal fans couldn't be happier to celebrate the 25th anniversary of Mental Jewelry, the band's first effort under the moniker +LIVE+.
Before +LIVE+ headlines the Sands Steel Stage at PNC Plaza on August 7, lead guitarist Chad Taylor spoke to us about the path to reuniting, answered some Facebook fan questions, and teased the possibility of new music.
Like any reunion, yours started with a beer in your hometown. What led you down the road to reconciliation? How has it felt being back together again?
Had I been able send a message from the future, I would have told my former self to drop everything and work towards restoring the original line-up. I had no life experience that could equate to the plethora of incredible emotions that have been fostered by simply getting Ed, Chad, Patrick and I back on stage. I had so many memories of what we accomplished in our past but I forgot what we actually did, and the only way to get to this moment was to get on stage. It's better than I could have ever imagined, and worth every once of effort it took to get here.
Chad, you're familiar with SteelStacks, having been here several times over the past five years. Coming from the York area, which is very similar to Bethlehem, what are your thoughts on those indie venues and promoters that are dedicated to providing opportunities for local and emerging artists to support their livelihood?
Musicians and songwriters must overcome a myriad of external factors to find even modest local success. Having a good local music venue can make all the difference. The best venues have a built-in following, where new music and expression is encouraged. For +LIVE+, that was the Chameleon Club in Lancaster, the 9:30 Club in DC, and of course, CBGB in NYC. Bethlehem is lucky to have a wide range of venues, from small coffee houses to bigger stages like ArtsQuest and the Sands. It certainly has improved in the last few years!
Musikfest, where you perform Aug. 7, is actually the largest free (no gate fee) music festival in the nation, with more than 500 shows on 16 stages over 10 days. How do you feel events like this can have an impact on communities? Does it surprise you to see a community much like the one you guys grew up in offers something like this?
Pennsylvania has such an impressive cultural arts scene, its no surprise to me that Musikfest has become so successful. As a state, we could do a better job promoting the wide range of artists who got their start in small cities like Bethlehem or York. +LIVE+ (music), Jeff Koons (fine art), Andy Warhol (fine art), Mike Hawthorne (illustrator) and even Taylor Swift (music) all share a deep artist connection with the state and its blue collar inception.
In terms of impacting our communities, arts education remains a steadfast accelerant to bolster academic performance, while also building key skills that serve students long after graduation. Our public education systems are struggling to support music and arts education budgets. Its imperative that these programs remain available to students of all economic standing. I can't stress this enough!
Facebook fan question: What song is your favorite to play live and why?
I love to ride the emotional wave of live music. Songs that bring people together are fun to play because they're interactive. Like the crowd of voices that often join in to propel "Lightning Crashes" from its murky intro to its grand finale. You'd think its be predictable, but it never fails to awaken my spirit. And isn't that the point of music in the first place?
Facebook fan question: Do you like any of today's music? What bands or artist do you guys personally listen to?
I'm in the studio 24/7 producing new music for emerging artists. I love to hear it before anyone else! Just finished working with two cool Pennsylvania artists; Zoe LaBelle (based in Philly); and Port Ellis (based in York). So yeah, I love new music!
With a reunion tour comes the hope for a new album. Where are you at in the process of recording new music?
Rather than put all the pressure on ourselves, we wanted to first get on stage. I think we've only played four or five shows so far…so while we're really excited to perform some new material, we're also focused on being the best band we can be. So far so good.
Hopefully, we'll sneak a new song into the set before the end of the year. Musikfest might be a good place to do so?
Bonus question: What's the one Pennsylvania product (Yuengling, Crayola, PEEPS, etc.) that you enjoy the most?
York Peppermint Patty, of course.
+LIVE+
MONDAY, August 7
Musikfest's Sands Steel Stage at PNC Plaza