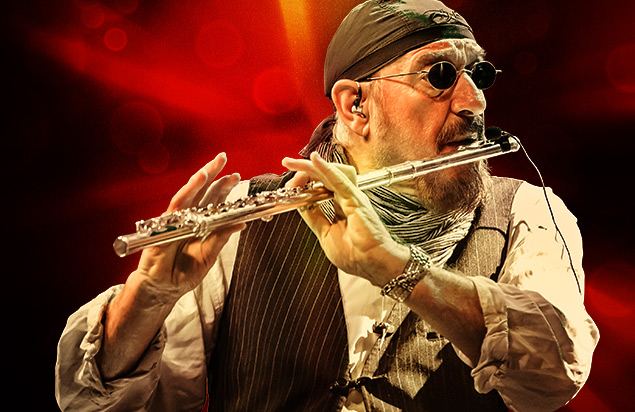 Jethro Tull's Greatest Hits Take Center Stage as Ian Anderson Performs at Musikfest Aug. 13
February 17, 2017
From "Aqualung" to "Locomotive Breath," it's a night of Jethro Tull's hits when Tull frontman and founding member Ian Anderson performs Aug. 13 at Musikfest's Sands Steel Stage. Tickets for "JETHRO TULL by Ian Anderson" are $39-$59 and go on sale starting Feb. 21, 10 a.m., to ArtsQuest Members and Feb. 24, 10 a.m., to the public at www.musikfest.org and 610-332-3378.
Known throughout the rock world as the flute and voice behind Jethro Tull, Anderson is celebrating his 49th year as an international recording and performing musician in 2017. During JETHRO TULL by Ian Anderson, audiences enjoy a collection of the best-known Tull repertoire from 1968 to date. Favorites include "Dharma For One," "Bourée," "Nothing Is Easy," "A New Day Yesterday," "Living In The Past," "Aqualung," "Locomotive Breath," "My God" and more.
Born in Scotland in 1947, Anderson moved to England with his family in 1959 and later attended art college to study fine art before embarking on a musical career. In 1968, he was part of the group that formed Jethro Tull out of the amalgamation of the John Evan Band and McGregor's Engine, two blues-based local groups. Tull then went on to release its debut recording, This Was, featuring "Bourée," later that year.
During their legendary career, Anderson and Jethro Tull have released 30 studio and live albums, selling more than 60 million copies since the band first performed at London's famous Marquee Club in February 1968. Anderson has also recorded seven albums under his own name including 2017's "The String Quartets," his collaboration with England's The Carducci String Quartet on some of Tull's best-known tunes.
The JETHRO TULL by Ian Anderson concert is supported by Pennsylvania Housing Finance Agency, along with media partner 99.9 The Hawk. Other Sands Steel Stage headliners announced so far include Santana Aug. 4, Toby Keith Aug. 10, The Band Perry Aug. 11 and Lee Brice and Justin Moore Aug. 12.
One of the largest music festivals in the nation, Musikfest features more than 500 performances on 15 stages throughout Bethlehem over 10 days. Dates for the 34th edition of the festival are Aug. 4-13, 2017. For more information, visit www.musikfest.org.