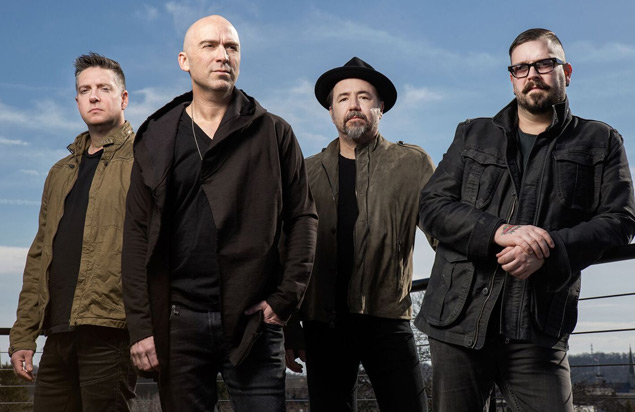 +LIVE+ to Rock Musikfest Aug. 7
Original Lineup Performing Together for First Time Since 2009
May 22, 2017
The original lineup of +LIVE+ – Ed Kowalczyk, Chad Taylor, Patrick Dahlheimer and Chad Gracey – will electrify Musikfest when they perform at the festival's Sand Steel Stage Aug. 7, 7 p.m. Tickets for the concert are $39-$49 and go on sale starting tomorrow, May 23, 10 a.m., to ArtsQuest Members and May 26, 10 a.m., to the public at www.musikfest.org and 610-332-3378.
Known as one of the most potent alternative rock acts and concert attractions, +LIVE+ got its start in nearby York, Pa. The group has sold more than 22 million albums worldwide and earned two No. 1 albums – Throwing Copper and Secret Samadhi – with its catalog filled with hits like "Lightning Crashes," "I Alone," "All Over You" and "Lakini's Juice." Throwing Copper, released in 1994, produced the band's biggest single, "Lightning Crashes," which was No. 1 at Modern Rock Radio for 10 consecutive weeks. The album reached No. 1 on the Billboard Top 200 and eventually surpassed sales of 10 million albums sold, with Rolling Stone honoring the recording with placement on its "1994: The 40 Best Records From Mainstream Alternative's Greatest Year."
In 1997, the group's Secret Samadhi immediately shot to No. 1 on the Billboard Top 200 and eventually went double platinum. The release of the platinum-selling The Distance to Here in 1999 turned +LIVE+ into an international powerhouse and moved the band from arenas into stadiums. The original lineup performed its last show in July 2009 before going off in different directions. Rediscovering their friendship, however, has healed differences, setting the stage for the members to come together to make music again. In addition to Musikfest, this year's concert tour also includes stops at BottleRock Napa Valley, Common Ground Music Festival, Lollapalooza, Austin City Limits Festival and more.
The +LIVE+ concert is supported by media partner WZZO. With the announcement of the show, the Sands Steel Stage lineup for 2017 is now complete. Other Sands Steel Stage headliners include Santana Aug. 4, Chicago Aug. 5, Father John Misty Aug. 6, Aloe Blacc Aug. 8, Godsmack Aug. 9, Toby Keith Aug. 10, The Band Perry Aug. 11, Lee Brice and Justin Moore Aug. 12 and Jethro Tull by Ian Anderson on Aug. 13.
One of the largest music festivals in the nation, Musikfest features more than 500 performances on 15 stages throughout Bethlehem over 10 days. Dates for the 34th edition of the festival are Aug. 4-13.