MUSIKFEST ANNOUNCES MAIN STAGE OPENING PERFORMERS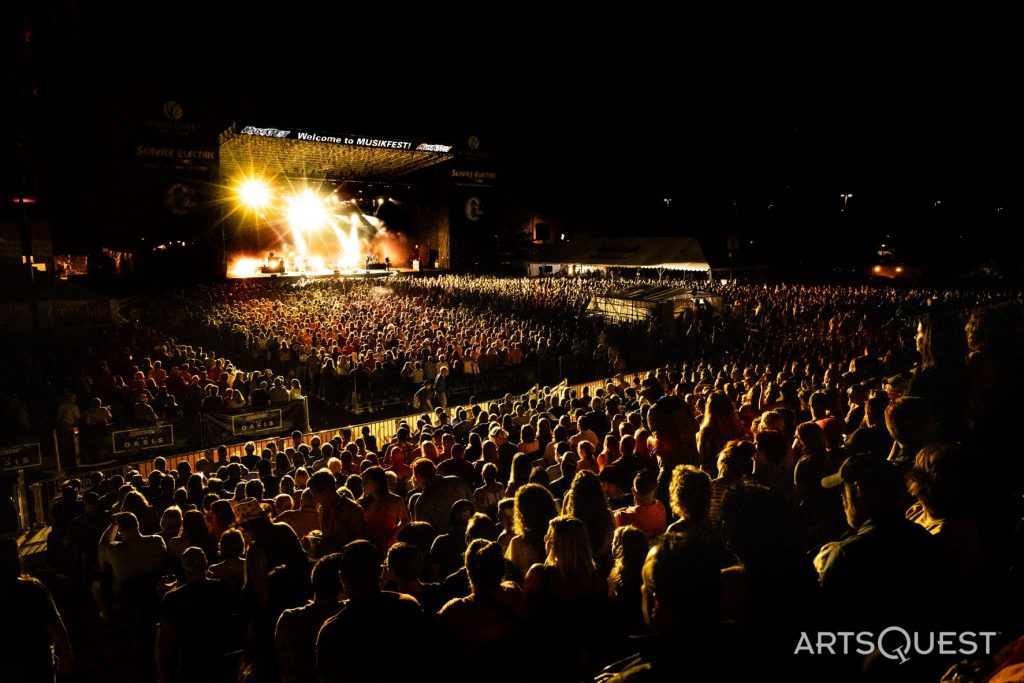 A variety of performers will excite the Wind Creek Steel Stage audience
BETHLEHEM, Pa. — Musikfest is proud to announce the opening acts for the Wind Creek Steel Stage headliners starting Thursday, Aug. 4 to Sunday, Aug. 14. Get ready to experience 17 amazing artists across multiple musical genres, 500 unique performers across 16 free stages, mouthwatering food, interactive displays and so much more!
The festival kicks off on Thursday, Aug. 4 with DJ Jamal Knight, opening for R&B group Boyz II Men. Bethlehem native Knight will be making his Musikfest debut on the special preview night. Following Knight's performance, Tshila is set to hit the stage with her mix of traditional African music and instrumental talents. Born in Kampala, Uganda, Tshila was named one of the 20 best unsigned artists in the world by the BBC World Service in 2007.
On Friday, Aug. 5, Karley Scott Collins and After Midtown will open for country artist Kip Moore. Collins is from Lake City, Florida but moved to Nashville where she continued to explore and create music. She is known for her soulful voice and debut songs "Heavenly" and "Tattoos." Adam Ernst and Michael Rotundo are After Midtown. The pair joined together as single artists after realizing their similar styles and musical chemistry. Ernst and Rotundo have written all of the tracks for their debut album EP, "Don't Give Away the Ending." Moore is a country singer and songwriter known for hits like "Somethin' 'Bout a Truck" and "She's Mine."
On Saturday, Aug. 6, Anna Vaus and Noah Guthrie Award will open for award winning musician, author, actor and activist Willie Nelson & Family.
Raised in Southern California and rooted in Country music, Vaus blends her West Coast style with refreshing hooks and relatable lyrics. Guthrie is a South Carolina based singer/songwriter who taught himself to play guitar at the age of 14. Guthrie writes country/americana music and has released two critically acclaimed original albums. 
On Sunday, Aug. 7, Eighteenth Hour will open for legendary hair-metal band Poison. Eighteenth Hour is bringing its own take on rock & roll and is recognized for being one of the area's best live original bands. Poison is a metal band formed in 1983 in Mechanicsburg, Pennsylvania known for songs "every Rose Has Its Thorn" and "Something to Believe In."
On Monday, Aug. 8, singer/songwriter Stephen Kellogg will open for Grammy and Academy Award-nominated rockers Counting Crows. Kellogg has toured the country for 19 years and has released 17 albums. Since 1993 Counting Crows have sold more than 20 million records worldwide.
On Tuesday, Aug. 9, Get ready to enjoy a plethora of reggae music and sounds! Solomonic Sound System and Kazayah will open for reggae legend Ziggy Marley's live tribute to his father Bob Marely at the Wind Creek Steel Stage.
On Wednesday, Aug. 10 Disturbed returns to Musikfest with opening performers The Beautiful Distortion and New Medicine. Beautiful Distortion formed in 2011 and has been performing in the Lehigh Valley and Philadelphia area ever since. They made their Musikfest debut in 2019 and are excited to return to the 'fest this year! Additionally, New Medicine is an American rock band from Minneapolis, Minnesota that formed in 2009. After a hiatus, the band has released new music just in time for their performance at Musikfest. Disturbed is originally from Chicago and formed in 1996 and has since sold 16 million albums globally being named "Best Rock Artist" during the 2017 iHeartRadioMusic Awards.
On Thursday, Aug. 11, The Voice winners, Girl Named Tom will open for country music star Kelsea Ballerini. Girl Named Tom is a trio of folk singers and the winners of season 21 of the hit show The Voice. The group is based in Ohio and is made up of brothers Caleb and Joshua and sister Bekah. They were coached by American Idol winner Kelly Clarkson and get inspiration from artists like Taylor Swift and Joni Mitchell.
On Friday, Aug. 12, local artist Red McFly will open for Grammy award winners Ja Rule and Ashanti. Mcfly, a producer, rapper and artist based in Allentown, Pa. Mcfly has gained notoriety with artist like Kanye West, French Montana, Lil Flip and more who have rapped over his music. He is known for the songs "Taking Flight ft. Chinx ," "Can't Sleep" and newest single "Leave Me Alone." Ja Rule was nominated for two American Music Awards and Four Grammy Awards. His album R.U.L.E. (2004) attained gold status and he has sold more than 30 million records worldwide. Ashanti is a Grammy Award-winning singer/songwriter and starred in the #1 box office hit Coach Carter with Samuel L. Jackson.
On Saturday, Aug. 13, artist Thomas Mac will open for country-legend Alabama. Thomas Mac is inspired by artists like Johnny Cash, George Strait and Brad Paisley and is known for mixing traditional country with pop country with songs like "Me in Mind," "Cheers to Beer" and "Real Good." Alabama hails from Fort Payne and got their big break in 1980 with their first top 20 hit "My Home's in Alabama."
For the festival's closing night, Sunday, Aug. 14, Mako Swing and Christian Alicea will open for headliner Olga Tañón. Mako Swing is an urban band specializing in Bachata and salsa music. Alicea is a rising star originally from Puerto Rico who has had a love for music from an early age. By 11, he had already toured Puerto Rico spreading his talent and passion for music. The song he says represents him is El Cantante by Hector Lavoe. Tañón is a Puerto Rican recording artist with two Grammy Awards, three Latin Grammy Awards and holds the record for the most top 10 hits by a female artist on Billboard Tropical Airplay. Tañón's performance will be followed by the festival's traditional explosive firework display.
Download the Musikfest app presented by PNC Bank to stay up to date throughout the festival. The app will allow you to customize your schedule, access an interactive Musikfest map, emergency weather information, shuttle schedules and best park lot locations and more! The app is available to download at the Apple and Google Play app stores.