MUSIKFEST SETS ALL-TIME ATTENDANCE RECORD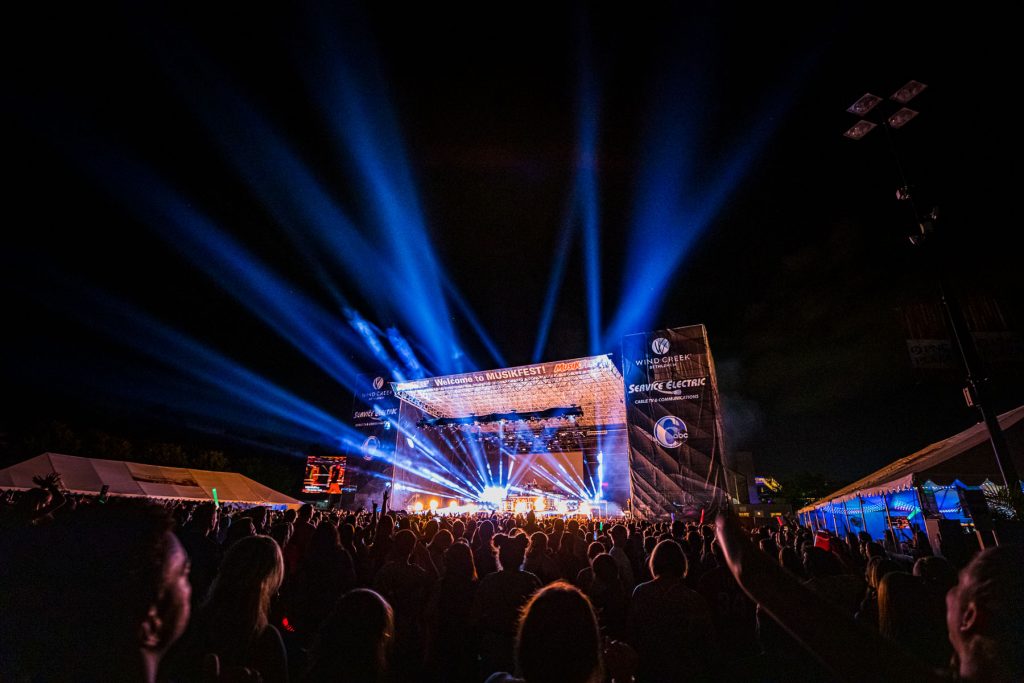 Photo: Jesse Faatz Photography
More Than 1.2 Million Visit Bethlehem for 2019 Festival
BETHLEHEM, PA—They came from Australia and Aruba, Texas and Tennessee. When all was said and done, more than 1.2 million guests visited Bethlehem and the Lehigh Valley for Musikfest, setting an all-time attendance record for the festival.
During Musikfest 2019, patrons came from a record 46 states and 26 countries, with individuals coming from as far away as The Philippines, Saudi Arabia and Vietnam. This year's festival featured 400 performers from 27 states and five countries, with performers and artists offering more than 500 performances during the event's 11-day run. Attendance at the 2019 event, which took place Aug. 1-11 was 1,226,000, topping the previous record of 1,196,000 set in 2017.
"The combination of so many great artists, new attractions and exceptional weather drew excellent crowds at this year's festival," ArtsQuest President and CEO Kassie Hilgert said. "Over the past three years, we've focused on enhancing our visual arts programming, attractions and family activities to complement the music and food at Musikfest and it has paid off. This event was started to draw visitors to the city's downtown, so it was great to see so many people checking out the restaurants and businesses on Main Street, the SouthSide and other areas of Bethlehem.
"We greatly appreciate the support of everyone, from our volunteers, ArtsQuest Members and sponsors to the city and the county, for helping to make this festival possible each year. Not only did they all come together to help us set a new record in 2019, this year we topped 18,000 free performances for our community since the festival started. It's this amazing community that has earned Musikfest the distinction of being named 'Best Music Festival in North America' by USA Today's 10best."
Established in 1984 as a community festival, Musikfest has grown to become the largest free, non-gated music festival in the nation, having an economic impact of more than $60 million annually on the city and the region. At the Wind Creek Steel Stage, attendees enjoyed a diverse lineup led by a sold-out performance by Goo Goo Dolls and Train. Other artists performing at the festival's main stage included The Chainsmokers, Incubus, Steve Miller Band, The Revivalists, Godsmack and more. Overall, 49,123 people attended the 11 shows at the main stage, which concluded with a rockin' set by Brad Paisley Aug. 11.
"From the City's perspective, Musikfest is one of the biggest promotional tools that we have," says Bethlehem Mayor Bob Donchez. "Each year, the festival draws people from across the country to Bethlehem and the Lehigh Valley. The economic impact of this event can't be stressed enough. Not only do people shop in our downtowns, eat in our restaurants and stay in our hotels during the festival, many of them return at other times of the year, stretching Musikfest's impact across the calendar.
"The festival is a huge undertaking that involves nearly all of our city's departments, as well as dozens of ArtsQuest staff and more than 1,600 volunteers. It's the entire community coming together that makes this event possible for more than one million people to enjoy each year. On behalf of the City of Bethlehem, I thank everyone, including the nearly 20 city, county, state and federal emergency response groups that come together to keep everyone safe, for their roles in making Musikfest one of the largest and best, free music festivals in the nation."
Highlights of this year's Musikfest included the addition of a preview night at SteelStacks Aug. 1 headlined by Earth, Wind & Fire; new family-friendly comedy performances at LehighValleyWithLove Comedyplatz on weekends, and the new Guardian Life Insurance Company of America Zinzenplatz, featuring the Musikfest arcade and shows by dynamic tribute bands that packed the house.
On Aug. 7, Guardian Life Insurance Company of America also celebrated a special evening, with more than 100 volunteers on the Musikfest grounds, and festival-goers invited to stop by its Zinzenplatz booth to share their thoughts on video about "What notable female inspires you?" For every person who answered the question, Guardian donated a special wellness bag to Turning Point of the Lehigh Valley to use in its outreach services to women affected by domestic abuse.
"Guardian has been supporting Musikfest's mission to bring arts and culture to the masses for a number of years," says Kim Delaney, Vice President of Client Engagement at Guardian. "This year's new venue, Zinzenplatz, was a great way for the community to come together to celebrate a legendary female in Bethlehem, Countess Benigna von Zinzendorf. We are proud to put a spotlight on powerful women and help raise awareness for Turning Point, a local nonprofit that provides a safe place and resources for survivors of abuse in Lehigh Valley."
The largest free music festival in the nation, Musikfest is made possible thanks to the support of the City of Bethlehem, Bethlehem Redevelopment Authority, Bethlehem Area School District, Northampton County, 175 corporate partners, more than 1,600 volunteers and 3,300 supporting members. In 2019, festival volunteers donated approximately 40,000 hours of their time, assisting with everything from event setup and takedown to ushering at the Wind Creek Steel Stage and selling food and beverage tickets during the event.
Proceeds from Musikfest 2019 will go to support ArtsQuest's free programming for the community year-round at the Banana Factory arts center and the SteelStacks arts and cultural campus. Musikfest 2020 dates are July 31-Aug. 9. For more information, visit www.musikfest.org.