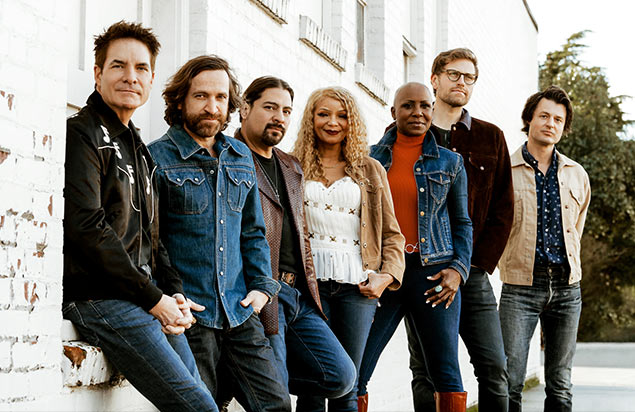 Musikfest's Next Headliner Announced: TRAIN will Perform at the Wind Creek Steel Stage on Sunday, Aug. 13, 2023
ArtsQuest is excited to announce that multi-Grammy and Billboard Award-winning rock band Train will perform with special guest Better Than Ezra at the Wind Creek Steel Stage at PNC Plaza on Sunday, Aug. 13, 2023, during this year's 40th anniversary of Musikfest. This headliner event is sponsored by B. Braun and Edwards Business Systems along with media partners 100.7 WLEV and 99.9 The Hawk.
ArtsQuest Member ticket access begins Thursday, March 9 from 10 A.M. to 10 P.M. and to the general public on Friday, March 10 at 10 A.M. For more exclusive ticket access and advance purchase opportunities, become an ArtsQuest Circle donor today.
Hailing from San Francisco, California, Train has enjoyed global success, with 30 million+ tracks and over 10 million albums sold worldwide. Additionally, the band has had 14 songs on Billboard's Hot 100 List since the release of their debut self-titled album, released by Columbia in 1998. "Meet Virginia" gave them their first unlikely radio hit and 2001's "Drops of Jupiter" broke them to multi-platinum status. Another favorite, "Hey, Soul Sister" was the No.1 best-selling smash and most downloaded single of 2010. Train's studio album, AM Gold, was released in May 2022.
Train has played all three of the festival's main stages: Kuntsplatz, RiverPlace and now Steel Stage.
Opening for Train, Better Than Ezra, is named one of the top "100 Greatest Alternative Artists of All Time" by Billboard. The band was originally formed in 1988 at Louisiana State University by Kevin Griffin (lead vocals, guitar, piano) and Tom Drummond (bass, backing vocals). With 1995's #1 hit "Good", followed by songs like "Grateful" and "A Lifetime," Better Than Ezra's hummable melodies, unshakable guitar riffs and confessional lyrics have quietly cemented the group as an enduring force in rock music.
About Musikfest
A record-breaking 1,240,000 people attended Musikfest in 2022. The 11-day festival featured over 500 free performances, across 16 stages located throughout the City of Bethlehem. The 40th Musikfest is scheduled for Aug. 4 – 13, 2023. This year's Musikfest 2023 poster artist is Allentown-based family Maltas Con Leche. Visit musikfest.org for more information.