Picks by the Platz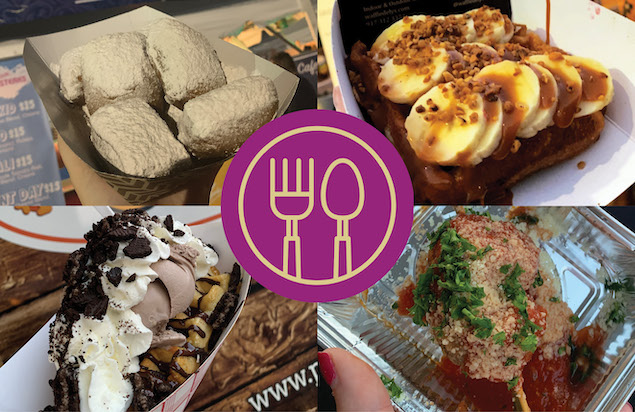 By Kaitie Burger of @LehighValleyEats on Instagram
An appetizer, entree, and dessert pick from each area of Musikfest 2021!
Arguably one of the best parts of Musikfest has to be the food! If you're like me, there's no cooking at home during the 'Fest. Instead, make your way through the various platzes to sample dishes from the different food vendors, including some newcomers for 2021!
Our food journey starts on Main Street and winds through the North Side of the festival grounds before heading over to the South Side.
PROVIDENT BANK MAIN STREET
Start your meal with the pork belly buns from the Randevoo Food Truck. These steamed buns are filled with crispy meat and topped with homemade pickles.
Next up, we're heading for some classics! It's not Musikfest unless you eat at least one Take a Taco. We're partial to the classic chicken taco, but you can't go wrong with any of the items on their menu. (Pro tip: order the garlic pierogi fries as a side. You're welcome.)
For a sweet treat to end your meal, we're going with the classic Dippin' Dots.
MARTIN GUITAR HANDWERKPLATZ
You know you have to start with Aw Shucks, no questions asked. I always go for the classic Aw Shucks style, smothered in butter, their signature spice blend, and parmesan cheese. Extra napkins are a must!
Next up is Harvest Specialty Catering for some lobster-y goodness. I'm a fan of the classic lobster roll option, but if you're in the mood for something more decadent, the lobster mac n cheese is a must-try!
Finish off your meal with a refreshing fresh-squeezed lemonade.
WELLS FARGO FESTPLATZ
As one of the largest platzes, you'll find some of most popular food items here at Festplatz! Start your meal with the meatball on a stick appetizer from Pat's Bistro.
Next up, head to Meltdown Gourmet for a grilled cheese. We opted for the Martin Tower, a sandwich packed with mac n cheese, kielbasa, and barbecue sauce.
And for your sweet treat, a stop at the Philly Waffle Cabin should definitely be on your list! We sampled the cookies & cream for a classic chocolate flavor, but the vanilla crunch waffle was a homerun. Many of the waffles are topped with ice cream, but you can get yours without as well.
T-MOBILE PLAZA TROPICAL
Making your way south through the festival grounds, next up is Plaza Tropical. First, we've got D&J Concessions for a little fried, well, EVERYTHING! Grab the ribbon fries or bloomin' onion to start your 'Fest food journey.
Across the way, is Cubano X-Press which has quickly become the hottest food of the 'Fest! The traditional Cubano is super tasty, but opt for the Cubano BLT for a unique twist on a classic favorite. If you're still feeling hungry, add an order of the yucca fries to your plate! Or if you're feeling like a different direction, opt for the plantain nachos topped with pork.
To wrap up your night, make your way to Island Expressions for a smoothie – they've got 26 flavors to choose from!
GUARDIAN LIFE INSURANCE COMPANY OF AMERICA ZINZENPLATZ
Last but not least on the North Side, we have Zinzenplatz. If you're walking and eating, a Chick 'n Cone is the perfect choice for food on the go! Choose from their house sauces to top your cone; we're partial to the Kickin' Ranch.
For your main course, we're highlight another 'Fest newbie! Simply Skewered serves up bowls packed with rice, beans, veggies, and your choice of marinated meat. Grab the Frango Churrasco (grilled chicken breast marinated in garlic, lemon and cilantro) or the Sao Paulo Korean Beef (Gochujang and herb marinated sirloin) to complete your dish.
And now it's time for some extra napkins, because your final food pick for the night is the beignets from The Bayou. These are absolutely loaded with powdered sugar and are so good, you'll think you've been transported straight to NOLA.
AIR PRODUCTS AMERICAPLATZ AT LEVITT PAVILION STEELSTACKS
Did you work up an appetite as you crossed the Lehigh River? That's perfect, because there are plenty more good eats to explore on the SteelStacks campus!
Start out with an order of poutine from The Flying V. Choose from a classic style or go for something more adventurous like the buffalo chicken poutine. (You can also find The Flying V at Festplatz, but each location has different menu items!)
Next up is Van Pelt Hot Dogs for a specialty creation. I always go for The Jammer, which is topped with bacon jam, arugula, gorgonzola cheese, and pickled red onions.
And to wrap up your night, a visit to Dinky's Ice Cream is a must. Their homemade chipwiches are a personal favorite, but you can also choose from classic flavors in a cup or cone.
For more great 'Fest food adventures and eats from across the Lehigh Valley year-round, follow @LehighValleyEats on Instagram.