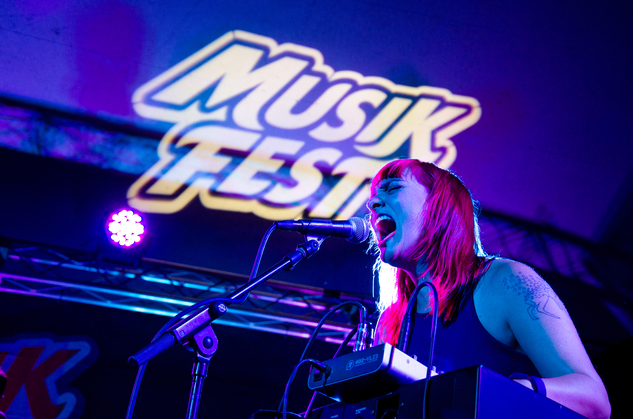 Slingshot Dakota's Carly Comando shares her 5 tips for playing Musikfest 2017
By Emily Cummins, Public Relations Coordinator
The competition for performing at Musikfest is fierce. Each year ArtsQuest pores over 2,000 submissions to select 200 diversely talented performers to wow festers. Before their first appearance at Musifkest in 2014, the husband and wife team of
Slingshot Dakota
were still relatively unknown outside of the Lehigh Valley after more than 10 years of tearing up the local rock scene. Now the Bethlehem-based pop-punk duo has hit their stride with the release of their third album and first music video; features in national publications including
NPR
,
VICE's Noisey
and
Brooklyn Vegan
and standout shows in Austin, Texas for SXSW 2016. Their energy, paired with poetic and catchy tunes, has made the band a Musikfest crowd favorite.
Carly Comando
shreds an 88-key digital piano and Tom Patterson keeps the beat while crushing his drums, producing a truly electrifying performance. As they prepare for their spring tour with the Chicago duo Ratboys, Comando shares some wisdom from her tips for playing Musikfest to her best advice for young artists.
What is your favorite Musikfest memory?
Our favorite memory has to be the first Musikfest we ever played. We were set to play the Town Square stage on a Monday night at, I think, 11 p.m. We weren't sure anyone would come out besides our parents, but so excited to play that we also didn't worry. We had promoted our set as best as we could. As showtime approached, all of our friends, families, co-workers, fans and folks we didn't know filled up the square. I had just gotten over a cold and got my voice back in time for the show, and I remember being overwhelmed with emotion. It was one of the best nights of my life. All of these people showed up on a Monday night at 11 to watch us play and that meant something incredible.
What makes the experience of Musikfest unique?
Musikfest is special because we get to perform in our hometown, to our families and hometown friends, in addition to the many folks from all over the country who make the trip. It's a celebration of our local successes in Bethlehem through our musicians, artists, food vendors, stores and everything our beautiful town has to offer. It's different than other shows we perform at because usually at a concert, folks know exactly who they're going to see. They've spent their hard earned money to see their favorite musician and they know what to expect. At Musikfest, folks can wander around and see all kinds of genres of music. It allows them to open up their minds to new things and defy their own expectations.
Why is Musikfest important to the local scene?
Musikfest helps to support the growth of
local artists
through its free stages. As a festival that takes place in the Lehigh Valley, it is crucial to include local Lehigh Valley bands. It's important to support a variety of genres and bands, despite their popularity, especially because all of these types exist here and also because all kinds of music fans attend the festival. No artist can grow if they don't receive support, and that starts at the base level of their beginnings. My band had existed for many years and played the Lehigh Valley all of the time, but we were mostly playing underground venues. We weren't necessarily "known" to the folks outside these spaces, so it made sense that ArtsQuest didn't know of our existence and/or desire to be included in Musikfest. I don't exactly remember how our relationship came to be, but I think I applied for Musikfest in 2014. I remember that Tom and I were really excited to be accepted that year, because it meant validation on a different level than what we were used to. We love the music community that nurtured us, but we also wanted to expand and perform for more people. Playing Musikfest gives musicians that opportunity to expand their audience and as Tom once said, ArtsQuest helped bring us to the other side.
What is your best advice for young performers of DIY acts just getting their start?
1. My advice is GO FOR IT! I remember wondering why we weren't asked to perform at Musikfest when we had been a well-known, productive band within our scene, but then it dawned on me that not everyone knew who our band was. Once I decided to take action and introduce myself to ArtsQuest via the Musikfest application, our relationship blossomed. It's easy to get dissuaded in this industry but if you're proactive, positive and direct, you have a better chance of making things happen. Be good at your craft, as well. Take the time to rehearse and constantly improve at your art. I know it's taken me years to get to the artistic point I want to be at, but I didn't necessarily know that years ago. 2. Another tip is to be professional. If you want to apply to Musikfest, make sure you have enough material to fill the time slot you could potentially be given. Make sure you are responsible enough to handle the chaos of blocked off streets and time constraints. Be respectful and kind to everyone involved in Musikfest, but also, do those things all of the time. 3. Practice. I used to hate the phrase "practice makes perfect" as a kid, but the fact is, it's true. You can't be a successful musician if you sound unrehearsed, out of tune and unfocussed. It takes a long time for the ideas you have in your head to become a reality. Your vision is there, but it takes a lot of trial and error to finally get that to paper, or recording in this sense. Kindness and respect are, to me, as important as being amazing at what you do. 4. Be confident, proud and assertive in what you do, but also listen to those around you. Be on time, be courteous to the crew involved with your show. Have your gear set up, tuned and ready to go way before it's your time to play. Be aware of your set time and make sure to thank everyone involved, whether it's the bartenders serving drinks to everyone or the stage manager. 5. Finally, meet other people. This is a huge thing. There's nothing worse than a musician who doesn't support other musicians. I grew up in DIY punk, and you watched every band that performed. You could decide whether or not you liked them after a few songs, and if it wasn't your cup of tea, move to the back of the room. But, you gave everyone a shot, because the show wasn't only about "you." It's about the curation of the entire show; it's about community. Meet the folks playing the shows you play and support their bands if you like them. Build up a little network and create something special with other bands you connect with. You can do weekend tours with them and start traveling outside your city. Talk to folks who attend the shows. Making friendships is the best way to genuinely network. Musikfest is 10 days of non-stop music on 15 different stages in the heart of Bethlehem. Over two decades have passed since the first Musikfest, and from those humble beginnings, the event has blossomed into a musical spectacular that attracts more than one million people from throughout the country. Celebrating its 33rd year, Musikfest 2017 will host more than 500 performers and 1 million attendees from across the country and around the globe.
Interested in playing Musikfest 2017? Visit musikfest.org and complete the performer application by Feb. 28.