Steve Miller Band & Marty Stuart Headline Musikfest Aug. 3, 2019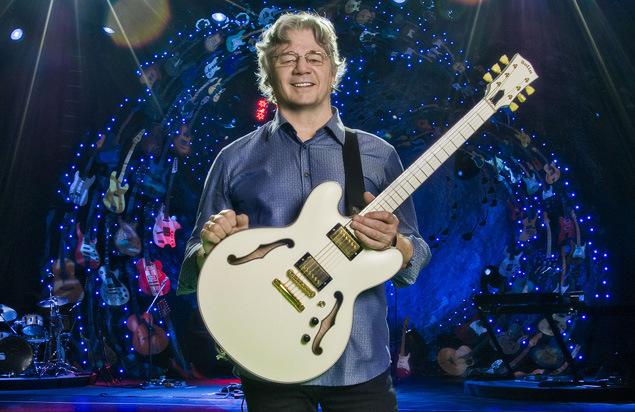 Photo by Paul Haggard
BETHLEHEM, PA— The legendary Steve Miller Band teams up with Marty Stuart and his Fabulous Superlatives for an unforgettable performance at Musikfest's Wind Creek Steel Stage Sat., Aug. 3, 7 p.m. Tickets for the performance are $51-$71 and go on sale starting Tues., Feb. 19, 10 a.m., to ArtsQuest Members and Fri., Feb. 22, 10 a.m., to the public at www.musikfest.org and 610-332-3378.
At Musikfest, Rock and Roll Hall of Famer Steve Miller joins Marty Stuart for "An Amazing Evening of Original American Music – Classic Rock Meets Classic Country." Best known for iconic hits like "The Joker," "Take the Money and Run," "Rock'n Me," "Fly Like an Eagle," "Jet Airliner" and "Jungle Love," Miller has been an enlivening presence on the American music scene for more than half a century.
As a mainstay of the San Francisco music scene that upended American culture in the late '60s, Miller charmed fans with albums like "Children of the Future" and "Sailor and Brave New World," perfecting a psychedelic blues sound that drew on the deepest sources of American roots music. In the '70s, he crafted a brand of pure pop that was smart, polished, exciting and irresistible – and that dominated radio in a way that few artists have ever managed. In the course of his long career, Miller has sold tens of millions of records and his music has been streamed more than two billion times.
Rising to stardom in the '80s, GRAMMY Winner Marty Stuart began performing bluegrass at the age of 12 and later joined musicians like Lester Flatt, Vassar Clements, Doc Watson and Johnny Cash. In 1978 he released his first LP, "With a Little Help from My Friends," but in 1982 he stepped out to record his debut solo album, "Busy Bee Cafe," an informal jam session for Sugar Hill with guest spots by Cash, Watson and Earl Scruggs, among others. Later hits like "Hillbilly Rock," "This One's Gonna Hurt You" and "Burn Me Down" electrified Stuart's career and he won four GRAMMY Awards, including Best Country Collaboration and Best Country Instrumental Performance.
The 2019 Steve Miller Band performance marks Miller's third concert at Musikfest, having previously performed in 2005 and 2011. The concert is supported by Capital Blue Cross, Ironton Telephone, Lafayette Ambassador Bank and media partners 99.9 The Hawk and WFMZ TV. Other 2019 Wind Creek Steel Stage headliners announced so far include The Chainsmokers Aug. 2, Lady Antebellum Aug. 4, Train & Goo Goo Dolls Aug. 6 and Brad Paisley Aug. 11.
One of the largest music festivals in the nation, Musikfest features more than 500 performances on 17 stages throughout Bethlehem over 10 days. Proceeds from Musikfest support ArtsQuest's free programming for the community year-round at the Banana Factory arts center and the SteelStacks arts and cultural campus. Dates for the 36th edition of the festival are Aug. 2-11.
For more information, visit www.musikfest.org.
Partners
Media Partners