Train & Goo Goo Dolls First Concert Announced for Musikfest 2019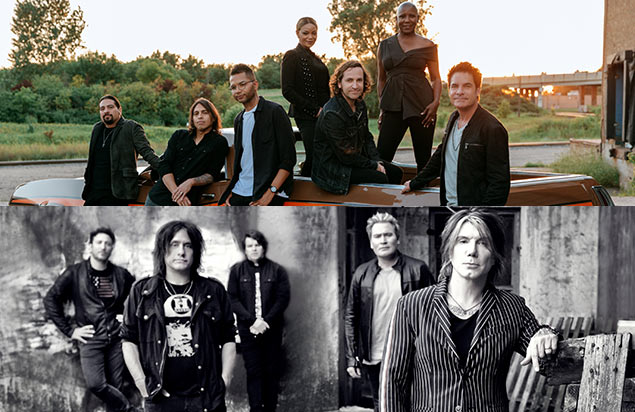 As part of their summer 2019 tour, multi-GRAMMY Award-winning rock band Train and multi-platinum trio the Goo Goo Dolls are the first performers announced for Musikfest's 36th year, headlining the festival Tues., Aug. 6, 7 p.m., at the Wind Creek Steel Stage. Tickets for the show, which features special guest Allen Stone, are $59-$89. They go on sale Tues., Nov. 27, starting at 10 a.m., to ArtsQuest Members, and Fri. Nov. 30, 10 a.m., to the public at www.musikfest.org and 610-332-3378.
Returning to Musikfest after headlining performances in 2006 and 2001, Train is a GRAMMY and Billboard award-winning band that has had 14 songs on Billboard's Hot 100 list since the release of its self- titled debut album. The band's climb to the top began with the tumbling wordplay of "Meet Virginia," which gave the group its first radio hit, and 2001's "Drops of Jupiter" broke them to multi-platinum status thanks to the double-GRAMMY Award-winning title song that spent 10 months in the Top 40. Train went on to win another GRAMMY in 2011 for its global hit "Hey Soul Sister," the #1 best-selling smash and most downloaded single of 2010, from the multi-platinum album "Save Me, San Francisco." Most recently, the band released the 2018 hit single "Call Me, Sir," featuring Cam and Travie McCoy.
Best known for unforgettable hit songs like "Iris," "Name," "Slide," "Come to Me" and "Give a Little Bit," Goo Goo Dolls, which headlined Musikfest in 2012, uphold an unbreakable connection to countless fans. To date, the group has sold more than 12 million albums worldwide, earned three GRAMMY Award nominations and made history by notching 14 Top 10 hits at Hot AC – the most of any artist in history. Notably, "Iris" dominated the Hot 100 at #1 for 18 straight weeks.
The band's 11th studio album, "Boxes," included the popular track "So Alive" and attracted the praise of People Magazine, The Huffington Post, VICE's Noisey, Consequence of Sound and more. In 2017, the "You Should Be Happy" EP spawned another anthem in the form of "Use Me," which quickly generated more than three million Spotify streams. Celebrating more than 20 years in the industry, Goo Goo Dolls have performed for millions at sold-out shows around the world, and their music has been covered by everyone from Taylor Swift to Leona Lewis.
Opening for Train & Goo Goo Dolls is soul and R&B singer Allen Stone, best known for electrifying throwback tracks like "Unaware," "Brown Eyed Lover" and "Bed I Made."
The Train & Goo Goo Dolls concert is supported by Pennsylvania Housing Finance Agency, Highmark Blue Shield and media partners 100.7 WLEV and The Morning Call. One of the largest music festivals in the nation, Musikfest features more than 500 performances on 16 stages throughout Bethlehem over 10 days. Proceeds from Musikfest 2019 support ArtsQuest's free programming for the community year-round at the Banana Factory arts center and the SteelStacks arts and cultural campus. Dates for the 36th edition of the festival are Aug. 2-11.
For more information, visit www.musikfest.org.
Partners
Media Partners