Here's the Scoop on Our Virtual Musikfest Artists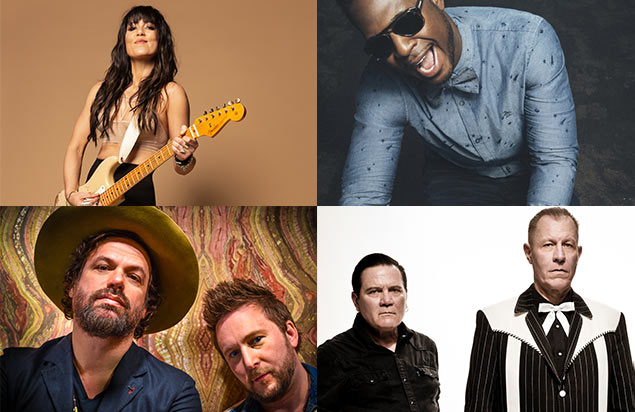 By Megan Pulver, ArtsQuest Social Media & Marketing Intern
Together we will 'fest again. But for now, let's enjoy music from a safe spot. This year, we have 40 artists set to stream with us and another 40 being shown live by our pals at Service Electric Cable TV, Inc. If you're interested in snagging a new mug or finding out other ways to support Musikfest, go to musikfest.org/together.
This year is unlike any other, but we still have a rockin' lineup for y'all. We've rounded up some of our Musikfest favorites, local legends, and Grammy nominees to brighten up your summer blues. Read below to learn more about our performers, their vibes, and their songwriting influences. Plus, keep an eye out for a Service Electric lineup coming soon!
Robert Randolph
Instagram / Facebook / Twitter
Robert Randolph has been making a name for himself since he was old enough to pick up his first pedal steel guitar in the House of God Church. Randolph performed with his family frequently, giving him an innate comfortability with the stage, which kickstarted his professional career.
NPR pegs him as having "irresistible rock 'n' roll swagger" and he has also been named one of the 100 greatest guitar players of all time by Rolling Stone Magazine. Randolph and his Family Band are four-time Grammy nominees and currently sit atop six studio albums.
KT Tunstall
Instagram / Facebook / Twitter
KT Tunstall has been shredding since she was four years old… on the piano that is. At an early age, she learned the flute, guitar, drums, and vocals. It's no wonder why KT became such powerhouse in the early 2000s with a lifetime of musicality and killer songwriting in her back pocket.
Her takeover began when she performed "Black Horse and a Cherry Tree" on Later… with Jools Holland and has only spread since. Her latest single is as courageous as it is thoughtful, encouraging fans to "Kollaborate" by submitting entries to be included in her "Wash Ya Hands" music video!
Michael Glabicki of Rusted Root
Glabicki: Instagram / Facebook
Rusted Root: Instagram / Facebook / Twitter
Nearly 30 years ago, Michael Glabicki dropped out of college to start a band. He spent the first two years learning the ropes of stellar songwriting before taking Rusted Root on a national tour. The band drew in fans almost immediately with their rock-and-soul sound, not to mention their hit "Send Me On My Way," which has been featured in countless commercials and film soundtracks. Today, Glabicki takes songs from Rusted Root's discography and reinvents them to fit a more intimate setting.
ADAM WEINER OF LOW CUT CONNIE
Weiner: Facebook
Low Cut Connie: Instagram / Facebook / Twitter
At the heart of Philly rock n' roll, Low Cut Connie is adored for their bonkers live performances. Before Low Cut Connie, Adam Weiner played honky-tonks, ballet classes, and everything in between with a natural spirit for connecting with his audience.
Rolling Stone Magazine sums up their current status to a T: "Loveable lowbrow rock & roll revivalists Low Cut Connie reimagine the early-Seventies Stones as South Jersey keg-party killers." Their latest exploit, Private Lives, is a double album comprised of 17 songs and three years' worth of dedication. From the sounds of the title track, this album will be well worth the wait.
REVEREND HORTON HEAT
Instagram / Facebook / Twitter
Reverend Horton Heat is eclectic, 50s punk, country, and surf. They have toured with the likes of Soundgarden, ZZ Top, The Cramps, Social Distortion, White Zombie, and the Sex Pistols. The psychobilly trio has also paved their way to the cover of Prick Magazine, where frontman Heath has been deemed the "godfather of modern rockabilly." The group has been active for nearly 35 years, has sold over 1 million albums, and isn't stopping anytime soon.
DEVON GILFILLIAN
Instagram / Facebook / Twitter
Devon Gilfillian is soul. He exudes it in every song he performs and every lyric he writes. As a child, his favorite artists were Ray Charles, Stevie Wonder, Wu-Tang Clan, and Kanye West. Growing up in Philadelphia with this particular blend of influences was a recipe for his success.
Since releasing his debut EP in 2016, he's had the opportunity to tour with artists like Anderson East, Keith Urban, and The Fray. Just this year, he put out a new album entitled Black Hole Rainbow, which is full of the wonder you might be looking for.
LIL ED & THE BLUE IMPERIALS
Lil Ed and the Blues Imperials have been keeping the Windy City entertained for over 30 years. With their nine albums, the group has proven their devotion to the art of soul, deep blues, and their Chicago roots. Their sound is reminiscent of blues boys like Hound Dog Taylor and J.B. Hutto, who happens to be the Uncle and music teacher to his nephew, Lil' Ed.
SCYTHIAN
Instagram / Facebook / Twitter
Scythian has performed for 15+ years and has played over 2,000 shows throughout their career. Ironically, these guys didn't intend to start a band at all. As college buddies, they played Celtic music in the streets but quickly decided that it was too much fun to stop. After officially coining themselves Scythian (sith-ee-yin), they decided to stray away from joining a label and still attest that they wouldn't want it any other way.
CRAIG THATCHER AND NYKE VAN WYK
Thatcher: Facebook
Van Wyk: Instagram / Facebook / Twitter
This fiddling duo will get you out of your seats – or off of your couch! Their sound brings blues, rock, fingerpicking, and Celtic style into one playfully peaceful pairing. These two musicians are award-winning, seasoned in their craft, and will leave you stunned by their takes on classic rock hits.
Igor & Red Elvises
Instagram / Facebook / Twitter
Igor & the Red Elvises have been rockin' and rollin' since the early 90s, all the way from the USSR to Santa Monica Boulevard. Frontman Igor Yuzov was born in the former Soviet Union and migrated across Ukraine and Russia, until landing in sunny California with a greeting from Ronald Reagan himself. The group was born out of a love for traditional folk music and has evolved, with help from The King himself, into a "Siberian Surf Rock" extravaganza that you don't want to miss!
KAM FRANKLIN OF THE SUFFERS
Franklin: Instagram / Facebook / Twitter
The Suffers: Instagram / Facebook / Twitter
Kam Franklin is set to step aside from her eight-piece entourage (don't worry, not for good) and bring her explosive energy to the stage. The band has been known to thrive despite any odds and aims to make music for everyone. Their sound checks off every box on the list: reggae, jazz, salsa, rock 'n' roll, hip hop, and funk.
With so many musical characteristics, instruments, and musicians running around, the band hopes to "Make Some Room" for new music coming Fall 2020. As for Franklin, we'll be hearing from her very soon!
JOE HERTLER & THE RAINBOW SEEKERS
Instagram / Facebook / Twitter
If you liked The Magic School Bus as a kid, then you're en route for another magical ride. Joe Hertler and the Rainbow Seekers promise to make "a sprightly young groove doctor out of anyone," complete with a hypnotic stage presence and a fitting fusion of rock and soul. These guys are well-loved at fests across the country like Bonnaroo, Electric Forest, and Summer Camp. Now, they're bringing the entire rainbow outfit to Musikfest!
MAKING MOVIES
Instagram / Facebook / Twitter
Making Movies is genre-bending and oh-so sincere. They have perfected their house blend of traditional Mexican and Panamanian sounds, American blues, and bi-lingual lyrics to a concoction that is right for everyone. Even Rolling Stone Magazine went as far as to say that this group is "breaking down walls in the US" for musicians and listeners alike.
BRIAN NEWMAN
Instagram / Facebook / Twitter
Brian Newman is ready to reinvent the jazz that we know and love into something that we will love even more. His debut album, SHOWBOAT, pushes the envelope with influences ranging from his favorite rock bands to the OG masters of jazz. Imagine Miles Davis and Kurt Cobain getting a drink together and hopping on stage to karaoke the night away.
ALEX MEIXNER BAND
Instagram / Facebook / Twitter
The Alex Meixner Band is a favorite of the National Folk Festival, Central Park SummerStage, and SteelStacks lunch break for a reason. Meixner's love for Central European party tunes, jazz, polka, and family tradition has led him down a path to a Grammy nomination and collaboration with Jack Black at Sundance in 2017. He aims to please fans of any age with his treasured accordion and enthusiastic approach to the celebration of music.
THE ACCIDENTALS
Instagram / Facebook / Twitter
The Accidentals are, in short, a spectacle. That is, being a unique fusion of indie rock and contemporary folk music, leading to a genre all their own. The fem-fronted, power-trio are renowned festival favorites according to SXSW and have been pegged as "some of the most compelling songwriters of our time" by NPR. This might be expected from three individuals being raised on several instruments apiece before the age of 10, but we like to call it a happy accident.
SHAMARR ALLEN
Instagram / Facebook / Twitter
Shamarr Allen will give you the entire "True Orleans" experience with his funky, trumpet-infused jams. Allen is at the heart of recognizing everyone for their worth, especially essential workers during the COVID-19 pandemic. He exudes positivity and messages of inclusion for his fans. This love has led him to collaborate with some of his idols, including Willie Nelson, Patti LaBelle, Lenny Kravitz, and Harry Connick Jr. Not to mention, he had the opportunity to play for President Obama… twice.
LIZ LONGLEY
Instagram / Facebook / Twitter
There is a lot to be said about Nashville's Liz Longley and of her devoted fanbase. After parting with her prior label, Longley was determined to buy back her masters. With her fans' help, she raised $150,000 through Kickstarter, bought back her songs, and released her newest album, Funeral For My Past, as a thank you. She hopes to keep returning the favor by playing shows and writing more unforgettable pop-rock numbers.
THE WILD HYMNS
Instagram / Facebook / Twitter
There are elements of mellow rock and jazz sprinkled into the songs of The Wild Hymns. Their neo-folk, Americana tunes have a particular softness that can only come from husband and wife, Megan and Jeff Hewitt. Together, they have performed at Musikfest and at several other venues in the region. They aim to reinvent the word "hymn" as a praise to the world in its most natural state.
SOUTHERN AVENUE
Instagram / Facebook / Twitter
Southern Avenue may be fresh into the scene, but they have made quite a splash. As if hitting #1 on the iTunes Blues Chart and making the Americana Radio Top 30 wasn't enough, they stood their ground on the top picks list for nearly six months. They thrive in organic soul and liveliness that sparks every room they play in. They've also received heavy praise from one of their idols, Grammy award winner and Stax Records artist, William Bell. With all of this under their wings, who knows how high they'll fly next.
MIKE MAINS & THE BRANCHES
Instagram / Facebook / Twitter
Everyone who has seen a Mike Mains & The Branches show will tell you the same thing: they know how to own a stage. The group has made a name for itself with three independently released albums and entirely energetic performances. Their latest, highly anticipated album, When We Were in Love, took 3 years to produce out of their recent 5-year hiatus from the spotlight. Spoiler alert: it was well worth the wait!
KAT WRIGHT
Instagram / Facebook / Twitter
Levitt Pavilion SteelStacks performer and Musikfest favorite, Kat Wright, is back for more! Her music is soulful, her voice sultry and dynamic, and her vibe is comparable to that of Amy Winehouse meeting a young Bonnie Raitt. She aims to enchant and seduce audiences with her sweet, yet seductive stage presence.
HOLLIS BROWN
Instagram / Facebook / Twitter
Hollis Brown aims to be the modern adaptation of their classic rock idols. When the group formed in 2013, they released a Record Store Day tribute of the Velvet Underground's LOADED. This release turned their world upside down, with their cover of "Oh Sweet Nuthin'" having amassed over 2 million streams on Spotify. After that, they toured as though their lives depended on it and landed support spots with Citizen Cope, Counting Crows, and the Zombies. They have continued to write, record, and tour like madmen, paving their way through rock nation.
DIRTY STREETS
Instagram / Facebook / Twitter
The Dirty Streets are just that – rowdy, ragged, and raw. Ironically, they are also extremely disciplined and driven. When they originally began recording demos, the band chose an uber-simple setup and had to record 40-50 takes per song to absolutely nail them. This drive has followed The Dirty Streets throughout their career as they developed a unique sound of Stax, Motown, and rock. Their newest venture, Rough and Tumble, comes out July 31st!
HECTOR ROSADO Y SU ORQ HACHE
Hector Rosado y Su Orq Hache is on a mission to keep salsa alive and to get you on your feet! Rosado is an internationally acclaimed percussionist, recording artist, and Musikfest performer. He has performed with many notable Latin artists and Grammy Award Winner, Kevin Cabello. In addition, he has also appeared on The Tonight Show with Johnny Carson and The Jay Leno Show.
KIRAN AHLUWALIA & REZ ABBASI
Ahluwalia: Instagram / Facebook / Twitter
Abbasi: Instagram / Facebook / Twitter
Kiran Ahluwalia and Rez Abbasi honor their roots and bring a twist to the traditional sounds of India and Pakistan. Their goal is to honor these traditions in a very personal way and incorporate Western blues and nuances of jazz into the mix.
ANDREW LEAHEY & THE HOMESTEAD
Instagram / Facebook / Twitter
Andrew Leahey & The Homestead is anything but ordinary rock n' roll. The entirety of Airwaves, their second LP, was written in the wake of a life-threatening brain operation and resonates with Andrew's childhood dreams. He spent most of his adolescence watching MTV, listening to the Top 40 of the 80s, and driving around with his mom. Today, Leahey is utterly grateful to be alive, to be cancer-free, and to do what he loves – music.
SLINGSHOT DAKOTA
Instagram / Facebook / Twitter
For fans of Carly Rae Jepsen and Julien Baker, we proudly present Slingshot Dakota. This band brings their punk roots to the forefront of song-crafting. All the while, aiming to send messages of positivity, inclusion, and perseverance through their heavy-hitting pop anthems.
NIK GREELEY AND THE OPERATORS
Instagram / Facebook / Twitter
The Operators are a group of uber-talented, Philly-reigning musicians, led by their coveted frontman, Nik Greeley. The group consistently delivers energetic live performances of heavy groove and soul. Greeley's voice booms while his brass section soars in this boisterous brigade.
SWIFT TECHNIQUE
Instagram / Facebook / Twitter
With a brand-spankin' new album under their belt, Swift Technique is ready to get back on the horse… the virtual 'fest horse that is. Their labor of love has been in the works for quite some time during their funk-filled 13-year-long career and they won't be slowing down anytime soon. Their soulful new tunes are sure to have you dancin' the night away.
THE GROOVE MERCHANTS
Instagram / Facebook / Twitter
The Groove Merchants are no stranger to the stage. They bring their favorite songs from every decade up to today's Top Hits to excite and electrify audiences. This party band has had the pleasure of performing all over the world with some of their favorite artists, like The Beach Boys, One Republic, and Steve Augeri of Journey.
FARAH SIRAJ
Instagram / Facebook / Twitter
Farah Siraj is a Jordanian vocalist, exuding jazz and cultural influence in every single song she writes. She has had the pleasure of performing at the United Nations and the Nobel Prize Hall. In addition to her success as a songwriter, her humanitarian efforts have also been recognized by the United Nations Security Council and the United Nations Humanitarian Awards.
LEHIGH VALLEY URBAN LATIN ORQUESTA
The Lehigh Valley Urban Latin Orquesta is a group that aims to provide opportunities for local vocalists and musicians pursuing their passions. They have performed ¡Sabor! 2019 at SteelStacks and are ready for more!
THE MUCKERS
Instagram / Facebook / Twitter
Where Flogging Molly meets 1916 is where you'll find The Muckers. Their sound is heavily influenced by Irish music, country, and a little bit o' rockabilly. These five folk-rockers have played Musikfest before and aren't afraid to do it again!
JON WORTHY
Instagram / Facebook / Twitter
Jon Worthy started his band in 2015 after writing several indie-rock songs with nowhere to put them. The band joined forces and has since recorded an EP and two albums. The second, Only A Dream, was recorded in 2018 with Lincoln Parish of Cage the Elephant in Nashville, TN.
THE MOON CITY MASTERS
Instagram / Facebook / Twitter
Calling all earthlings! The planet of Moon City has sent back their favorite rock n' roll twins to provide the grooviest of tunes. The Moon City Masters will deliver their feel-good rock music and positive vibes all around.
SUNNY WAR
Instagram / Facebook / Twitter
Sunny War writes songs that are utterly confessional. The emotion behind each lyric is evident as she draws from growing up in LA's punk scene and coping with the loss of friends. Altogether, she still remains soothing in her delivery and plays the blues as her love language. Her fingerpicking comes from a special banjo style and sets her apart from the rest.
GINGER & THE SCHNAPPES
The Lehigh Valley's Ginger and The Schnappes are set to bring their jazz cabaret-style to Musikfest. The band consists of six performers with plenty of musical experience under their belts. They cover songs stretching from the 1920s to the 1960s, like Frank Sinatra, Ella Fitzgerald, and The Beatles.
BONUS PLAYLIST!