Weezer's Most Colorful Hits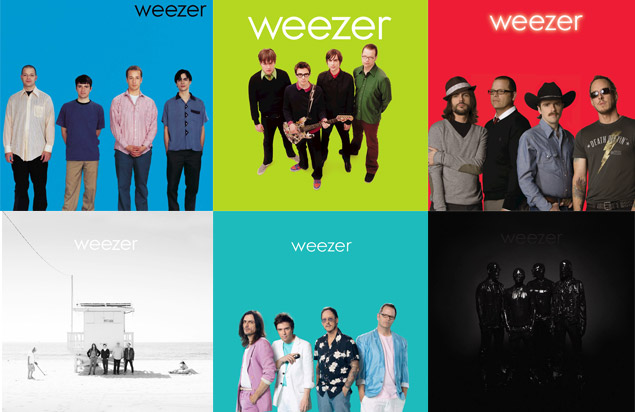 By Kimberly Koehler, Partnership Activation Specialist
Weezer is known for their colored albums and we here at Musikfest love when visual arts is incorporated with music even if it is just the name of an album. Throughout their almost 30-year reign in the music industry, Weezer has produced memorable pop rock hits with each album release! These colorful hits from Weezer are sure to get everyone full of energy for their Musikfest performance on August 5!
Blue Album – "Buddy Holly"
Known as "The Blue Album" to fans, Weezer's debut album captures the essential quirkiness of the 90s. From the intro lyrics about "homies dissin' my girl" to the multiple lines about looking like Buddy Holly, Weezer blends and extracts the fun visual the 90s. This upbeat song has a pleasing sprinkle of pop rock with just the right rhythm and catchy guitar riffs to make sure everyone is singing "Woo-ee-ooh" by the last chorus.
Green Album – "Island in the Sun"
If you ever wanted to visualize the warm days of summer, just listen to "Island in the Sun". This song is so beautifully nostalgic for summer vacation and has a soft spot in everyone's hearts for long summer days at Musikfest. Rivers Cuomo wistful vocals and the soothing guitar melody give way to the powerful riff in the chorus that make it almost impossible for fans not to sway back and forth as they jam out.
Red Album – "Pork and Beans"
"Pork and Beans" is the perfect balance between being defiant and the typical Weezer fun of them being told to change their sound. This power pop rock song has bold, charming; and entertaining lyrics about staying true to who you are. This song has a "a catchy chorus and beat so they can sing along" that will get anyone out of their seats to sing at the top of their lungs and we won't care if you make a scene!
White Album – "Wind in Our Sail"
Another great visual song by Weezer, "Wind in Our Sail" take listeners to a warm breezy summer day. The whole "White Album" is full of ocean and sunny power-pop themes. This song's chorus has Weezer's typical quirkiness with a motivational message and upbeat chorus.
Teal Album – "Sweet Dreams (Are Made of This)"
The great thing about Weezer and frontman River Cuomo is their eccentricity. The Internet begged the band to cover Toto's "Africa" and not only did the band cover another song by Toto but gave us a whole album of amazing covers! "Sweet Dreams (Are Made of This)" is full of the funky upbeat synth beats for all ages to dance to.
Black Album – "Can't Knock the Hustle"
As a huge surprise to all fans, Weezer released their sixth self-titled album one month after the Teal Album. The band once again uses their cheeky sense of music to portray life in California and the industry. The sound of mariachi horns paired with the guitar riff in the chorus will have the Musikfest audience singing "Hasta luego" with all Weezer's sweet hustle.
MONDAY, AUGUST 5
Wind Creek Steel Stage at PNC Plaza
It ain't easy being green…or blue…or red…or white…or teal…or black…