Wells Fargo, PenTeleData and Sign Design Associates Honored with Musikfest Founders Awards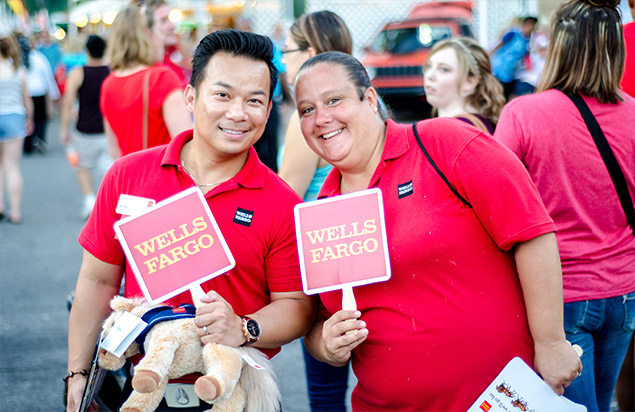 The ArtsQuest Board of Trustees is proud to present its 2017 Founders Awards to
Wells Fargo
,
PenTeleData
and
Sign Design Associates
for their longtime support of Musikfest, the largest free music festival in the nation. The three businesses will be honored with the awards during the
Musikfest Opening Ceremonies
at Wells Fargo Festplatz on Aug. 4, 6 p.m. The Founders Awards were established in 2003 to recognize ArtsQuest partners that have played integral roles in helping Musikfest continue to grow over the years while remaining free for all to enjoy. More than 45 businesses, media and community leaders have been honored with the awards including Frank Banko of Banko Beverage Company; the late Bethlehem Mayor Paul Marcincin, who was instrumental in helping the festival get started; C.F. Martin & Company Inc.; Just Born Inc.; St. Luke's University Health Network; Air Products; the City of Bethlehem and Lehigh and Northampton counties. "One of the reasons Musikfest is able to offer more than 500 free music and art performances every year is the support of our many community-focused partners," says Curt Mosel, COO of ArtsQuest, the nonprofit that presents Musikfest. "We are honored to recognize three of our outstanding local businesses and longtime festival partners in Wells Fargo, PenTeleData and Sign Design Associates. Their support of our event and our programming over the years has made it possible for countless people to enjoy all the music, food and fun of the event." For more than three decades
Wells Fargo
has supported Musikfest and its Wells Fargo Festplatz, one of the six original venues of Musikfest. The only stage at Musikfest that offers a dance floor, the site has long been one of the most popular venues at the festival, with more than 50 performers, 10 food vendors and dynamic interactive experiences like the Sony PlayStation. Celebrating its 11th year as a Musikfest partner is the Palmerton-based data and Internet provider
PenTeleData
. In addition to being a longtime festival supporter, PTD was instrumental in helping to develop the extensive fiber optic network at SteelStacks that offers campus wide-wifi and keeps people connected all year long. A Musikfest partner since 1994,
Sign Design Associates
is responsible for designing, printing and even installing many of the large banners and directional signs people see when they come to Musikfest, helping guests navigate the festival and learn about all the activities and attractions. Owner Dennis Wirth and his team have become such an integral part of Musikfest branding and promotion - with Dennis even hanging Musikfest banners himself in the days leading up to the event - that many people have actually mistaken him for a Musikfest employee. In addition to the signs at Musikfest, Sign Design has developed a majority of the signage at the ArtsQuest Center and SteelStacks, playing a key role in educating people about the campus and its programs over the past six years.