What's New at Musikfest 2019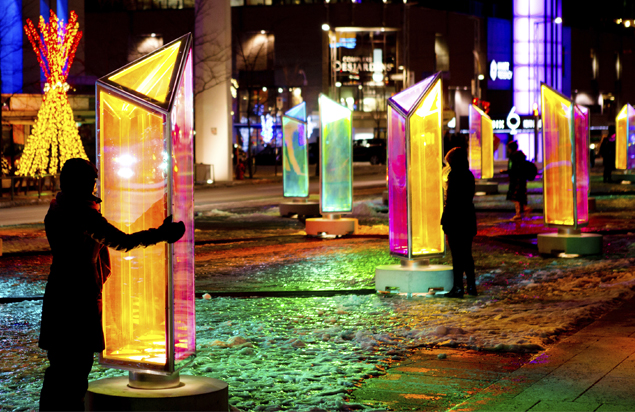 Photo: Cindy Boyce
2019 marks the 36th Musikfest, but we've been keepin' it fresh since 1984! Here's all the new awesomeness coming August 1-11…
Musikfest Preview Night
The party starts early this year as Musikfest kicks off with a Preview Night at SteelStacks August 1, featuring free stage performances by Post Junction, Big Bone Daddy, The Groove Merchants and Robert Miller's Project Grand Slam, as well as Earth, Wind & Fire at the Wind Creek Steel Stage. The 9th Annual Grateful Dead Meet-Up at the Movies, which starts at 7 PM, also highlights Preview Night, screening for one night only at Frank Banko Alehouse Cinemas.
Guardian Life Insurance Company of America Zinzenplatz
Formerly known as Experienceplatz, Guardian Life Insurance Company of America Zinzenplatz makes its debut at Musikfest 2019 at Main and Lehigh Streets. The new platz will feature live music by dynamic tribute bands and delicious food and beverage vendors, as well as the mesmerizing Prismatica Art Installation.
Promotions
Corporate Wells Fargo Musikfest Discount Program
August 3-11 | Noon-2 PM
Wells Fargo Festplatz
Wells Fargo and ArtsQuest are teaming up to offer Wells Fargo card holders a 10% discount on Musikfest Merchandise and Food & Beverage tickets during special hours of the festival.
Merchandise
Musikfest 2019 Merch
Gear up for Musikfest with all new merch including the 2019 Musikfest Mug, new light-up mugs, 2019 Musikfest lineup t-shirts, and more. Available at the main Musikfest merchandise tent in Wells Fargo Festplatz, as well as other locations throughout the festival, or online at store.artsquest.org.
ALL NEW! Bethlehem Steel Merch
Check out 10+ new arrivals featuring baseball caps, t-shirts, coasters and more. Available at all Musikfest merchandise tents, the Bethlehem Visitor Center and online at store.artsquest.org.
Foods
Wood Fired Pizza: Margherita Pizza, Calabrese Pepperoni Pizza and Hummus and Roasted Vegetables Pizza
Meltdown Gourmet: Philly Cheesesteak, West Side Cheesesteak, Big Blue Cheesesteak, Veggielicious and Sweet Potato Fries
Knot of This World: Pretzel Braids, German Bavarian Pretzels and Cinnamon Pretzels
El Tlaloc: Tacos, Burritos and Quesadillas
La Pepa: Pollo Frito, Spanish Style Pulled Pork, Grilled Cheese Flauta, José Andrés Foods potato chips and Sangria
Thai Jasmine: Garlic Chicken, Veggie Spring Roll, Pad Thai with Garlic Chicken, Lo Mein with Garlic Chicken, Pad Thai with Rice and Tofu, Rad Thai with Rice and Sesame Chicken and Pad Thai with Rice and Beef Teriyaki
The Sausage Kings: Hot or Sweet Sausage and Pepper Hero's, Knishes and Knish Sandwiches
Waffle De Lys: Belgian Waffles with Toppings
Dietz & Watson Hot Dog Cart: Dietz & Watson Hot Dogs and more
Wiz Kiz: Cheesesteaks, Fries, Pierogies, Fry Bowl and Rogi Bowl
New Visual Arts Programming
Art & Craft of Storytelling
August 2, 5-9 PM, August 3-11, 12-9 PM | Crayola Creativity Tent at Familienplatz
A different book or story will be featured each day along with an awesome craft relating to that story. Original collaborative artwork created by campers in the Art & Craft of Storytelling Summer Camp program will be on display. In addition, families will have opportunities to win Crayola products and tickets to the Crayola Experience. Finally, put your mark on the art world by contributing to community art projects throughout the ten days of the festival.
ArtsQuest Glass Studio Tent
NEW LOCATION! Air Products Americaplatz on the SouthSide by the Flywheel
New Hot Glass Experiences: Jellyfish Paperweight
August 1-2 & 5-9, 4-10 PM and August 3-4 & 10-11, 12-10 PM
With the guidance of one of our artists, you'll work one-on-one to create your own glass artwork in a 20-minute experience.
2019 Hot Shots Competition- Featuring a New Team Competition!
NEW LOCATION! Air Products Americaplatz on the SouthSide by the Flywheel
August 1-4 & 9-10, 2-8 PM
Competitors work in teams of two in a six-hour time slot to complete an original drinking vessel set. Voting will take place from August 11-21 via Facebook.
Private Party Hot Glass Experience
Groups of 6-8 can arrange for a pre-festival hot glass experience at Musikfest. Groups can begin at 1 PM on weekdays or 9 AM on weekends. Cost is $55 per person. For more information on this special offer, contact us at AQGlass@artsquest.org.
Comedy
NEW! Family Friendly Show
Lehigh Valley with Love Comedyplatz
August 3-4 & 10-11 | 4:30 PM
Now open both weekends of Musikfest, Lehigh Valley with Love ComedyPlatz is back with over 30 comics and a new family friendly show that's perfect for the entire family! Featuring comedians from New York, Philadelphia, the Lehigh Valley and beyond.
Musikfest App
Experience all the 'fest has to offer with the Musikfest 2019 app powered by PNC Bank. Featuring brand new Spotify playlists and new Musikfest stickers, plus information on performers, artisans, food vendors and much more! Available for Apple iOS and Android users.
New Activations
Sample Hood Cottage Cheese
August 9-11
IBEW 375 Volksplatz
Packed with protein, and a good source of calcium, Hood Cottage Cheese is rich, creamy and delicious. Check out their recipes for all the ways you can enjoy it – as a topping, a dip, an ingredient or as a healthy snack.
Jack Lives Here Lounge presented by Jack Daniels
August 1-11
Wind Creek Steel Stage
Stop by Jack Daniel's Bar for beer and speciality cocktails featuring Jack Daniel's Whiskey and other spirits.
Monster Energy
August 9-11
Look out for Monster Energy samples on the North and South Side!
Nintendo Switch Road Trip
August 2-4
IBEW Local 375 Volksplatz
Bring your family to the Nintendo Switch Road Trip and experience a colorful and highly interactive space with playable demos of some of the hottest Nintendo Switch games, fun photo opportunities, Nintendo-themed challenges and more!
Smirnoff
August 8-11 | 3-6 PM
IBEW Local 375 Volksplatz
Stop by the Smirnoff booth for delicious Orange Crush samples.
T-Mobile
August 2-11
T-Mobile Plaza Tropical
Stop by the T-Mobile truck to charge up your phone and get in on limited time offers available at Musikfest.
Attractions
Prismatica
August 2-11, 1-11 PM | Guardian Life Insurance Company of America Zinzenplatz (NorthSide)
August 1-11, 1-11 PM | Air Products Americaplatz (SouthSide)
A one-of-a-kind traveling art installation composed of 50 pivoting prisms, each over six feet tall. As visitors wander among and manipulate the prisms, they will enjoy an infinite interplay of lights and colorful reflections. As the prisms rotate, a variable-intensity soundtrack comprised of bell sounds will play.
Conception and execution: RAW Design in collaboration with ATOMIC3
Production: Quartier des Spectacles Partnership, Montreal, Canada
Musikfest Arcade
August 2-11 | Guardian Life Insurance Company of America Zinzenplatz
Come play a collection of 20 arcade games from the last four decades including pinball machines and multicades provided by Pinfest, one of the largest pinball shows in the country. Games to be featured include Eightball Deluxe, Nitro Ground Shaker and Monster Bash. Wristbands are $10 and are available at Zinzenplatz Food & Beverage ticket booth.
Axe Throwing
August 2-11 | Familienplatz
Try to hit the bullseye as you participate in one of the hottest crazes sweeping the nation. Featured at Oktoberfest 2018, Axe Throwing Lumberjack Challenge is presented by Zip and Bounce and is open each day of the festival. Cost is $5 for 5 throws and $10 for 12 throws, payable in Musikfest Food & Beverage Tickets only.
Shinbone Alley Stilt Band
August 3, 4, 10 & 11, 3:30-6 PM | Provident Bank Main Street
A dynamic ensemble of musicians who parade, dance on stilts and perform various feats of physical and musical dexterity, the 5-7 member ensemble includes saxophones, trumpets, and drums with an occasional trombone, tuba, banjo, or clarinet. Bond Street Theatre's Shinbone Alley Stilt Band has energized festivals and special events around the world since 1982. The talented ensemble of musicians play an eclectic repertoire of Dixieland, Swing, Rock, Jazz, and Blues, and has delighted audiences in Japan, China, Brazil, Turkey and across Europe and the USA.
Photo Op with the Iconic "Lunch Atop a Skyscraper" Photo
August 3-4 & 10-11, 1-5 PM | National Museum of Industrial History, 602 E. 2nd St.
Visit the National Museum of Industrial History's outdoor plaza and take a selfie recreating the iconic photograph of construction workers eating lunch high atop 30 Rockefeller Plaza as it was being erected in 1932. This great photo op for family and friends is free and takes place on a real steel beam with the famous "Lunch Atop a Skyscraper" photo as your backdrop.
Artisans & Retailers
New Retailers
Sunflower Trading Co.
Ellicott City, MD
Quality hats & clothing for the entire family
Lucas Candies
Haverstraw, NY
Variety of craft beer brittle
Your Birth Moon
Lakewood, NJ
Glow in the dark jewelry that shows the moon in the sky on a special day
HillBilly's Jerky
Fort Loudon, PA
Pre-packaged beef jerky
iJerkyGuy
Livingston, TX
Gourmet beef & exotic meats
Torchbearer Sauces
Mechanicsburg, PA
All natural sauces & condiments
New Artisans at Martin Guitar Handwerkplatz
Botanically Balanced, LLC
Monmouth, NJ
Health & wellness products containing CBD
D Johnson Custom Drums
Meadville, PA
Handcrafted wooden instruments: drums & native style flutes from sustainably sourced materials
Doctor Gus Designs
Henryville, PA
Fine handcrafted pewter accessories
Finneran Jewelry
Baltimore, MD
Upcycled jewelry handmade from vintage tea & cookie tins
GiGi Singh
West Chester, PA
Clay jewelry
Larry Morgan Woodturner
Brick, NJ
Designer pens, pepper mills, bowls, vases, bottle openers & pizza cutters
Mediterra
West Chester, PA
Hand-carved olive wood table & kitchenware from sustainable harvest olive trees
RAVE Bandz
Mount Laurel, NJ
Lifestyle & fitness nonslip headbands for men & women
Rediscover Handbags
Chicago, IL
Totes & handbags hand-created from albums & theatre programs
Skyseed Energy
Warrington, PA
Elegantly hand-wrapped gemstone jewelry with stainless steel
Tiger Lily Botanica
Meadville, PA
Handcrafted one-of-a-kind artisan jewelry, leathercraft & accessories
New Artisans at Familienplatz
Festive Face Painting
Easton, PA
Face painting
NEW! Southside Artisan Walk at Air Products Americaplatz
Pittston Popcorn Co.
Pittston, PA
Food & gifts
Kelly Berkey Jewelry & Art
Bethlehem, PA
Hand stamped inspirational jewelry & paintings
For more information about all Musikfest activities, vist Musikfest.org.