Art Activities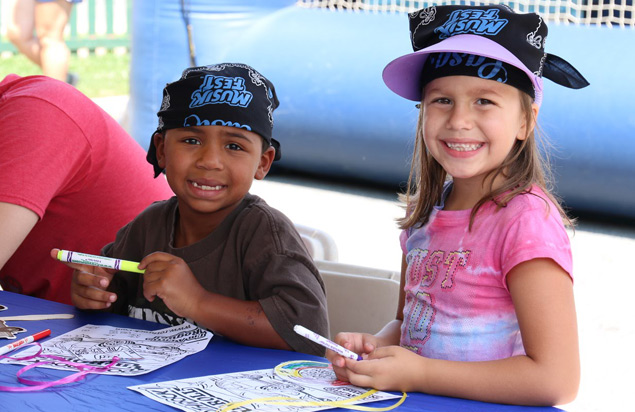 Kid's Art Activities
Familienplatz is the best place to relax in the shade with friends and family, and let your creativity run free with the Banana Factory Arts Center! The Crayola Creativity Tent and ArtsQuest Glass Studio tents are the destination for younger 'festers to get crafty with cool activities, while the Hot Shotz Competition, daily Community Art projects, artist demos and interactive activities engage festival-goers of all ages! Plus, the addition of tuition-based workshops and Hot Glass Experiences for adults means kids aren't the only ones walking away with an amazing work of art for their homes.
Crayola Creativity Tent Hours
August 3, 5-9 PM
August 4-12, 12-9 PM
Crayola Creativity Tent Craft Themes
This year creativity runs wild at Familienplatz! Inspired by the great outdoors, festival goers of all ages can participate in hands-on projects each day at the Crayola Creativity Tent, including paper tube animals, printmaking using leaves and flowers and a nature scavenger hunt! In addition, enter to win tickets to the Crayola Experience and bring your drawn creations to life with the Crayola Color Magic Station. Finally, put your mark on the art world by contributing to community art projects throughout the ten days of the festival.
Rides & Games
provided by Zip and Bounce
Familienplatz
Zip, bounce and swing away on our fun rides! Weekday wristbands are available Monday-Friday, noon-4:30 p.m. for $20, and include all rides plus one zipline ride.
NEW! Create + Connect Skateboard Design Competition
In partnership with HomeBase610, Lost Soul Skateboards & Lehigh Valley Apparel Creations
August 10-12, Crayola Creativity Tent
View and vote for your favorite skate deck design created by local emerging artists based on the theme of community. Finalists will have the opportunity to collaborate with local businesses and gain experience in the production and design process, including a limited edition printing of skateboards.
August 6-10, 11 AM-6 PM
Penn State Lehigh Valley Campus & Musikfest
This exciting camp provides an all-access pass to Musikfest, as well as hands-on training in Penn State Lehigh Valley's state-of-the-art television studios. Students leave this immersive, weeklong opportunity with a dynamic 15-minute newscast detailing their experience at Musikfest including interviews with the artists and access to the media-only areas at the festival.
Complete details/register: bananafactory.org
NEW! Musikfest Poster Printing at NMIH
August 2-3 & 6-10, 4-6 PM
August 4-5 & 11-12, 12-6 PM
National Museum of Industrial History, 602 E. 2nd St.
Fest-goers will have a chance to use a Chandler & Price Platen Press, dating back over 100 years old, to create a one-of-a-kind Musikfest keepsake. Join the volunteers and staff of the National Museum of Industrial History and print your own version of this year's Musikfest poster using this historic artifact! This activity is free for kids and adults and is part of the Museum's "Hot of the Press: Printing and Papermaking" exhibit running through October 2018.
Adult Art Activities
with Brian Hineline
August 3, 5:30-9 PM
Tickets: $249
Olympus Digital Imaging Classroom at the Banana Factory
This is a unique opportunity to go behind the scenes at Musikfest with Brian Hineline, who's photographed hundreds of concerts over the past 20 years for Rolling Stone, The New York Times, Time Magazine, Entertainment Weekly and other publications. Participants start off in our Olympus Digital Imaging Center learning tips and techniques from Brian about taking fabulous concert photographs. Then it's on to the festival grounds to shoot at the free stages at Musikfest, including behind-the-scenes candids that the public doesn't have access to. Capping it all off, you'll work alongside Brian at Musikfest's Sands Steel Stage media pit, photographing STYX for their first three songs (no flash)!
with Frank T. Smith
August 5, 11:30 AM OR August 12, 11:30 PM
Tickets: $35, $31.50 ArtsQuest Members
Experienceplatz at Musikfest
Learn how to capture light and color during this exclusive photographic workshop in the Architects of Air experience at Musikfest! Olympus Visionary photographer Frank T. Smith leads participants through this singular experience, assisting and instructing on how to approach the unusual subject matter. Participants are invited to send their top images to be featured on the Banana Factory Arts Center social media pages, credit to the photographer! Visit bananafactory.org for more info.
with Ted Colegrove
August 12, 8-10 PM
Tickets: $50 | $45 ArtsQuest Member
Olympus Digital Imaging Classroom at the Banana Factory
Few things are as exhilarating as a great fireworks show and few things are as challenging to photograph as these incredible bursts. In this dynamic, new photo experience, learn how to capture this fleeting subject matter on the closing night of Musikfest! Professional photographer and fireworks photography expert Ted Colegrove will teach participants the best techniques and tips for photographing fireworks as they enjoy exclusive access to the top floor of the Gateway at the Greenway building at New and Third Streets – the perfect view of the display! The workshop starts with a short presentation at the Banana Factory before heading to the Gateway at the Greenway for hands-on instruction. Participants are required to bring a camera with manual settings and a tripod; optional equipment includes remote trigger, small flashlight, a wide lens (24mm or wider preferred). All students will be required to sign a release waiver in order to participate.
Wine'd Down Workshops
August 4 & 11, 4:30-6:30 PM
In the midst of all the amazing music at the festival, take a moment to make some beautiful art for your home! Teaching artists will lead participants through an hour long workshop, and all materials and a glass of wine or beer are included! These workshops are for 'festers 21 and older.
August 4 | Tickets: $50, $45 for ArtsQuest Members
Add some color and sound to your garden. Join us to design your own windchime using colorful kiln fired glass and assemble with basic wire wrapping techniques.
August 11 | Tickets: $30, $27 for ArtsQuest Members
Learn how to create letters, phrases, and designs for Insta-worthy chalkboard signs! Even better, there's no pressure if you mess up; everything can be erased! You'll walk away from the class equipped with a new set of skills to create your own style of chalkboard art for your home, office or upcoming wedding.
Musikfest Sculpture Garden: Glass Kaleidoscope House
Featuring the ArtsQuest Glass Studio
August 3-12
The Kaleidoscope House is an interactive experience and the perfect Musikfest photo opportunity you won't want to miss! Constructed of numerous colorful glass components that refract light to create an eye catching sculpture. All glass pieces were hand made at the Banana Factory and assembled on site at Musikfest.
ArtsQuest Glass Studio Tent
Visit the ArtsQuest Glass Studio Tent to participate in Hot Glass Experiences, create a flame-worked pendant, watch live artist demos and find unique handmade glass items for purchase from local artists.
Hot Shotz Competition
August 3-5 & 10-11, 1-4 & 5-8 PM
presented by Wale Apparatus and Bethlehem Burners
The Hot Shotz Flameworking competition returns! Watch a live glass making competition hosted by the ArtsQuest Glass Studio. Each artist has three hours to work in the Hot Glass Studio tent at Musikfest to create a one-of-a-kind shot glass that are judged against the other works created during the competition. Prizes are awarded for popular vote as well as judge's choice. Flame working artists interested in competing can register at bananafactory.org/hotshotz.
Hot Glass Experience
From paperweights to pendants, create your own glass work of art in just 20-30 minutes at Musikfest! The Hot Glass Experience, presented by ArtsQuest Glass Studio Artists, is open to the public daily for $50. No experience necessary. To ensure your time slot, reserve your ticket online at bananfactory.org.
NEW! Hot Glass Experience: Mushroom or Gnarly Paperweight (ages 6+)
Available August 3, 4-8 pm and August 4-12, 12-8 pm
NEW! Flame Working Experience: Swirl or Mushroom Pendant (ages 10+)
Available 4-8 PM, Monday-Thursday
Note: Glass pieces need to cool overnight. Pieces can be picked up another day during the festival, or can be shipped for an additional $10 each for the first piece, and an additional $5 for each piece going to the same location. For safety reasons, please read the dress requirements at bananafactory.org.
Glass Blast Cups Demonstration
Made 8 PM-10 PM every night of the festival
Watch ArtsQuest Glass Studio Artists create different types of drinking vessels that will be available at the Glass Blast Fundraiser at the ArtsQuest Center on September 21, 2018.
ArtsQuest Glass Studio Retail Outlet
Visit the Glass Studio tent to find unique glass items, opening noon-10 PM daily (excluding First Friday, August 3). Everything available has been handmade by ArtsQuest Glass Studio artists. This year, the ArtsQuest glass team will also be creating DNA themed outdoor artwork to display close to the glass tent.