Art Activities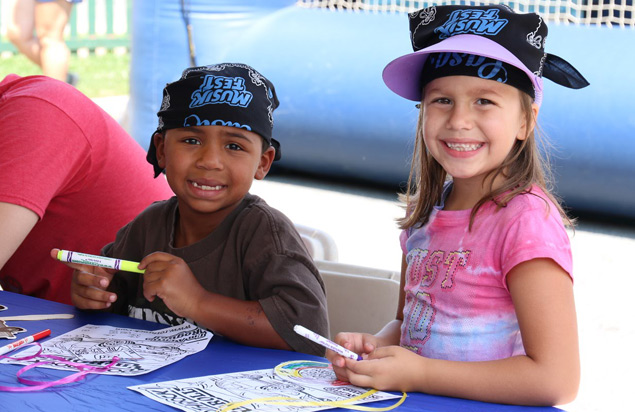 Family Fun
NJM Insurance Familienplatz
NJM Insurance Familienplatz is the best place to relax in the shade with friends and family, and let your creativity run free with the Banana Factory Arts Center! The Crayola Creativity Tent is the destination for younger 'festers to get crafty with cool activities, while daily community art projects, artist demos and interactive activities will engage festival-goers of all ages! You can also enjoy stories and songs with our friends from the Bethlehem Area Public Library during our storytime program!
Crayola Creativity Tent Hours
Aug. 6, 5-9 PM
Aug. 7-15, 12-9 PM
Rides & Games
provided by Zip and Bounce
Familienplatz
The Moon Bounce Guys will be back in NJM Insurance Familienplatz providing fun family attractions such as a zip line, a bungee trampoline, multiple moon bounces and other family-friendly rides for all ages.
PBS39 Summer Jam at Kidsplatz
Aug. 6-15 10 & 11 a.m.
Inside the PBS39 Studios on the SouthSide
Featuring music from nationally-acclaimed performing artists
Seating is limited for this free concert series, registration is required. For more information and to register: pbs39.org/summerjam
Register Now!
Performances at 10 & 11 AM
Aug. 6 | Dave Fry
Aug. 7 | Falu
Aug. 8 | Sonia de los Santos
Aug. 9 | Elena Moon Park
Aug. 10 | Kira Willey & Friends
Aug. 11 | Pierce Freelon
Aug. 12 | Joanie Leeds
Aug. 13 | SaulPaul
Aug. 14 | Fyütch
Aug. 15 | Gustafer Yellowgold
Mandy Martin at the Crayola Creativity Tent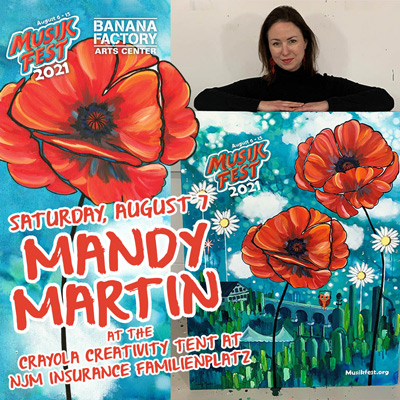 Stop by the Crayola Creativity Tent at the NJM Insurance Familienplatz during Musikfest this Saturday and meet the Musikfest Poster Artist Mandy Martin! Mandy will be at our tent on Saturday, August 7th starting at 12 PM, and be working on some art demos. This is the perfect opportunity to learn more about her work as an artist!
Musikfest Poppy Project!
Aug. 6-15
Contribute to the Community Project by making your own paper poppies inspired by Sellersville-based artist, Mandy Martin's painting for the 2021 Musikfest poster! During Musikfest, we will install these paper poppies in the ArtsQuest Center. Help us create this installation by contributing poppies to the project.
Musikfest Painting Silent Auction!
Musikfest poster artist Mandy Martin will be auctioning off the original painting of the Musikfest 2021 poster! You will be able to bid on the 36×48′ painting on canvas through Clickbid, an online auction site. The winner will be announced during the 'fest! All auction proceeds will benefit The Fund for Racial Justice and Equity (FRJE) powered by the United Way of the Greater Lehigh Valley.
Mandy Martin is an award-winning emerging artist whose paintings feature floral and landscape imagery. She creates vibrant paintings to capture the imagination and bring a sense of joy and delight. It is Martin's hope that her work will inspire viewers to look more carefully at the world around them, to discover beauty in unexpected places and to take care of the Earth.
Martin resides in beautiful Bucks County, Pennsylvania, where the wildflowers and rich botanical landscape of the region informs her paintings. She is also a beach lover and enjoys escaping in the winter to lush Caribbean destinations which also inform her color palettes and landscape work.
ArtsQuest Glass Studio Tent
Air Products Americaplatz on the SouthSide, Next to Levitt Pavilion
Aug. 5-6 & 9-13, 4-10 PM | Aug. 7-8 & 14-15, 12-10 PM
Store Open 11 AM-10 PM Daily
Visit the ArtsQuest Glass Studio Tent to participate in Hot Glass Experiences (prior registration required @ bananafactory.org), watch live artist demonstrations and find unique handmade glass items for purchase.
Aug. 6 & 9-13, 4-8 PM | Aug. 7-8 & 14-15, 12-8 PM
Hot Glass Tent, Air Products Americaplatz on the SouthSide, Next to Levitt Pavilion | $55 + ticketing fees
Start your glass making adventure by doing a Hot Glass Experience at Musikfest! With the guidance of one of our artists, you'll work one-on one to create your own glass artwork. Each session takes 20 minutes. Ages 6 and up are welcome. No experience necessary.
Choose to make one of three items:
Pumpkin, Jellyfish, or Gnarly Paperweight
Sign up online in advance to secure a hot glass experience at bananafactory.org.
Note: Glass pieces need to cool overnight. Pieces can be picked up another day during the festival, or can be shipped for an additional fee.
Join Historic Bethlehem Museums & Sites for some family fun during Musikfest! Purchase a Kids' Craft Pass to make and take home each of the following crafts in the Springhouse:
Mini Terrarium – bring a little bit of the HBMS garden home with you!
Pointillism t-shirt or tote – decorate your own t-shirt or tote bag for a fashionable take on the technique of painting with dots!
Recycled Instruments – Make your own recycled instruments and play along with your favorite musicians at Musikfest.
Craft activities take place in the Springhouse from 12 – 5 pm every day during Musikfest. The Springhouse is located next to the 1869 Luckenbach Mill behind the Historic Hotel Bethlehem on Main Street (near the Martin Guitar Handwerkplatz).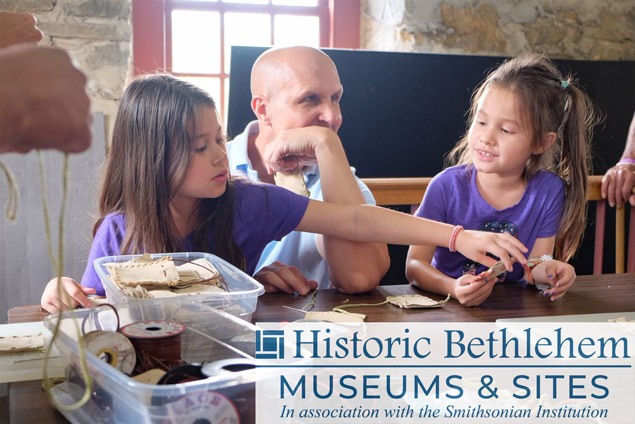 Partners