Art Activities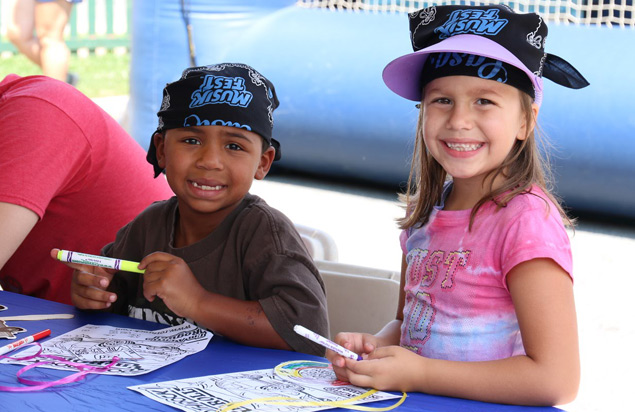 Family Fun
NJM Insurance Group Familienplatz
NJM Insurance Familienplatz is the best place to take time to relax in the shade with friends and family. Let your creativity run free at the Crayola Creativity Tent, a great destination for younger 'festers to get crafty with awesome activities and leave their mark! Staff from the Banana Factory will be on hand to help assist in the fun and everyone has the opportunity to contribute to a community art project for all ages! Plus, the addition of tuition-based workshops for adults on select evenings means kids aren't the only ones walking away with amazing works of art for their homes!
Crayola Creativity Tent Hours
Aug. 4, 5-9 PM
Aug. 5-13, 12-9 PM
Drop by the Crayola Creativity tent to get crafty with the Banana Factory Arts Center. Each day will offer fun new art projects and interactive activities for 'festers of all ages. Make a masterpiece to take home or leave your mark and contribute to a community art project!
Inclusion Zone in partnership with Accessible Festivals and presented by Good Shepherd Rehabilitation Network
The inclusion Zone is a sensory-supportive space that provides services, tools and amenities to benefit individuals with sensory-processing difficulties of all ages.
Community Art Project with Maltas Con Leche and Martin Guitar
Aug. 4: 5:30-7:30 p.m.
Aug. 5, 6, 12 & 13: 2:00-4:00 p.m.
Aug. 7-Aug. 11: 4:00-6:00 p.m.
Crayola Creativity Tent, NJM Insurance Familienplatz
This year's community art project celebrates the intersection of music and visual art. Customize the face of a Martin guitar to add to our installation—and come back throughout the 'Fest to watch the installation grow! To contribute to the community art project, visit the Crayola Creativity Tent at Familienplatz from 2:00-4:00 p.m. on Saturdays and Sundays, and from 4:00-6:00 p.m. on weekdays, while supplies last.
Come collaborate with Maltas con Leche, the creative family behind the 2023 Musikfest poster mural! They will be at Familienplatz to facilitate the Community Art Project on 8/8, 8/9, 8/10, and 8/13!
Yoga with Susan Morelock
Aug. 9 & 13 | 12:15 p.m.
Crayola Creativity Tent, NJM Insurance Familienplatz
Start your 'fest off with a stretch at NJM Insurance Group Familienplatz. Susan Morelock will lead 30-minute family-friendly yoga flows. (We'll have a few mats available)
Storytime
Crayola Creativity Tent, NJM Insurance Familienplatz
Sunday, 8/6 12:30 p.m.
Monday, 8/7 3:00 p.m. (With the Bethlehem Area Public Library)
Tuesday, 8/8 12:30 p.m.
Wednesday, 8/9 2:00 p.m.
Friday, 8/11 12:30 p.m., Bilingual (English/Spanish) Storytime
Sunday, 8/13
Music for All Ages with Miss Hilari of More Than Music LLC
Aug. 5 | 12:30pm
Aug. 8, 10, 11 | 2 p.m.
Crayola Creativity Tent, NJM Insurance Familienplatz
Have fun and learn while singing, dancing, and playing instruments!
Action Karate Demonstration
Aug. 10 | 6 p.m.
Crayola Creativity Tent, NJM Insurance Familienplatz
Hula Hooping by Ally Patane
Sunday, 8/6 4:00, 4:20, 4:40 p.m.
Friday, 8/11: 7:00, 7:20, 7:40 p.m.
Saturday, 8/12: 2:00, 2:20, 2:40 p.m.
Sunday, 8/13: 4:00, 4:20, 4:40 p.m.
Crayola Creativity Tent, NJM Insurance Familienplatz
Ally Patane will wow you with her hula hooping skills—and then you can join in for a hula hoop jam.
ArtsQuest Glass Studio Tent
Air Products Americaplatz at Levitt Pavilion SteeStacks
Visit the ArtsQuest Glass Studio Tent to participate in Hot Glass Experiences (pre-registration online required), watch live artist demos and find unique handmade glass items for purchase from local artists.
Glass Studio hours:
Weekdays: 4-8 p.m. Hot Glass Experiences (online registration required)
8-10 p.m. Musikfest Mug "Blown Away style" competition
4-10 p.m. retail sales open
Weekends: 12-8 p.m. Hot Glass Experiences (online registration required)
8-10 p.m. – Musikfest Mug "Blown Away style" competition
12-10 p.m. retail sales open
Hot Glass Experience
Weekdays: 4-8 p.m. | Weekends: Noon-8 p.m.
Hot Glass Tent, Air Products Americaplatz | $65 + ticketing fees
With the guidance of one of our artists, you'll work one-on one to create your own jellyfish or paperweight orb. Each session takes 20 minutes. Ages 6 and up are welcome. No experience necessary. Please be aware that all pieces made from molten glass need time to cool down. Note that this experience takes place in the ArtsQuest Glass Studio tent at Musikfest. Participants will need to return another day to pick up their work or arrange for their pieces to be shipped for an extra charge.
Sign up online in advance to secure a hot glass experience at bananafactory.org.
Note: Glass pieces need to cool overnight. Pieces can be picked up another day during the festival, or can be shipped for an additional fee.
Rides & Games
NJM Insurance Group Familienplatz
The rides are back at Musikfest! AKM Entertainment will be in NJM Insurance Group Familienplatz with bounce houses and slides and a bungee trampoline bringing family fun for kids of all ages!
Fotographing the Fest
Sunday, August 6 | 1-4 p.m.
$50/$45 ArtsQuest Members 
Have you been to MusikFest and come across an act or a scene you wish you could capture properly? Fotographing the Fest takes the art of street photography and marries it with concert photography. As street photographers, we prefer to isolate and capture moments that might otherwise go unnoticed. To create our own commentary on what is going on around us. But without the correct tools or training, we might not get the shot we want. In this 3-hour hands-on workshop, you will learn the ins and outs of not only street photography during one of the biggest festivals in the country but also get the chance to photograph some of the hundreds of free bands playing. You will learn how to photograph in a very public setting and isolate your subject to create a story. Plus, learn how to work with stage lighting and capture the feel of live music. This workshop will take place during MusikFest and will meet at Zinzenplatz (Registered students will receive a one day parking pass and will be contacted prior to the start of the workshop for parking instructions). Please make sure you have your camera gear. This workshop is weather permitting- students will be contacted about a rain date in case of inclement weather.
Michael Barone has been a professional photographer and artist for almost 40 years after receiving a Bachelor of Fine Arts degree in photography from the University of Delaware. Barone approaches each photograph as an expression of artistic excellence. He is not only a commercial photographer but an award-winning artist who believes that the best images come from understanding the subject and seeing what others do not. His work has been shown internationally, had multiple one-man exhibitions, and has also published two books of his work. Over his career, Barone has photographed the human form in all its beauty and sensuality, showing a depth of emotion that brings the subject to life. Commercially, Barone uses his artistic training and the tools of modern photography to create work that meets his exacting artistic standards and satisfies the needs of his clients. He uses not only a camera, but Adobe Photoshop, creative darkroom techniques, and other post-production plug-ins to enhance and create images that transcend the basics. He is now a resident of the Lehigh Valley and besides fine art photography, Michael specializes in commercial, portraits, and product photography.
Partners