Volunteer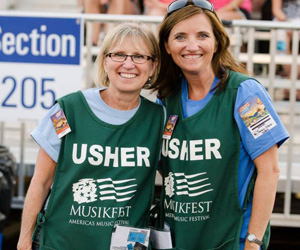 We couldn't make the 'fest happen without the help of thousands of amazing volunteers. Each year people come together to make sure the 'fest is the best fest' in the land. Say that 10 times fast.
Thirty years ago the first Musikfest was held in Bethlehem with the help of a passionate group of volunteers, and we are so proud to continue to be a volunteer-run festival. It takes 2,000 volunteers to help the festival run smoothly each year; we hope you will join us and support our community by volunteering this year for Musikfest.
Musikfest volunteer online registration will begin on April 15th at 10am. Please check back to this page at that time to fill out your registration form! You are also welcome to request a paper form by calling or emailing a member of the Volunteer Department.
Encourage your friends, family, co-workers and neighbors to try out volunteering this year! It's a great way to meet new people, give back to the community and have an amazing time. Please feel free to contact a member of the Volunteer Department anytime if you have questions.
Hillary Rose Harper
Volunteer and Internships Manager
(610) 332-1370 · hharper@artsquest.org
Sylvia Hand
Volunteer Coordinator
(610) 332-1360 · shand@artsquest.org
Chris Stubbe
Volunteer and Internships Coordinator
(610) 332-1354 · cstubbe@artsquest.org