Volunteer
The Musikfest Volunteer Registration Form will go live for 2017 on April 15th! If you're an existing volunteer, simply click the Application button below to get started. If you're new to ArtsQuest, please register on our Volunteer Portal as well as filling out a Musikfest Application. There are many rewards for volunteering with us and the Portal is where you'll find your Musikfest schedule once scheduled! All applications are reviewed on a first come, first serve basis. Be sure to fill your application out early for the best chances of getting the shifts you want!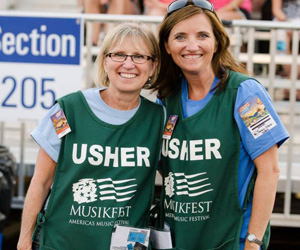 We couldn't make the 'fest happen without the help of thousands of amazing volunteers. Each year people come together to make sure the 'fest is the best fest' in the land. Say that 10 times fast!
Over thirty years ago the first Musikfest was held in Bethlehem with the help of a passionate group of volunteers, and we are so proud to continue to be a volunteer-run festival. Come join your friends and neighbors and support our community by volunteering this year for Musikfest.
Chris Stubbe
Volunteer and Internships Manager
(610) 332-1354 · cstubbe@artsquest.org
Adam Lattimore
Volunteer and Internships Coordinator
(610) 332-1370 · alattimore@artsquest.org
Coryna Barberis
Volunteer Programs Assistant
610-332-1360 · cbarberis@artsquest.org