7 Reasons Why 'Members Fest Best'

By Michelle Veresink Richmond, ArtsQuest Membership Manager
It's that time of year. The summer weather has settled in. You grab your favorite Musikfest mug and you wander into Bethlehem to check out some of the more than 500 performances taking place during Musikfest. You think you know how to 'fest with the best of them, but did you know that ArtsQuest Members get amazing perks during Musikfest?
Members' Lounges
With your mug in one hand and an ear of corn in the other, you head under the Festplatz tent to listen to the Fabulous Grease Band. Since you're a Member, you don't need to search for seating! Flash your Member card at the Members' Lounge and enjoy reserved seating.
Members' Lounges are located on the Northside under the Festplatz tent on the Southside in the Musikfest Café.
Members-Only Parking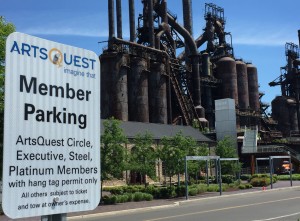 Put an end to driving around searching for street parking and then leaving that great concert to feed the meter.
Silver Members and up receive a parking pass for the Members-Only lots on the Northside and Southside of the festival. Drive right in and get straight to 'festing!
Free Shuttle Rides
Decisions, Decisions! The Amish Outlaws are playing at Festplatz but the Craig Thatcher Band is playing at Americaplatz on Southside. What is a 'fester to do?
If you're a Member, the answer is easy. Go to both! You just show your Member card and take a free shuttle ride between Northside and Southside.
Members-Only Line at Wind Creek Steel Stage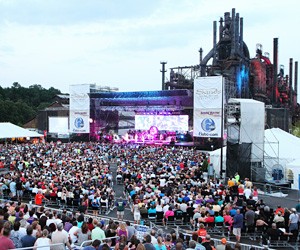 You were so wrapped up with the Igor and the Red Elvises that you lost track of time. The Boston concert starts in 15 minutes and you aren't through the gate yet!
No problem! Show your Member card and ticket at the Members-Only line at Wind Creek Steel Stage and quickly get into the venue – with enough time to refill that mug on your way.
ArtsQuest Membership & Information Booth at Festplatz
ArtsQuest Members enjoy onsite perks and assistance from ArtsQuest staff. Members can purchase food & beverage tickets, tickets to Wind Creek Steel Stage shows, and Musikfest 2016 mugs at the Membership & Information Booth. They can also renew or upgrade their membership and get advice on what food and what bands to check out!
Indoor Restrooms at Luckenbach Mill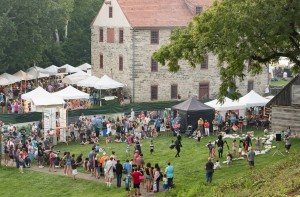 ArtsQuest Members enjoy indoor restrooms at Luckenbach Mill at Volksplatz every day from 12pm to 9pm. No more waiting in line for a porta potty!
10% Discount on ArtsQuest Merchandise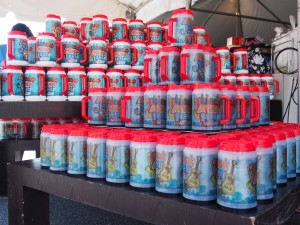 Every year you debate. Regular mug or light up mug? For Members the choice gets easier. Enjoy a 10% discount on ArtsQuest merchandise in any Musikfest merchandise tent or in the Stacks Shop at the ArtsQuest Center – that includes mugs!
Membership doesn't end with Musikfest. Members enjoy benefits year-round at SteelStacks and the Banana Factory.
Make your tax-deductible donation today and enjoy these ArtsQuest Member benefits at Musikfest!