ArtsQuest Announces 2019 Marcincin Award Winners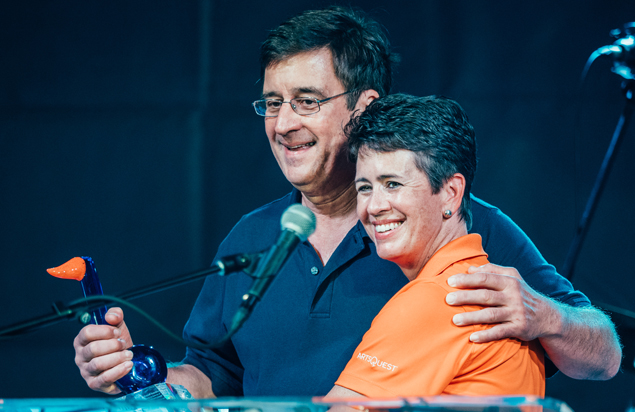 MacIntosh Services, Bethlehem Area School District & Lehigh Valley Health Network to Receive Awards on Musikfest's Opening Night
BETHLEHEM, PA—MacIntosh Services, Bethlehem Area School District and Lehigh Valley Health Network will be honored for their longtime support of Musikfest and the community when they are presented with Marcincin Awards at Musikfest 2019 in early August. The Awards will be handed out during the Musikfest Opening Ceremonies Aug. 2, 5:30 p.m., at Wells Fargo Festplatz. All recipients will receive a glass Marcincin Award, hand-blown by the artists of ArtsQuest's glass studio at the Banana Factory.
Established in 2003, the Marcincin Awards recognize ArtsQuest partners that have played integral roles in helping Musikfest continue to grow over the years while remaining free for all to enjoy. More than 50 businesses, media and community leaders have been honored with the awards including Frank Banko of Banko Beverage Company; C.F. Martin & Company Inc.; Just Born Quality Confections; St. Luke's University Health Network; Air Products; the City of Bethlehem; and Lehigh and Northampton Counties. In 2008 Mayor Marcincin himself was presented with the award for the key role he played in helping to establish Musikfest.
The 2019 Marcincin Award recipients are:
MacIntosh Services
A Musikfest sponsor since 2007, MacIntosh has helped ArtsQuest create beautiful events for the festival's nearly one million guests for more than 15 years. Owner Jim Rodgers and his team have worked closely with the ArtsQuest hospitality team throughout the years on Musikfest parties of all shapes and sizes, as well as the Wind Creek Steel Stage Steel Terrace experiences. This relationship continues throughout the year, with MacIntosh assisting in many of the festivals and special events at SteelStacks.
Bethlehem Area School District
ArtsQuest's primary educational partner throughout the year, the Bethlehem Area School District joins with ArtsQuest on 10 different programs including the innovative Marketing Musikfest program, reaching more than 1,000 students annually.
Launched in 2013, Marketing Musikfest is offered by Freedom and Liberty high schools to provide students with an opportunity to learn what it takes to put on one of the nation's largest music festivals. The program is taught by BASD business teachers, with guest lectures from ArtsQuest Chief Programming Officer Patrick Brogan and ArtsQuest marketing, PR, sponsorship and production staff.
The school district and ArtsQuest also partner on the PNC Backstage Experience, where Bethlehem high school students have had the opportunity to enjoy a behind-the-scenes tour of the Wind Creek Steel Stage to learn about careers in music and arts. During this experience, participants attend the artist soundcheck, meet the Tour Manager and hear from ArtsQuest production and performing arts staff.
Lehigh Valley Health Network
Lehigh Valley Health Network's involvement with Musikfest, as well as many other ArtsQuest programs, can be traced back to 1990, from before Lehigh Valley Cardiology Associates joined with the hospital network.
Since 2001, LVHN has provided all the services in the Musikfest Health Tents, better known as Healthplatz. These tents are an important resource for mothers who need changing spaces, attendees recovering from the heat, and a place to ask LVHN's professional staff general health questions. The hospital network also partners with ArtsQuest on other programs throughout the year including Christkindlmarkt, ArtSmart afterschool enrichment program at the Banana Factory, Lehigh Valley SoccerFest and the SteelStacks Grand Prix.
"Every August, Musikfest welcomes guests from near and far to our city and our region," says ArtsQuest President & CEO Kassie Hilgert. "While these attendees come for the music and the food, it's the support of our many volunteers, sponsors and community partners who help to keep the festival free each year.
"MacIntosh Services, Bethlehem Area School District and Lehigh Valley Health Network are three shining examples of the dedication and commitment of our partners, all of whom go above and beyond so that nearly one million people can enjoy the festivities each year. We are honored to recognize these community-minded groups for their incredible dedication, support and commitment to ArtsQuest and the Lehigh Valley over the years."
Named the "Best Music Festival in North America" by USA Today's 10best.com, Musikfest features more than 500 performances on 17 stages throughout Bethlehem over 10 days. Proceeds from Musikfest support ArtsQuest's free programming for the community year-round at the Banana Factory arts center and the SteelStacks arts and cultural campus. Dates for the 36th edition of the festival are Aug. 2-11, with a special preview night on Aug. 1. For more information, please visit www.musikfest.org.