ArtsQuest Set to Honor the 13 Individuals Who Have Volunteered All 35 Musikfests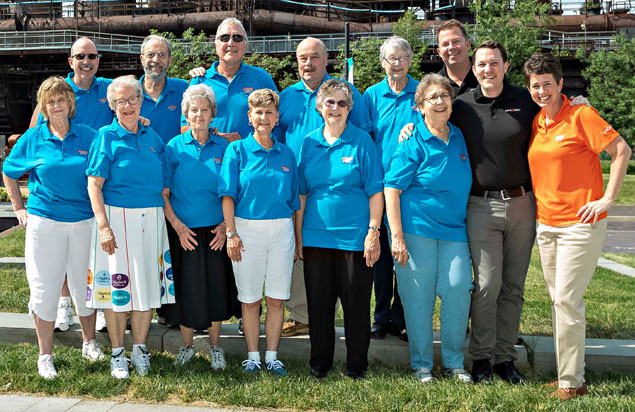 Photo by Olaf Starorypinski
Volunteers Contribute Nearly $1 Million to Make Free Arts Programming Possible for Region
July 3, 2018
BETHLEHEM, PA–Paul Fistner remembers it like was yesterday. The Bethlehem resident was asked by friend Jim Stocklas to help out at a new music festival in Bethlehem's downtown during the summer of '84.
"They had a hard time getting volunteers so Jim, who was a site supervisor at the event, recruited friends, family and neighbors," Fistner recalls. "Anybody walking up the street that he could put his hands on, he recruited to help out. The whole neighborhood was there that first year."
From those humble beginnings, when more than 350 volunteers helped the Bethlehem Musikfest Association present 295 performances on six stages over nine days, Musikfest has evolved greatly. Today, the event is widely regarded as the largest free-admission music festival in the nation, offering more than 525 music and art performances on 16 stages in 2017 while welcoming a record 1.2 million people to the City of Bethlehem during the event.
The growth of Musikfest can be attributed to many factors, from the support of the city, corporate partners and ArtsQuest Members, to the expansion to SteelStacks in 2011. One thing, however, remains constant – the festival might not be here without its many volunteers.
"Volunteers have always been at the heart of Musikfest because that's literally how the festival started," says Kassie Hilgert, President & CEO of ArtsQuest, the nonprofit that presents Musikfest. "Thirty-five years later, they are still the heartbeat of the festival. If our volunteers weren't so invested in this event, we'd only be able to offer a fraction of the 500-plus concerts we present every year."
While more than 1,500 volunteers now assist with the festival annually, 13 stand out this year for their longevity, having donated thousands of hours while volunteering at every single Musikfest. This baker's dozen of 35-year volunteers will be recognized for the milestone achievement when they're honored at Musikfest's opening ceremonies Aug. 3, 5:30 p.m., at Festplatz. Volunteers and their hometowns are:
Karen Bader, Bethlehem
Evangeline Campbell, Bethlehem
Kim Edwards, Bethlehem
Patricia Fielding, Bethlehem
Paul Fistner, Bethlehem
Patricia Holetz, Clermont, FL
Alice Schmidli, Bethlehem
Mary Lou Straka, Bethlehem
Norbert Szymanski, Bethlehem
Roberta Turel, Bethlehem
William Watson, Whitehall Township
Judy Yuhas, Bethlehem
Bonnie Zsilavec, Bethlehem
With Musikfest, volunteers assist with every aspect of the event, from setting up tables and chairs in the weeks leading up to the festival, to helping clean up the venues after the last note has been played. In 2017, volunteers from 15 states contributed almost 21,000 hours to make the festival possible. Since 1984, ArtsQuest, with a huge lift from its volunteers, has presented more than 17,000 free concerts at the festival.
ArtsQuest volunteers' impact on the community goes much deeper than just Musikfest. Overall, volunteers donated nearly 39,000 total hours in 2017, assisting with everything from ushering at Levitt Pavilion SteelStacks summer concerts and Musikfest Café shows, to helping students during arts education programs at the Banana Factory arts center. The youngest volunteers were 14 years of age, while two individuals topped 90.
According to the Independent Sector, which uses data from the U.S. Bureau of Labor Statistics to calculate the 2017 value of one volunteer, the average wage value of one ArtsQuest volunteer hour is $24.69. When you tabulate all the hours provided by Musikfest volunteers in 2017, it's the equivalent of $518,490. Factor in all the hours donated by ArtsQuest volunteers during the year and that figure jumps to $926,860.
"We are incredibly grateful for the tremendous support we have received from our dedicated volunteers since the inaugural Musikfest," Hilgert says. "The hard work and passion of these individuals allow us to remain focused on our mission of presenting quality music, arts and education program for our region.
"In 2017, ArtsQuest presented close to 4,000 programs, concerts and events, with more than 40 percent of this programing free to attend. There's no way we could achieve this without the support of our volunteers."
For more information on volunteering for Musikfest and other ArtsQuest programs, visit www.artsquest.org/volunteer.