ARTSQUEST UNVEILS MUSIKFEST 2021 POSTER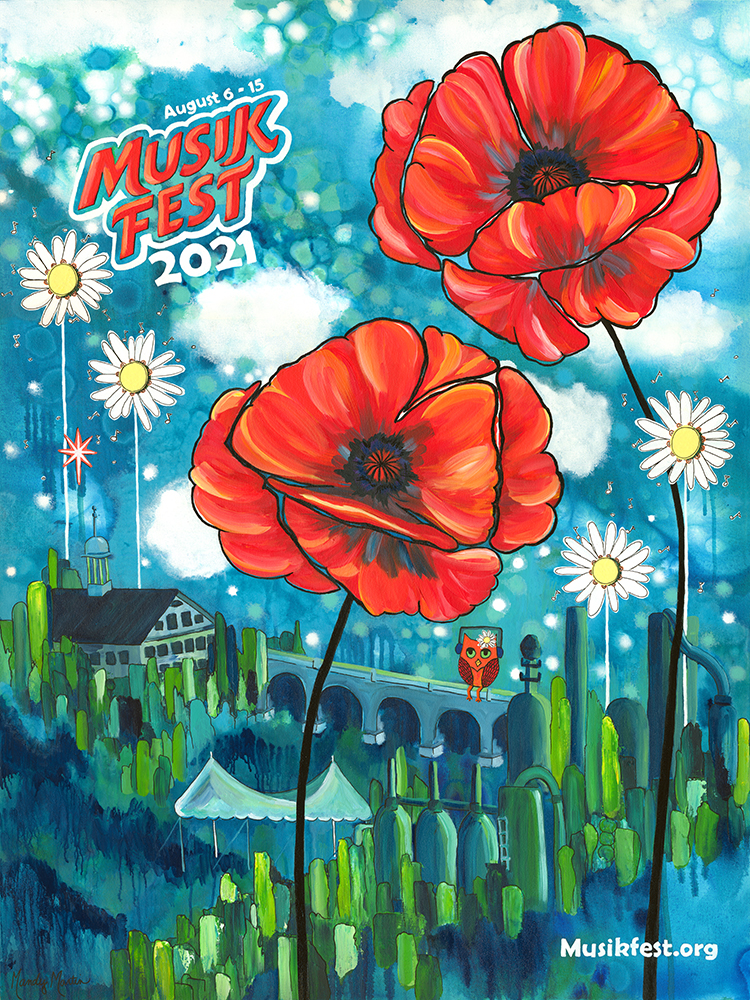 Fine art piece is themed on rebirth, painted by Sellersville artist
BETHLEHEM, PA – With bold depictions of red poppies at its forefront, ArtsQuest has debuted the poster and lead artwork for Musikfest, the non-profit's flagship festival set for its 38th edition on Aug. 6-15, 2021. Painted by Sellersville-based fine artist Mandy Martin, the poster's theme – based on the symbol of rebirth that poppies came to be in the wake of World War I – was conceptualized prior to the COVID pandemic but took on new meaning as Martin worked on the piece in quarantine.
"The Musikfest poster conveys a sense of hope and light. Brilliant red poppies rise from the Bethlehem landscape, while daisies spin magical music notes into the air," said Martin, a member of ArtsQuest's Banana Factory Artist Collective. "We have all been through a lot in the past year, and poppies remind us that new growth often arises after times of hardship. I wanted the viewer to anticipate a time of renewal and joy as we come together for the festival this year."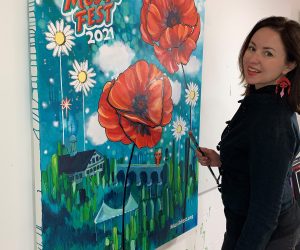 ArtsQuest Lead Creative Juliann Masenheimer has overseen the development of this and the past three Musikfest posters.
"When I started this project with Mandy last winter, our focus was on the revival of Bethlehem through the years. Her poppies immediately drew my eye as our focus so they could represent the growth of both our city and our festival," said Masenheimer. Little did we know March 2020 would come around and we would be in a pandemic, but Mandy's art and talent became all the more pertinent to the task. I love the healing the poster represents from the past to the present, and hopefully the future."
Martin, whose work has also been exhibited at the New Hope Art Center in New Hope, PA and the Annmarie Arts Center in Solomon, MD, admitted to going through a period of growth and rebirth herself as she watched the painting darken with her own thoughts and feelings as the pandemic progressed. She had to remind herself that hope still lives, and must be depicted through light in her artwork.
"The painting was started in the early Spring of 2020; it went through a really dark period in June. Like everyone, I was affected by the uncertainty of the pandemic, and at the same time my eyes were opened to the reality of systemic racism in our society," said Martin. "I had to find some inspiration to lift my spirits and bring a sense of hope to the painting, so I actually listened to live recordings from music festivals while I painted. It reminded me of how good music is for communities and how the arts can bring us together, and I tried to capture that magic in the painting."
"Musikfest was developed to be a beacon of hope in the Lehigh Valley," said ArtsQuest President and CEO Kassie Hilgert. "Mandy's stunning artwork not only beautifully represents that, it also delicately balances our need to remember those we've lost so they live on forever within our community. I'm proud that the poster speaks to the dynamic nature of ArtsQuest in showcasing the talents of a member of our Banana Factory Artist Collective for this year's festival."
Martin's work can be seen at her website; she hopes, through her art, to "inspire viewers to look more carefully at the world around them, to discover beauty in unexpected places, and to take care of the Earth."
With safety at top priority, following all CDC, state and local health and safety guidelines, Musikfest 2021 will take place Aug. 6-15. While planning is underway, the non-profit is looking for input from self-described Musikfest Super Fans to help create the best possible festival for the entire community. Musikfest Super Fans can identify themselves by filling out the form at musikfest.org/superfan until Fri. Feb. 19 for a chance to participate in exclusive surveys, conversations and focus groups.
Musikfest is made possible thanks to the support of the City of Bethlehem, Bethlehem Redevelopment Authority, Bethlehem Area School District, Northampton County, the support of the corporate community and more than 1,600 volunteers and 3,300 supporting members.
For more information, visit musikfest.org.