ARTSQUEST'S 1 MILLION 'FESTERS MATCHING GIFT CAMPAIGN EXCEEDS BUDGET GOALS IN SUPPORT OF MUSIKFEST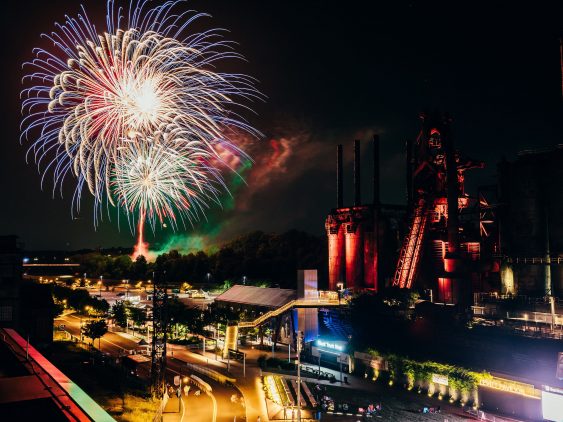 Photo by Ted Colegrove
ArtsQuest Foundation Board of Trustees and Donors Raise $1,246,326
BETHLEHEM, PA – As part of Musikfest 2020 – the 10-day music and arts festival that attracted more than 2.2 million people with its 100 streamed, live TV and limited-capacity socially-distanced performances – festival patrons and donors alike came together to support ArtsQuest via the 1 Million 'Festers matching gift campaign, helping raise $1,246,326 in gifts and pledges as of Dec. 31, 2020.
Following the campaign's initial success by its original deadline of Aug. 11 and to ensure it reached its goal, the ArtsQuest Foundation extended the initiative through the end of the year, allowing patrons at Christkindlmarkt Bethlehem and other ArtsQuest programs and events to come together to show their support for the nonprofit, which normally presents 4,000 concerts, educational classes and events but has lost 90 percent of revenue streams since mid-March due to the COVID-19 crisis.
"As Chairman of the ArtsQuest Foundation, it was my privilege to help lead the 'Festers Campaign," said Tom Riddle. "Our mission is to sustain ArtsQuest; to assure ArtsQuest and its thousands of community offerings will be here for generations to come. The Foundation saw an urgent need to aid ArtsQuest during the COVID-19 pandemic. I am grateful that the Foundation Board of Trustees and everyone who joined us was able to make this significant contribution to assure ArtsQuest's future."
While this campaign plays an integral role in helping ArtsQuest survive this pandemic, there is still dire need for support. ArtsQuest continues to offer artistic and cultural experiences during the pandemic despite a $16 million dollar loss in revenue in 2020.
"The 1 Million 'Festers Matching Gift Campaign was so successful because of the outpouring of community support," said Selena Lavonier, Executive Director of the ArtsQuest Foundation. "I thank the ArtsQuest Foundation Board of Trustees for making this campaign possible and everyone who answered the Foundation's call to raise at least 1 Million Dollars for ArtsQuest," said Lavonier. "In the days ahead, ArtsQuest will endure the pandemic and continue to offer artistic and cultural experiences for our community because of the dedication of our supporters, sponsors, volunteers, audience goers, vendors and staff."
To donate to ArtsQuest, visit artsquest.org/donate or contact Lavonier at slavonier@artsquest.org.