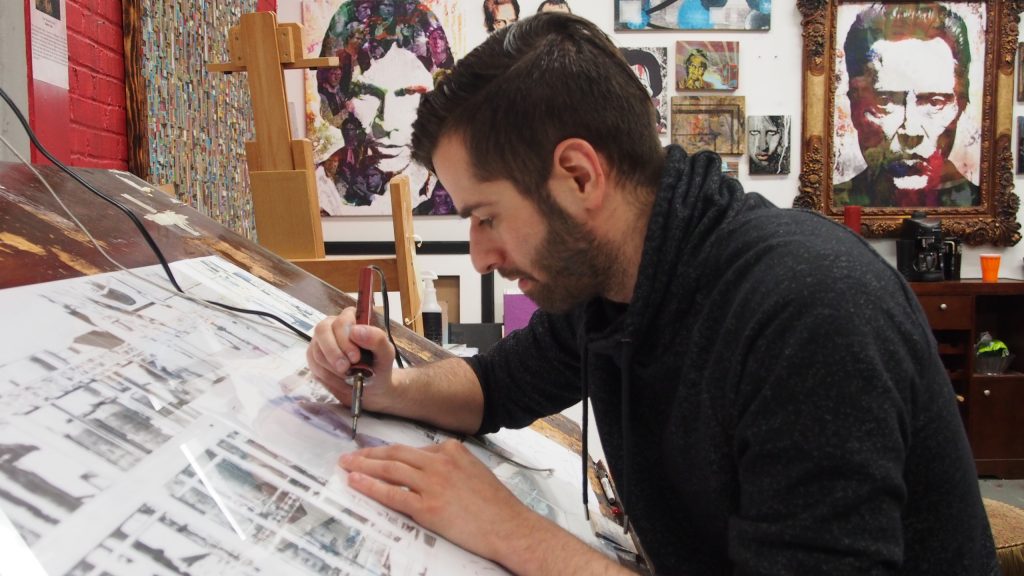 Bobby Zeik: Musikfest Poster Boy
Meet the man behind a Musikfest Masterpiece
By Emily Cummins, Public Relations Coordinator
With its energetic musicians framed in rich blue hues and a blast of bright colors behind them, the 2017 Musikfest artwork captures the spirit and intensity of the festival by focusing on the people who drive the event – the performers. The work, celebrating Musikfest's exciting 34th year, was created by Bethlehem-based painter and illustrator
Bobby Zeik
, who expertly blends street art techniques with fine art style to create pop art and abstract pieces.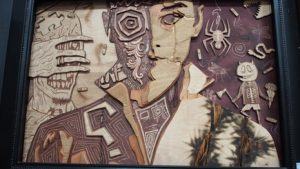 Zeik was commissioned by
ArtsQuest
to create the 2017 poster and conceived the design digitally. He then spent months developing a physical piece on wood using spray paint and stencils. The mixed media work was hand cut layer by layer and included various gels and pastes blended together to create textures. The image of SteelStacks in the artwork was achieved by using an acrylic skin transfer on tissue paper to create a transparent effect. "I wanted to capture the vibe of both Musikfest and Bethlehem," Zeik says. "One thing ArtsQuest stressed is that they wanted me to 'just do me,' which felt easier to say than to accomplish, so it took me a while to get the design to where I was really happy with it. "The musicians in the piece are modeled off of a selection of photos that I chose based on the attitude of each performer, and they're done in low light to look like concert photography." Zeik, 31, is a
Banana Factory resident artist
whose work ranges from mixed media to layered wood art including portraits of Ernest Hemingway and David Bowie. He also does cartoon illustrations, photo recreations and abstract scenes that he has exhibited at Bethlehem House Gallery and RE:find in Allentown. Zeik earned local fame with his
Free Art Fridays
project in which he hides original pieces, like Bill Murray and Christopher Walken heads, throughout Bethlehem and shares clues to their location on Instagram.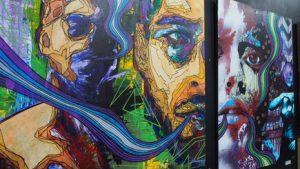 "As a community-based arts organization, one of our main focuses is promoting and supporting our local artists, so we are thrilled to have Banana Factory resident artist Bobby Zeik's artwork featured on this year's Musikfest poster," says ArtsQuest Senior Director of Visual Arts Stacie Brennan. "Bobby is a talented artist whose work highlights the burgeoning arts scene in Bethlehem, as well as the diverse arts programs being presented by ArtsQuest." Referring to the Banana Factory and its studios for resident artists as a community, Zeik says it's meaningful to create his work in a shared space. "I've been an artist full-time for seven years now, and sometimes when you're in your home studio you can end up not saying a word out loud for eight hours or more so here it's cool to be around people who are doing the same thing you are, talking and collaborating with them and being motivated by what they're working on and inspired by their work," he says. Before Zeik pursued art as a career, he was working at what he calls a "normal, boring job" and was mainly drawing and creating as a hobby.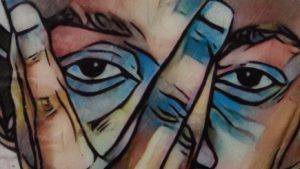 "I was selling office supplies and I was losing my mind; I couldn't do it anymore. I even had people asking me 'why aren't you doing that?' when they would see my art. Now I could never go back, I've been spoiled by doing my own thing for too long," he says. While he never trained professionally or attended art school, Zeik studied and quickly built up a portfolio. After years of experimentation, he created his first wood cut piece, his personal favorite, and soon developed his own technique of layering and spray painting materials. "I took a chance, and luckily it paid off," he says, noting the Musikfest poster is his largest commission to date. Zeik's work of art is featured on the Musikfest 2017 website, poster and official festival mug, while also being incorporated into other official `fest merchandise and apparel throughout the year. "The 2017 Musikfest artwork really captures the energy, excitement and artists that make up our festival each year," says ArtsQuest Director of Marketing Jon Lunger. "Bobby's colorful image not only embodies the essence of the event, it also works well with so much of our merchandise and marketing plans for this year. We're looking forward to showcasing his work to the hundreds of thousands of people are attending the festival this summer."