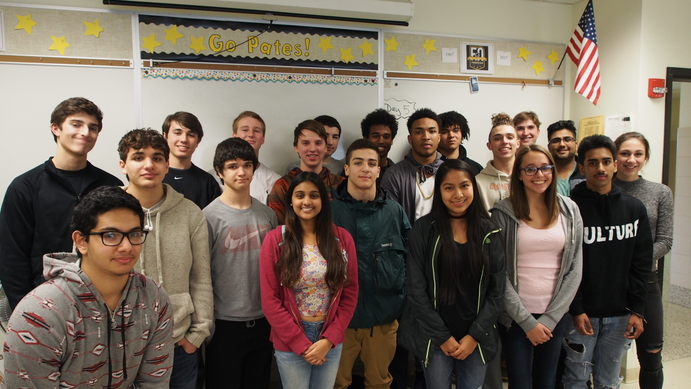 Local Students Set the Stage at Musikfest
By Merry Sue Baum
As the nation's largest free music festival gets underway in Bethlehem this August, sharing the spotlight with internationally renowned acts like Santana, Toby Keith and The Band Perry will be up-and-coming artists like rock band Supérmac and indie act White Noise taking the stage Saturdays at Plaza Tropical. And, while the vast majority of the 300-plus artists at the festival are booked by Patrick Brogan and the programming staff of ArtsQuest, these eight acts travelled a different path to Musikfest as they were actually selected by Freedom and Liberty High School students taking part in ArtsQuest's 'Marketing Musikfest' program, now celebrating its fifth year.
"I'm very excited to hear our band play live," says Adrian Sawh, a sophomore at Liberty. "It'll be amazing to sit there and think, 'Wow, I actually helped hire that band.' "
This year, 39 teens at Liberty and Freedom are taking part in the Marketing Musikfest course, which has also been offered in the past at the Lehigh Valley Charter High School for the Performing Arts. The course began five years ago following a series of discussions between ArtsQuest and Bethlehem Area School District regarding ways the nonprofit could provide some real-world business experiences tied to Musikfest to complement what the students were learning in the classroom.
"Our ArtsQuest staff visits the classroom regularly to teach students about how we present and run Musikfest, but the real key to this program is engaging the students in the actual process of presenting the event," says Brogan. "Through this class, they learn real-life business practices, how to book a concert, marketing concerns and concert promotion."
At the start of the 10-week course, students are broken into groups, and each group is given a small budget to book and promote a band. Using the same booking tools that ArtsQuest does to select acts, each group watches as many as 30 videos submitted by the bands hoping to play at the festival. The students, under the guidance of their teachers – Liberty's Anne Skelly and Freedom's Rob Petrosky – then contact their selected bands, negotiate a performance price and seal the deal with a signed ArtsQuest contract. While watching music videos during class time seems like fun, the students say making a final choice isn't as easy as it sounds.
"We watched so many different types of bands, and our group had to agree on one," says Zay Speaks, a Freedom senior. "But we want to draw a huge crowd, so it has to be about what the Saturday afternoon audience at Plaza Trop will enjoy, not what we like."
Make no mistake about it – promoting an act with a limited budget takes some ingenuity. Not only do the students take to social media like Twitter and Instagram to promote their artists, some groups in the past have pooled their money to buy print ads and t-shirts. Another bunch, knowing how hot it can get during Musikfest, distributed hand-held fans imprinted with their band's name, show time and venue, as well as their school logo.
The students' hard work during the school year always culminates with a press conference to announce their bands. Over the years, these media events have taken place in the Musikfest Café presented by Yuengling, the Bethlehem City Hall Rotunda and even a school cafeteria. This year, the students and one of their acts, White Noise, actually announced their lineups live on the WFMZ morning news, providing a thrill they'll remember the rest of their lives. Making the morning even more memorable was the fact that White Nosie actually features former Freedom student and Marketing Musikfest alum Covey Carpenter.
"It's somewhat surreal, knowing that I'll get to play at Musikfest again thanks to a program that I was part of during my time at Freedom," Carpenter says. "Our band has played the festival a couple of times through the Lesson Center programs, but this feels way more legitimate.
"The experience I had in Marketing Musikfest was really unique. My class was really small, so we each had much greater roles in the process. I think that the experience I gained from the class was definitely part of what led me to choose to further my education in music and music business, as well as a deciding factor in my acceptance into Drexel University's Music Industry Program."
After five years of leading the Marketing Musikfest program, Brogan says he's constantly amazed at the diverse lineup the students come up with, complete with an eye-opener or two along the way.
"They've actually turned us on to some really great artists," Brogan says. "Freedom booked a folk-rock band in 2013 called The Ballroom Thieves. We liked them so much that we booked them for Musikfest 2014, at Levitt Pavilion in 2015, and they did a ticketed show in the ArtsQuest Center Blast Furnace Room last July."
Marketing Musikfest teaches the real-life challenges of talent booking, but it doesn't stop students from dreaming big. When asked what act—alive or dead— they'd book if they could, most picked world-renowned A-listers like Justin Bieber, Beyoncé and Adele. A few of the teens thought it would be great to book classic performers like the Beatles, Jimi Hendrix and Billy Joel. Most surprising of all, however, was one student who said he'd do anything to book Frank Sinatra.
"My father played his CDs all the time. I grew up listening to him" he says. "I absolutely love him."
Marketing Musikfest 2017
Aug. 5 – Liberty High School Day
Noon: The Wildlings
1 PM Chamomile and Whiskey
2 PM Carly Moffa
3 PM Supérmac
Aug. 12 – Freedom High School Day
Noon: Callout
1 PM Grapefruit Cannonball
2 PM Friends at the Falls
3 PM MAYVE
4 PM White Noise
The Making of 'Marketing Musikfest'
A one-of-a-kind educational experience, Marketing Musikfest is funded entirely by ArtsQuest, thanks to the support of ArtsQuest Members, donors and revenues generated from ticketed events like Christkindlmarkt, Musikfest Sands Steel Stage concerts and Musikfest Café presented by Yuengling shows. The program is actually one of more than one dozen educational enrichment programs that have emerged from ArtsQuest's longtime partnership with the Bethlehem Area School District over the years.
"We like to call ArtsQuest our preferred partner," says Bethlehem Area School District Assistant Superintendent for Education Jack Silva. "We look to them when we're thinking of improving our academic programs.
"ArtsQuest is a tremendous resource with a lot to offer. We are grateful to the organization for opening up so many wonderful opportunities for our students."
For 2018, ArtsQuest is hoping to expand the Marketing Musikfest program to other school districts in the region, but it needs the community's support to take this unique educational initiative on the road.
Corporations, businesses and individuals who would like to see a Marketing Musikfest program in their school district, as well any high school that may want to explore this unique opportunity to learn how to book bands, can learn more by contacting ArtsQuest Director of Education & Outreach Lisa Harms at lharms@artsquest.org and 610-332-1389.