Banana Factory Artist-in-Residence and Teaching Artist, Lauren Beck, Creates an Intricate Night Sky Including Features of 'Fest for Musikfest 2024 Poster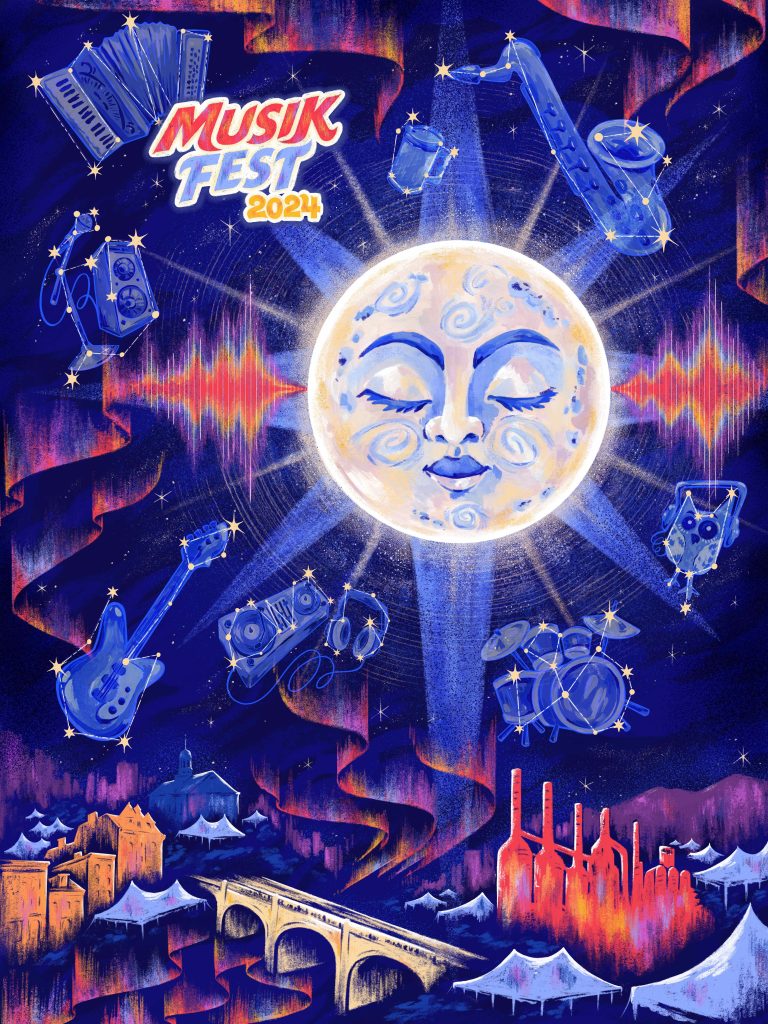 Bethlehem, PA, November 13, 2023 – ArtsQuest is proud to announce the official Musikfest 2024 Poster – with Illustrations of constellations depicting instruments and objects near and dear to Musikfest, the painted sky expanding into a grand tapestry and a bright and shining moon in the center. Illustrated by Banana Factory Artist-in-Residence and Teaching Artist, Lauren Beck, the artwork depicts a night sky with Musikfest sitting below.
"When imagining the poster design, I tapped into my deep love for experiencing live music at festivals and concerts," Beck explained. "When seeing bands play, I enjoy feeling connected to the world around me in a transcendent way. Often, these special moments have been at outdoor concerts and festivals, when the energy of the crowd and sound of the band gave me a profound sense of soothing calm, grounding me to the present moment."
"We are thrilled to have a Banana Factory Artist-in-Residence and Teaching Artist create this year's Musikfest poster," commented Kassie Hilgert, CEO and President of ArtsQuest. "Lauren Beck has done a phenomenal job including so many special elements of Musikfest, highlighting the beautiful night sky with constellations of musical instruments, the traditional Musikfest mug, even Artie the Owl. She uniquely ties both the Historic Moravian District and the SouthSide Arts District of the festival together and showcases how Musikfest transforms during the night."
Beck lives and works in Allentown, Pennsylvania, and is a Lettering Artist and Illustrator for Ren & Ink LLC. She graduated from Kutztown University with a degree in Arts Education. Beck regularly teaches in-person workshops, after-school programs and summer camps with ArtsQuest and other studios throughout the Lehigh Valley. You can read more about her work and current projects, here.  
Beck expresses how her heart is full when she can bring subjects and mediums that she loves to the classroom. Teaching is her first love, and she enjoys true human connection.
"The final Musikfest poster showcases my idea to illustrate a story in the sky, which further connects humans to the universe, as many cultures have done in the past," Beck said. "I think of humans throughout history assigning meaning to the constellations, passing down stories that explain the many mysteries of the universe. This poster tells the story of Musikfest in the stars, but I love to wonder what others might see when they gaze at their own night sky."
Although digital, Beck wanted to incorporate the brush strokes and texture that can only be achieved by hand. Each element of the poster such as the constellations, moon and clouds were painted separately. These elements were painted with acrylic gouache separately and scanned. The design was put together using layering elements with graphic design programs on the computer.
"I had a lot of fun illustrating the moon character, with an expression that made me smile as I imagined it vibing to the tunes below," said Beck. "The rising colors began to appear as sound waves, so I leaned into the visual depiction of music by emphasizing them. The moon was such a delightful part of creating this design, and I especially love the texture of the glowing Bethlehem star expanding out into the universe."
Over the next several weeks, Musikfest fans will see the emergence of the Musikfest poster art popping up on all platforms, including ArtsQuest websites. This poster will be used for the official 2024 festival poster and mug as well as incorporated into other official 'fest merch and apparel throughout the year.
The public will have several opportunities to interact with Beck throughout the year, including during the 2nd Sunday Holiday Pop-Up Market on Dec. 10 where she will teach a free workshop related to the 2024 Musikfest poster. Additionally, the public can view Beck's work in her artist-in-residence Banana Factory studio #340.
Musikfest is set for Aug. 2-11 with a preview night on Aug. 1. Additional details will be announced about the nation's largest free non-gated music festival throughout the year. Visit musikfest.org for more information.
About Musikfest  
A record-breaking 1,330,000 people attended Musikfest in 2023. The 11-day festival featured over 500 free performances, across 16 stages located throughout the City of Bethlehem. The 40th Musikfest is scheduled for Aug. 2 – 11, 2024, with a special preview night on Aug. 1. This year's Musikfest 2024 poster artist is Banana Factory Teaching Artist Lauren Beck. Visit musikfest.org for more information.