Musikfest, IronPigs announce partnership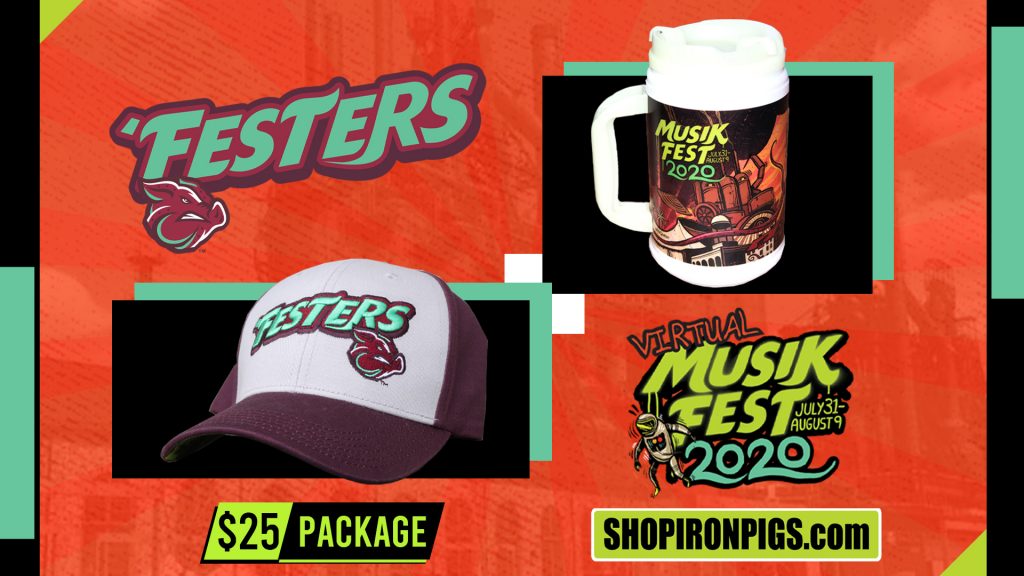 'Festers Cap & Musikfest Mug package available now
Allentown, Pennsylvania (22 June 2020) – With COVID-19 significantly impacting events on a global scale, the Lehigh Valley's two landmark summer institutions, Musikfest and IronPigs baseball, are among the local organizations most drastically affected by the pandemic. With large gatherings prohibited and social distancing still in play, Musikfest recently announced the annual celebration will be held virtually this August, while the IronPigs continue to await a final decision on their 2020 season as Opening Day was suspended indefinitely in April.
Both organizations have hosted smaller events in recent months, continuing to find ways to support the community. Now the two iconic brands are joining creative forces, as they have in the past, in support of each other's business efforts under such difficult circumstances. The Lehigh Valley IronPigs and ArtsQuest have partnered to offer a unique merchandise package featuring both a Musikfest mug and an IronPigs 'Festers cap, currently available for purchase at ShopIronPigs.com. Proceeds from the package will be split evenly between the IronPigs and ArtsQuest to support both organizations in continuing to provide much-loved entertainment and recreation for the Lehigh Valley's communities and beyond.
"The IronPigs and Musikfest are perhaps the two most celebrated summer brands in the Lehigh Valley," said IronPigs President and General Manager Kurt Landes. "Giving fans an opportunity to purchase a Musikfest mug and an IronPigs 'Festers cap simultaneously is a winning combination and will help to support both organizations during this difficult time."
"Musikfest and the IronPigs have partnered for many years to bring incredible and affordable entertainment to people of the Lehigh Valley and beyond. We hope this special merchandise package will remind our fans that someday we will get back to convening communities, making memories and that every purchase an donation made now will help to ensure we can do just that," said Kassie Hilgert, President and CEO of ArtsQuest.
The first Musikfest mug was not a mug at all in 1984 when it made its debut. It was a small cup and pitcher and has evolved over time to what it is today – a colorful 24-ounce insulated mug. The 'Festers cap features the IronPigs logo and celebrates the color and design scheme of this year's Musikfest underneath the brim of the cap. The 'Festers logo was developed jointly by the two organizations over 4 years ago when the two brands partnered for the first time to celebrate at Coca-Cola Park. The cap was originally scheduled to be distributed this summer on July 30th at the IronPigs' annual "Festers Night," presented by Service Electric Cable TV.
IronPigs and Musikfest fans across the Lehigh Valley can go to ShopIronPigs.com to purchase their 2020 Musikfest mug and adjustable 'Festers cap starting today for $25! Limited quantities are available. The 2020 IronPigs season is the team's 13th at Coca-Cola Park. Follow the IronPigs on Twitter at @IronPigs and like them on Facebook via www.facebook.com/LHVIronPigs.
The 2020 IronPigs season is presented by Capital BlueCross.