Service Electric and ArtsQuest Announce Performers for Musikfest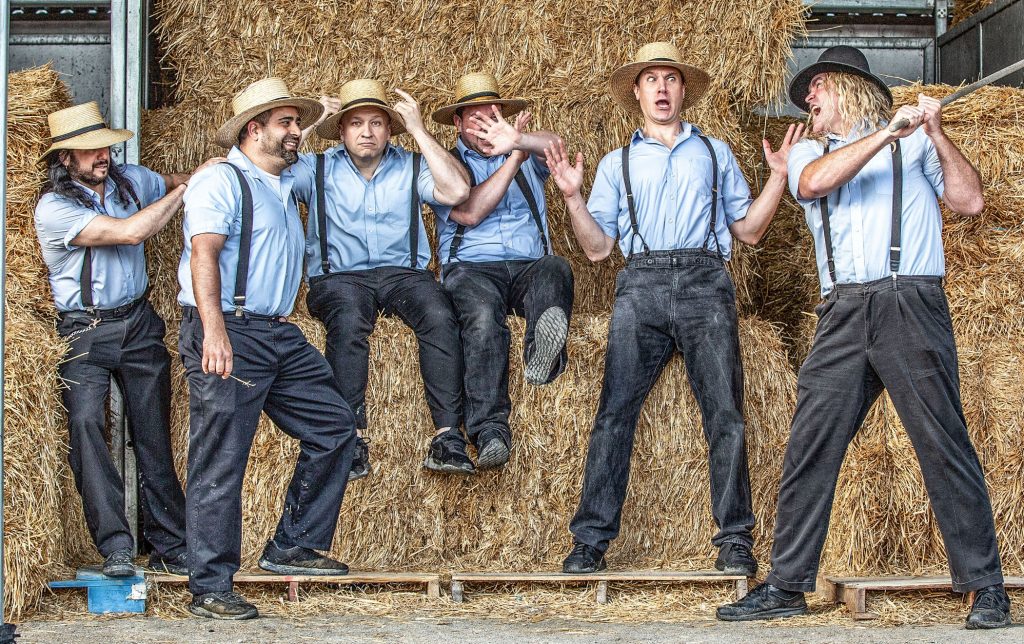 Nation's First Cable TV Company Partners with Nonprofit to Broadcast Nearly 40 Concerts Live and via Replay on Musikfest Website During 2020 Festival
BETHLEHEM, PA—The Amish Outlaws, Jimmy Buffet tribute band Jimmy & the Parrots, polka icons Jimmy Sturr Orchestra and party rockers The Sofa Kings and The Large Flowerheads are just a few of the nearly 40 Musikfest favorites slated to air live from the Service Electric Cable TV and Communications (SECTV) studios as a part of Musikfest, taking place July 31-Aug. 9.
A partner with ArtsQuest since the inaugural Musikfest in 1984, Service Electric has broadcast thousands of hours of festival concert coverage over the years. When ArtsQuest was forced to close its doors in mid-March due to the COVID-19 pandemic, the company stepped up to support the nonprofit by helping to present and pay the performers to keep the music alive this year.
"Service Electric Cable TV and Communications has constantly expanded its involvement with the festival over the years," says ArtsQuest Chief Operating Officer Curt Mosel. "When the pandemic hit, there were some real concerns as to how and if we could present Musikfest in 2020. Service Electric stepped up like never before by offering to host and broadcast performers from its studios, essentially helping to provide half the artists for this year's festival. We greatly appreciate what they are doing not only for ArtsQuest, but the entire region, to provide music at a time when everyone needs it most, especially since we can't all get together in person."
Two Ways to Watch
During Musikfest, concerts will air live on Service Electric's channels 2 and 50 and then replayed on the Musikfest website, www.musikfest.org, making the shows accessible to people throughout the region and across the country.
Live broadcasts will air on Service Electric July 31 and Aug. 3-7 from 5-11 p.m. and Aug.1-2 and 8-9 from noon-11 p.m. In addition to polkas, dance bands and tributes, the broadcasts will also feature local singer/songwriters like Kendal Conrad and Seth Witcher. The complete lineup & daily schedules are listed at the end of this release.
The schedule for the Service Electric streaming concerts, which will begin on Aug. 3, will be made available via www.musikfest.org the week of July 27.
"When the possibility of a summer without Musikfest looked more and more like a reality, we were determined to find a way to support ArtsQuest and keep the tradition alive," says SECTV President John M. Walson. "Service Electric has been broadcasting the festival live since 1984 and is excited to host a terrific lineup of bands for the Lehigh Valley to enjoy safely from their homes."
The largest free music festival in the nation, Musikfest is made possible thanks to the support of the City of Bethlehem, Bethlehem Redevelopment Authority, Bethlehem Area School District, Northampton County, the support of the corporate community and more than 1,600 volunteers and 3,300 supporting members.
Musikfest 2020, presented by the nonprofit ArtsQuest, will take place July 31-Aug. 9. This year's festival will include 40 concerts shown via musikfest.org as part of Virtual Musikfest, nearly 40 performances by bands live from the Service Electric TV studios and then shared via musikfest.org; and an on-site food and beverage experience at SteelStacks that will include at least 10 Musikfest favorite food vendors. Additional details on the festival, including possible in-person events and concerts at SteelStacks, will be announced later this month.
SERVICE ELECTRIC DAILY SCHEDULE:
(These Shows will Air Live on Service Electric TV2 and be replayed on Musikfest.org)
July 31:
5-7:30 p.m.: Red Hotts
7:40-8:20 p.m.: Dave Fry
8:30-11 p.m.: UUU
August 1:
12-1:30 p.m.: Aaron Dussing Polka
2:30-4 p.m.: Jimmy Sturr Orchestra
5-7:30 p.m.: Roi and the Secret People
7:40-8:20 p.m.: Seth Witcher
8:30-11 p.m.: The Sofa Kings
August 2:
12-1:30 p.m.: John Stevens Polka
2:30-4 p.m.: Fritz's Polka Band
5-7:30 p.m.: The Renaissance Orchestra
7:40-8:20 p.m.: Stefanie Johnson
8:30-11 p.m.: Philadelphia Funk Authority
August 3:
5-7:30 p.m.: Zaire
7:40-8:20 p.m.: Kendal Conrad
8:30-11 p.m.: The Amish Outlaws
August 4:
5:30-8 p.m.: James Supra/Sarah Ayers Band
8:10-8:50 p.m.: Ben Tyler
9-10:30 p.m.: Rubix Kube
August 5:
5-7:30 p.m.: The Large Flowerheads
7:40-8:20 p.m.: Pentley Holmes
8:30-11 p.m.: Jimmy & the Parrots
August 6:
5-7:30 p.m.: Legacy Trio
7:40-8:20 p.m.: Dina Hall
8:30-11 p.m.: Start Making Sense
August 7:
5-7:30 p.m.: Alexis P. Suter Band
7:40-8:20 p.m.: Jon Fadem
8:30-11 p.m.: Garden State Radio
August 8:
12-1:30 p.m.: The Lesson Center
2:30-4 p.m.: Alex Meixner Band
5-7:30 p.m.: Cinnamon Jones & Eternal Soul
7:40-8:20 p.m.: Stacy Gabel
8:30-11 p.m.: Boat House Row
August 9:
12-1:30 p.m.: Tshila
2:30-4 p.m.: Slam Allen Band
5-7:30 p.m.: Screaming Broccolli
7:40-8:20 p.m.: Leo Motolese
8:30-11 p.m.: Luisito Rosario & Orchestra