SERVICE ELECTRIC PRESENTING ANNUAL MUSIKFEST FIREWORKS THIS YEAR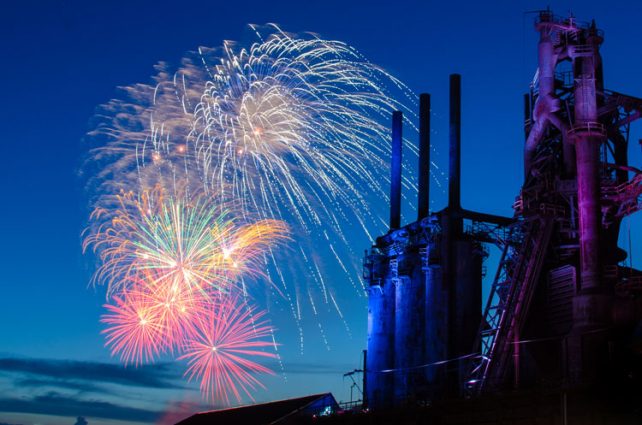 Photo by Jonathan Davies
Display, set for Aug. 9, was in jeopardy of being cancelled before company stepped in
BETHLEHEM, PA—Musikfest 2020 will close with a bang thanks to Service Electric Cable TV and Communications stepping up to present the festival's annual fireworks display over the City of Bethlehem. The display will take place at its traditional time of 10 p.m. on the last night of the festival, Aug. 9, and also be broadcast live on Service Electric's Channel 2.
"The closing-night fireworks are an event that so many people look forward to each year," says ArtsQuest Chief Operating Officer Curt Mosel. "Unfortunately, they are also a big investment and something, quite honestly, we did not think were possible for 2020.
"When Service Electric heard that we may have to cancel the display, they immediately jumped in to cover the costs so that we could close out the festival with one if its longest standing traditions. People throughout the city and neighboring communities will be able to watch the fireworks from their back yards, front porches or even live on television thanks to this incredible community and ArtsQuest partner."
A supporter of ArtsQuest since the inaugural Musikfest in 1984, Service Electric has broadcast thousands of hours of festival concert coverage over the years. This year, the company is also hosting nearly 40 artists live from its studios on Avenue A in Bethlehem during the festival, airing them live on Service Electric Channel 2 and then streaming the shows via www.musikfest.org later in the week.
Live Musikfest concert broadcasts will air on Service Electric July 31 and Aug. 3-7 from 5-11 p.m. and Aug.1-2 and 8-9 from noon-11 p.m. The schedule for the Service Electric streaming concerts, which will begin on Aug. 3, will be made available via www.musikfest.org the week of July 27.
"Service Electric was determined to help create an authentic Musikfest experience for the Lehigh Valley, and that includes a fireworks show to cap off the festival," says Service Electric President John M. Walson. 'We are excited to partner with ArtsQuest to make sure the festival tradition continues in downtown Bethlehem and is enjoyed across the Lehigh Valley on the Service Electric Network."
The Musikfest 2020 fireworks are also being sponsored by Garden State Fireworks, which have been providing the annual display for the festival since 2009.
The largest free music festival in the nation, Musikfest is made possible thanks to the support of the City of Bethlehem, Bethlehem Redevelopment Authority, Bethlehem Area School District, Northampton County, the support of the corporate community and more than 1,600 volunteers and 3,300 supporting members.
Musikfest 2020, presented by the nonprofit ArtsQuest, will take place July 31-Aug. 9. This year's festival will include 40 concerts shown via musikfest.org as part of Virtual Musikfest, nearly 40 performances by bands live from the Service Electric TV studios and then shared via musikfest.org; and an on-site food and beverage experience at SteelStacks that will include at least 10 Musikfest favorite food vendors. For more information, visit www.musikfest.org.