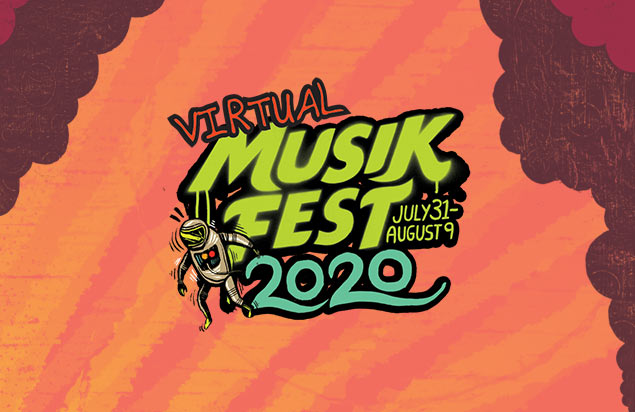 Eighty Virtual & Live Television Performances and Musikfest Food Vendor Experience Highlight Musikfest 2020 July 31-Aug. 9
Nonprofit ArtsQuest Invites Community to Participate by Sharing Memories, Enjoying Concert Streams and Donating to Support the Festival & Live Music Community
BETHLEHEM, PA—More than 80 performers and 30 partners are joining with ArtsQuest to keep the music alive and free for the community during Musikfest 2020 July 31-Aug. 9.
The 2020 Musikfest will include 40 all-new, exclusive concerts shown via Musikfest.org as part of Virtual Musikfest, 40 performances by bands airing live from the Service Electric TV studios and an on-site food and beverage experience at SteelStacks that will include at least 10 Musikfest favorite food vendors. As the region moves through the state's reopening process, ArtsQuest will continue to announce programming updates and changes weekly, including possible additional in-person events and concerts at SteelStacks.
"So many people have been asking about the status of Musikfest 2020 over the past several weeks, and for that we are so appreciative," says Kassie Hilgert, President & CEO of ArtsQuest, the nonprofit that presents Musikfest. "The reality, however, is that the focus since mid-March needed to be on the pandemic and those working on the front lines. The health of everyone, including our patrons, performers, artists, volunteers, vendors and staff, has always been and will continue to be our number-one concern in all of this. During this time of crisis, we feel it is particularly important to keep our community connected through music and the arts, as well as to support our local musicians, artists and vendors, the vast majority of whom are reeling since this pandemic has decimated the live music and events industry.
"We are working closely with the City of Bethlehem on Musikfest 2020 planning and we will look to add in-person elements on the SteelStacks campus at the appropriate time, following all safe social distancing guidelines and health and safety regulations enacted by the city and the state. While we can't yet predict or announce what those in-person events might look like, rest assured they will be reflective of the traditions and celebrations people have come to cherish about Musikfest."
THE MUSIC
The only music festival to be twice named the No. 1 Music Festival in North America by the USA Today/10Best readers' poll, Musikfest is the largest free admission music festival in the nation, typically featuring more than 425 artists and performers on 17 stages spread throughout the city.
Fans who've come to enjoy Musikfest's diverse musical lineup will find more of the same this year, with 40 all-new streaming performances over the 10 days focused on rock, blues, folk, Celtic, world, indie and more. Among the artists already confirmed to perform as part of Virtual Musikfest lineup are KT Tunstall, Igor & The Red Elvises, Betcha, The Accidentals, Mike Mains & the Branches, Hollis Brown, Making Movies and Craig Thatcher & Nyke Van Wyk. Additional artists will be announced as they are confirmed in the coming weeks. In addition, the Service Electric TV2 Studios on Avenue A in Bethlehem are being transformed into a Musikfest stage and will offer live shows by singer-songwriters, rock acts and popular Musikfest acts all 10 days of the festival. Artists slated to perform and air live from Service Electric include The Sofa Kings, Philadelphia Funk Authority, Jimmy & the Parrots, Boat House Row, The Large Flowerheads, Fritz's Polka Band and more.
"The live music and events industry, like so many other industries, has been hit hard by this crisis," says ArtsQuest Chief Programming Officer Patrick Brogan. "A big part of ArtsQuest's mission over the years has been providing paid performance opportunities for artists to support their livelihood, and we are looking to continue that tradition this year with these virtual performances and live-via-TV concerts connecting artists and fans."
All Wind Creek Steel Stage main stage performances, with the exception of The National, have been postponed. The Darius Rucker show has been rescheduled to Aug. 7, 2021, while the Kelsea Ballerini concert will now take place Aug. 12, 2021.
ArtsQuest is working with artist management to reschedule the Willie Nelson, Poison, Rob Zombie and Shinedown shows to Musikfest 2021 and asks ticketholders to hold on to their tickets for those shows until the new dates are confirmed and announced. All tickets will be honored at the new 2021 dates. An email will be sent to all ticket purchasers once a new date has been established. If a new date can't be established, ArtsQuest will send an email outlining patrons' options on what they can request for their ticket purchase, including an option for those who want to support Musikfest by donating the cost of their tickets back to the nonprofit ArtsQuest.
The National concert set for this year has been cancelled and ArtsQuest will contact all ticket purchasers for this performance via an email outlining ticketholders options, including refunds and the opportunity for those who want to support Musikfest by donating the cost of their tickets back to ArtsQuest.
THE FOOD
Second only to the music at Musikfest are the foods of the 'fest, with more than 45 food vendors taking part in the event each year. During Musikfest 2020, patrons will be able to visit the SteelStacks campus and enjoy a variety of food and beverage options, including a to-be-determined location that will offer a 'taste' of the Musikfest midway, with at least 10 Musikfest food vendors participating. Onsite foods and beverages, which will include Yuengling and Banko Beverage brands, will be offered following all state and city health & safety regulations in place at the time of Musikfest. Participating vendors and foods will be announced later this summer.
THE PROGRAMMING
Other programs being planned for Musikfest 2020 include:
The return of the popular Musikfest App powered by PNC Bank, featuring a photo scavenger hunt and more.
A virtual Musikfest 5K launching in July, with proceeds supporting Musikfest
The Handwerkplatz presented by Martin Guitar online retail shopping portal to support local artisans.
Musikfest 2020 Public Art Project where the community can download or pick up a postcard at the Banana Factory and create artwork sharing their thoughts and feelings on Musikfest and the community. Details on how to participate in the art project and return the postcards will be announced June 15 at www.musikfest.org.
THE MEMORIES
From mid-July through the end of Musikfest, ArtsQuest will be sharing stories by local celebrities, performers, artists, vendors, volunteers and community members who have played a role in making Musikfest possible over the years. Stories and memories will be shared via Musikfest social media, the Musikfest website and other platforms. In addition, the community will be invited to share their favorite Musikfest photos for a virtual photo exhibition, with details to be announced later this summer.
THE IMPACT
ArtsQuest and the City of Bethlehem annually welcome approximately one million people for Musikfest, with visitors coming from across the country and around the globe. The festival also provides opportunities for more than 425 artists and performers, as well as 125 local and regional small businesses, to support their livelihood via performances, food stands, artisan booths and more. Approximately 65 percent of artists each year are from the Lehigh Valley and surrounding Mid-Atlantic Region, while 70 percent of vendors are from the Lehigh Valley and surrounding region. Overall, the festival and its patrons had an economic impact of $77 million on the Lehigh Valley in 2019.
"Since its humble beginnings in the mid-80s, Musikfest has brought millions of people to Bethlehem to enjoy music, food and crafts," says Bethlehem Mayor Bob Donchez. "Up until now the threat of inclement weather was the only challenge that could jeopardize the success of the event. Who would have ever thought that a global pandemic would force such dramatic changes to a Bethlehem staple? But, as they say, 'The show must go on'."
"Although Musikfest is taking on a whole new form, its goal is still the same – to bring us together. For over three decades ArtsQuest has given us free music. It is my hope our community will support ArtsQuest including the performers, artists, vendors and small businesses in any capacity possible."
THE SUPPORT ALLOWING THE MUSIC TO GO ON
While the COVID-19 pandemic has impacted every aspect of the nation and the economy, more than 30 sponsors have come together to help ArtsQuest present this year's festival and its programming for the community. The support of these community-minded businesses, along with the contributions of ArtsQuest's 3,300 supporting members, made the difference between ArtsQuest being able to offer a Musikfest this year or having to cancel the festival entirely for 2020.
"With few exceptions, this pandemic has affected every, single aspect of our economy and our business community, from larger corporations to countless small businesses," says ArtsQuest Chief Operating Officer Curt Mosel "Over the past three months, our staff has had hundreds of conversations with our partners and supporters. Many of these have been incredibly uplifting, as you might expect during a time of crisis, while others have been scary as we've learned about how hard our business community, especially the smaller businesses, have been rocked by this pandemic.
"There is no way we can truly express how much we appreciate the support of the partners who have been able to still back us and our community this year. At the same time, our hearts and thoughts go out to those businesses that have been decimated by the COVID-19 related restrictions and shutdowns. As a community-focused organization, ArtsQuest will do what we can to support as many of our small business partners as possible."
THE NEED
As a nonprofit arts and cultural organization that offers 50 percent of its programs annually for free, ArtsQuest has been especially hit hard by the COVID-19 related shutdowns. In any other year, ArtsQuest presents 4,000-plus programs and events for the community, including 800 free concerts year-round. In mid-March, the ArtsQuest staff went from planning a busy summer schedule to not being able to offer a single piece of programming overnight, losing 90 percent of its revenue streams in the blink of an eye.
"ArtsQuest started in 1984 with a single event, Musikfest, during a time when thousands of Bethlehem Steel workers were being laid off and Bethlehem's residents and downtown business community needed a major boost," Hilgert says. "For more than 35 years, we have been focused on bringing our community together through music and arts, while at the same time helping to support our city and region from the economic development, community revitalization and tourism perspectives. Our Musikfest patrons usually support the festival by attending concerts, purchasing food and beverages and buying a mug. This year, however, we will be asking everyone to support Musikfest in a very different way.
"This week, we're launching the "Together, We Will Fest Again" campaign, inviting the community to help us via donations and contributions that will go directly to support the 2020 festival, local artists and the return of Musikfest in 2021. More than anything, this crisis has highlighted how vulnerable nonprofit, events-based organizations truly are – our goal is to come out of these challenging times strong so we can present 36 more Musikfests to support our city and region. The community's support this year can play a huge role in that."
Musikfest fans and community members who want to help ArtsQuest and Musikfest prepare for when everyone can get back together in person safely can do so by:
Making donations to support Musikfest at Musikfest.org/together. There are various "Together, We Will Fest Again" options for people to give based on ability, with special 'Thank Yous' for donations at different levels including a limited-run, special-edition 'Virtual Musikfest 2020 collector's mug.
Becoming an ArtsQuest Member and enjoy a variety of virtual and in-person benefits, including the ability to purchase tickets at future Musikfests and SteelStacks concerts before the public.
Entering the Virtual Musikfest 5K starting in July.
Ordering from the ongoing SteelStacks Curbside Pickup to Go Service, featuring Musikfest food vendor favorites.
Additional details on Musikfest virtual and in-person programs and events will be announced throughout the summer. The largest free music festival in the nation, Musikfest is made possible thanks to the support of the City of Bethlehem, Bethlehem Redevelopment Authority, Bethlehem Area School District, Northampton County, the support of the corporate community and more than 1,600 volunteers and 3,300 supporting members.
Musikfest 2021 dates are Aug. 6-15. For more information, visit www.musikfest.org.