VOLUNTEER STAGEHANDS PREPARE FOR MUSIKFEST 2022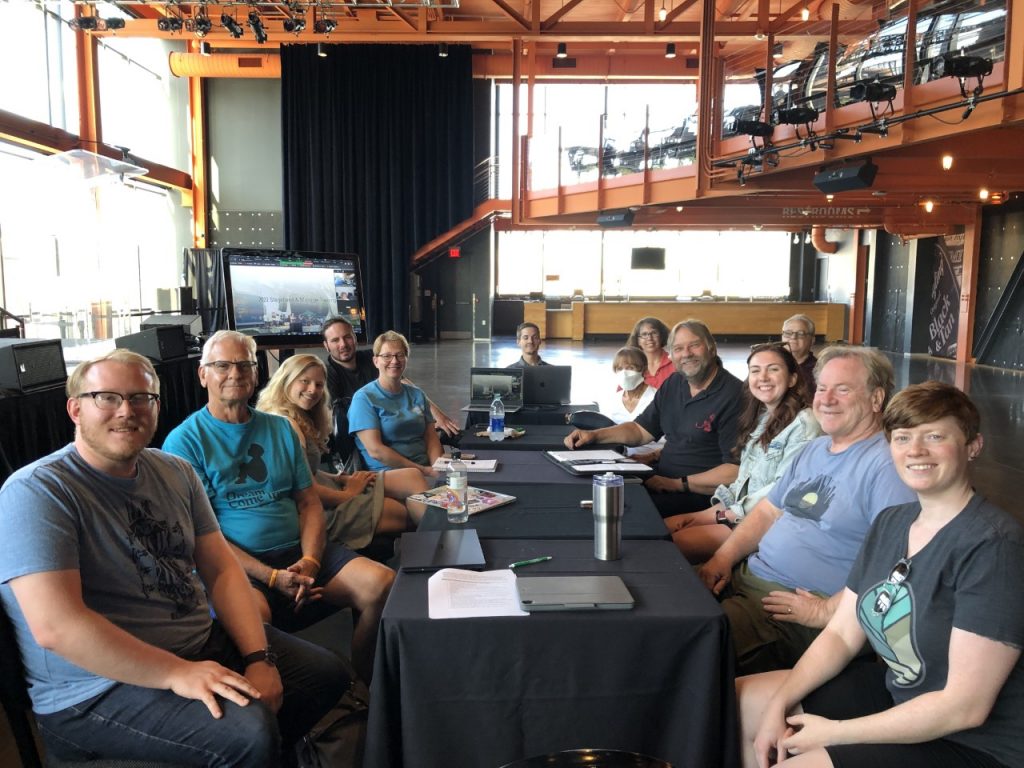 Meetings are underway to prepare for the nation's largest free music festival
BETHLEHEM, Pa.— Since the first Musikfest in 1984, Volunteers have been the heart, soul, and backbone of the festival. From logistics to the production aspects of the festival, volunteers make sure the festival runs smoothly, keeping musical acts on time and audience members happy. Every year volunteer groups are tasked with a unique set of responsibilities to help bring life to Musikfest whether it's building stages, assisting fans or tapping kegs of cold beer, every role is important for a successful and fun 'fest. Staging volunteers work tirelessly behind the scenes to corralling musicians, setting up each act's equipment, taking it back down and an extremely long list of other backstage mayhem managing details that makes over 500 performances in 11 days seem easy.
The staging volunteer committee is comprised of Cathy Little (Chair), Guy Spotts (Co-Chair), Bill Hubbard, Linda Galitis, Keith Simon, Dave Swartley, Ed Rosselle, Jack Thomas, Shelby Morgan, Keli Ray and Judy Yuhas as well as ArtsQuest staff members Michael Liiro, Shayna Super, Alex Davison and Cory Stevens.
"One thing that makes Musikfest different from a lot of other festivals is that we really stick to the schedule," said staging volunteer Keith Simon. "Simon has been volunteering at Musikfest for 24 years, originally starting as an usher for the headlining entertainment. This year Simon will have a full dance card, from being stationed at the new Stadtplatz to Americaplatz, and acting as house manager for the Wind Creek Steel Stage. "A lot of the bands that are new to Musikfest, you gotta kinda explain that to them once or twice. They appreciate the organization. The other thing is our willingness to help them. A lot of places, the bands don't get any help, they set everything up themselves. We are willing to give them a VIP experience."
As August approaches the team's excitement is starting to build. Many of the staging volunteers have come back to help every summer for over a decade. In fact, one of the volunteers started helping at Musikfest in 1985. This group's enthusiasm is contagious and their genuine passion for their role is one of the things that makes Musikfest so special.
"My favorite thing about Musikfest is when we have the evening ceremony because everyone has their mugs and they're all riled up for the show. Getting them to all chant to get the band come out is so much fun. If you say, 'Repeat after me,' they'll say whatever, it's the best," said Keli Ray. This will be Pembroke's 13th year as a festival volunteer. In her very first year, she helped as a stagehand at the former Americaplatz at Payrow Plaza. Now, more than 10 years later the stage is making its return as PNC Stadtplatz, where Pembroke will be volunteering, just like old times.
The staging volunteers are always looking for extra helping hands. Interested in joining in on this year's fun? Visit https://www.musikfest.org/support/volunteer/.