Yuengling & Martin Guitar Partner on Musikfest's Newest Performance Stage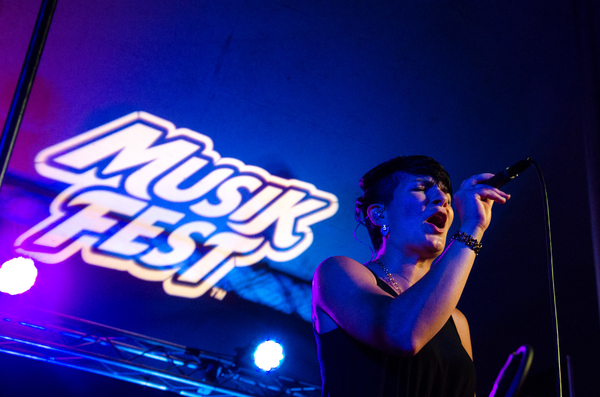 Martin Guitar Jam Stage at Yuengling Lagerplatz offers acoustic sets by festival performers & public open mic sessions
Two of Pennsylvania's most recognizable and iconic brands, Yuengling and Martin Guitar, are partnering this summer to expand the musical offerings at Musikfest, the nation's largest free music festival. The Martin Guitar Jam Stage at Yuengling Lagerplatz, the festival's 16th and newest performance stage, will feature acoustic sets by a number of festival artists, while also giving event attendees the opportunity to serve up their own performances during open mic sessions.
Launched last year to provide a new programming element for Musikfest attendees, Yuengling Lagerplatz is presented by the Pottsville-based D.G. Yuengling & Son Inc., the nation's oldest brewery, established in 1829. At Lagerplatz, guests can enjoy Yuengling Traditional Lager, Summer Wheat and other Yuengling beers; take part in fun games like jumbo Jenga and bean bags; and enter to win great prizes like Yuengling merch and tickets to Musikfest's hottest concerts.
This year, Yuengling has added to the experience by partnering with Musikfest and Martin Guitar to present more than 40 acoustic sets by festival artists. Among the many performers who will take the stage are Nalani & Sarina, twin sisters who recently won The Freshmen contest on mtvU with their video "Get Away;" country singer Erin Kelly; the female-fronted power-pop band Summer Scouts; and singer-songwriter Anthony Cubbage. Stop by on any given evening and you'll hear everything from folk and country to stripped down versions of rock and alt songs.
"We are excited to partner with Martin Guitar to create another entertaining experience for the anticipated million plus Musikfest attendees this year," says Tyler Simpson, Director of Marketing for D.G. Yuengling & Son Inc. "This enhanced Lagerplatz experience will be a "must see" venue at this year's festival. We hope everyone will stop by the open mic session at Lagerplatz for a Yuengling Traditional Lager and to try out the amazing Martin guitars."
Founded in 1833 by Christian Frederick Martin Sr., C.F. Martin & Company has called the region home for more than 180 years, dedicating itself to crafting the finest acoustic instruments and guitar strings. Two years ago, Martin started showcasing at Musikfest its guitars like the D-28 Dreadnought, the guitar of choice for legends such as Elvis Presley, The Beatles, Father John Misty, Jimmy Page and countless others, as well as smaller bodied models like the OM and 00, favored by Eric Clapton, John Mayer and Paul Simon. These world famous guitars will once again be at the festival, giving artists and attendees the opportunity to try them out.
This year, the Nazareth-based company is expanding the experience by giving members of the public the opportunity to win guitars by showcasing their talent at several open mic sessions, possibly becoming the next big Musikfest star. Individuals can register onsite for the open mic sessions by stopping at Yuengling Lagerplatz, and Martin will have several handcrafted masterpieces available that singers can use to accompany them on their favorite songs.
"The Martin Guitar Jam Stage is an interactive open mic where festival attendees have a chance to perform a song and be entered to win one of several guitars being awarded at Musikfest this year," says Chris Thomas, Director of Marketing at Martin. "We are always impressed with the amazing talent that would otherwise just walk on by. We've had some jaw dropping moments on the Jam Stage and we hope you'll join us."
The complete Yuengling Lagerplatz lineup is:
Aug. 4
7 p.m. Supermac (Rock)
Aug. 5
12-2:30 p.m. Martin open mic
3 p.m. Amy Jay (Pop)
4 p.m. Chamomile & Whiskey (Rock/Folk/Gypsy/Americana)
5 p.m. Carly Moffa (Acoustic/Country)
6 p.m. Swearingen and Kelli (Folk)
7 p.m. Above the Mendoza (Rock)
Aug. 6
12-2:30 p.m. Martin open mic
3 p.m. Jason McGovern (Folk/Pop-Rock)
4 p.m. Playing to Vapors (Rock)
5-8 p.m. Martin open mic
Aug. 7
12-1:30 p.m. Martin open mic
2 p.m. The Jess Novak Band (Pop)
3 p.m. Marie Danielle (Singer-songwriter)
4 p.m. Bill Valenti (Folk/Singer-songwriter)
5 p.m. Sara Ontaneda (Pop)
7 p.m. Pentley Holmes (Folk/Soul/R&B)
8 p.m. Razteria (Reggae)
Aug. 8
12- 2:30 p.m. Martin open mic
3 p.m. The Killing Floor (Blues Rock)
4 p.m. Brian Fitzy (Pop)
5 p.m. John Byrne Band (Celtic/Folk-rock)
6 p.m. All Types of Kinds (Alternative Folk)
7 p.m. Almond & Olive (Folk/Americana)
Aug. 9
12-3:30 p.m. Martin open mic
4 p.m. The Mosey Beat (Rock)
5 p.m. Copper Sky (Folk/Blues/Classic Rock)
6 p.m. The Rare Occasions (Rock)
Aug. 10
12 p.m. The Middle Ground (Alternative/ Pop-rock)
12-3:30 p.m. Martin open mic
4 p.m. Erin Kelly Band (Country)
7 p.m. Belle of the Fall (Acoustic/Folk)
8 p.m. Neil Grover (Classical)
Aug. 11
12-2:30 p.m. Martin open mic
3 p.m. Auralai (Folk)
4 p.m. Jessy Tomsko (Folk/Pop/Singer-songwriter)
5 p.m. Grapefruit Cannonball (Alternative Rock)
6 p.m. Nalani & Sarina (Pop)
7 p.m. Pat Foran (Rock)
8 p.m. Kayla Avitabile (Indie/Singer-songwriter)
9 p.m. Summer Scouts (Alternative/Indie)
Aug. 12
12 p.m. Sophie Serafino (Classical/New Age Instrumental/Pop)
1 p.m. Anthony Cubbage (Alternative/Folk)
1:45-2:45 p.m. Martin open mic
3 p.m. Callout (Alternative Rock/Hard Rock/Post-grunge)
4 p.m. Andrew Mark Schaffer (Folk)
5 p.m. Adam Jacob (Country/Singer-songwriter)
6 p.m. MAYVE (Alternative/Indie)
7 p.m. Friends at the Falls (Alternative)
9 p.m. Time Gap (Blues)
Aug. 13
12-1:30 p.m. Martin open mic
2 p.m. Jo Jo O and the Woods (Rock)
3 p.m. Julia Sommer (Singer-songwriter/Rock)
4-8 p.m. Martin open mic