ARTSQUEST UNVEILS NEW MUSIKFEST POSTER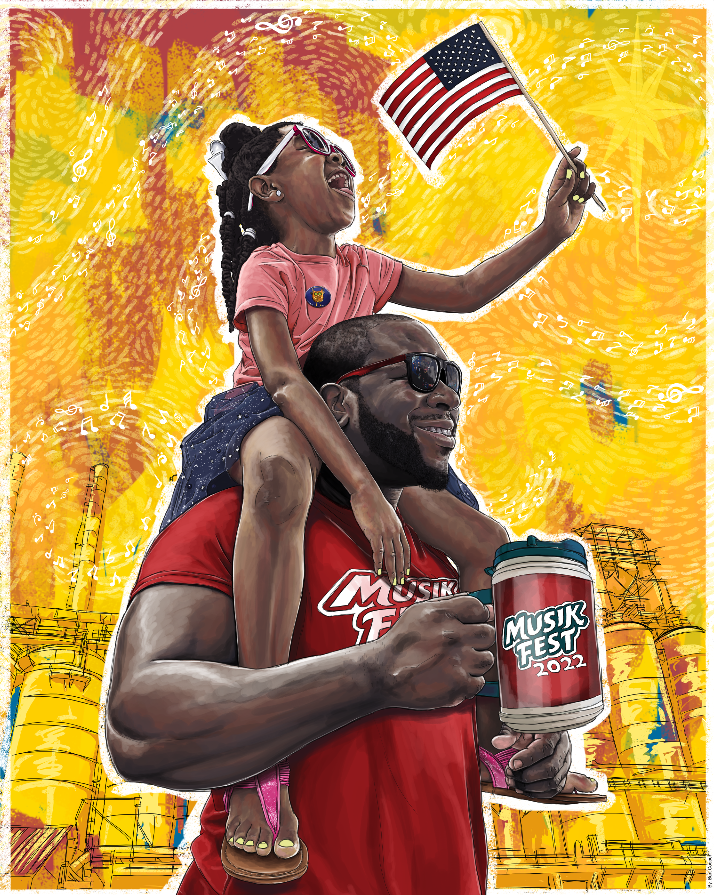 Fine artist Bart Cooper, a native of the Lehigh Valley, aims to bring a message of unity to 2022's Musikfest poster
BETHLEHEM, Pa. – Renowned contemporary artist Bart Cooper has created the 2022 poster for Musikfest, the nonprofit ArtsQuest's flagship festival. The artist hopes this piece, which depicts a father and daughter enjoying the festivities in front of Bethlehem's iconic SteelStacks, will inspire a sense of unity and inclusion.
"It is such an honor to be chosen as this year's poster artist," Cooper said. "I'm from the Lehigh Valley and I have been to Musikfest. I love the setting, there's something for everyone. I am very excited to present this piece and see how the masses receive it."
Cooper says at first, he was nervous to take on the challenge, but once he set a vision and approach, the piece really started to come together. The poster features a father and daughter enjoying the nation's largest free music festival, based on a real-life daddy-daughter duo who goes to Musikfest together every year.
"I decided to focus on the people, not the music or the performances," Cooper said. "The father and daughter may have different perspectives, but they experience the same joy and excitement together."
As part of his process, Cooper did a reference photo shoot before sketching and creating the mixed media piece with digital, original painting and acrylics. When you focus in on the father's sunglasses, you can see former Musikfest performers Black Violin playing on the Wind Creek Steel Stage. The festival's mascot Artie can also be found on a pin worn by the young girl.
"I wanted to recreate a breezy, summer day," Cooper said. "The piece has a nice warm atmosphere when you look at the intensities of the colors."
Cooper wanted to bring a warm vibe to this year's piece, which is highlighted in the color choices of yellows, slight oranges and pinks. For the sky, Cooper sought to create a windy vibe to showcase music in the atmosphere.
"We are honored to work with an artist of Bart Cooper's caliber," ArtsQuest's Lead Creative Juliann Masenheimer, who has overseen the development of the past four Musikfest posters, said. "We have been meeting virtually from afar throughout the past year. It has been so rewarding to see his vision come to life."
"ArtsQuest's mission is to provide access to exceptional artistic experiences to members of our community," ArtsQuest President and CEO Kassie Hilgert said. "This piece is the perfect bridge to connect fine art with the sights and sounds experienced at Musikfest throughout the last 39 years."
Musikfest is set for Aug. 5 – 14, 2022. More details will be announced throughout the year, including exciting opportunities with poster artist Bart Cooper. Visit musikfest.org for more information. Aside from Musikfest, ArtsQuest provides countless opportunities for the community to enjoy, year-round, including different musical, artistic, cultural and educational experiences on its campus at the SteelStacks and Banana Factory. To ensure the future of ArtsQuest, visit artsquest.org/donate.