BSI, Banko Beverage & Yuengling Encourage Musikfest Fans to 'Fest From Home' During 2020 Festival
Free Musikfest Yard Signs Available for Backyard Parties and Barbeques; ArtsQuest Also Unveils New 'FESTPacks for @Home Celebrations During Musikfest
BETHLEHEM, PA–As part of their continued partnership with ArtsQuest, BSI Corporate Benefits, Banko Beverage Company and Yuengling have come together to encourage the community to show its support for Musikfest and the nonprofit ArtsQuest by grabbing a Musikfest 'Fest From Home' Yard Sign to promote their backyard and @home Musikfest parties this year.
Fans are encouraged to tune in to Musikfest by watching the Virtual Musikfest concerts every evening with family and friends (safe social distancing applies) July 31-Aug. 9 starting at 7 p.m. A limited number of the free "Fest From Home" yard signs can be claimed on a first-come basis by visiting the Musikfest Food Vendors area on PNC Plaza at SteelStacks during Musikfest. Hours for the "Fest Food To-go Service" at SteelStacks are 4-8 p.m. July 31 and Aug. 3-7, and noon-8 p.m. Aug. 1-2 and 8-9. Fest From Home yard signs will be available from the Musikfest Street Team members stationed at the entrance to PNC Plaza.
"BSI is proud to continue our partnership with ArtsQuest by supporting Musikfest, now in its 37th year," says BSI Corporate Benefits Senior Vice President Vicki Doulé. We are looking forward to seeing "Fest From Home" Yard signs all over the Lehigh Valley as the community embraces Musikfest from their porches and backyards! We know that our support will help to ensure ArtsQuest is ready to welcome everyone when we can all 'fest together again."
ArtsQuest Offers New 'FESTPacks for Families and Parties 'Festing from Home
To help fans enjoy Musikfest from the comfort of their own home, ArtsQuest has also created 'FESTPacks, perfect for enjoying a delicious catered experience wherever you chose to 'fest.
'FESTPacks, offered in Italian or Southern BBQ themes, come with everything needed for a Musikfest backyard party or celebration. All packages are served in disposable containers and come with appropriate paper products and chafing dishes. All items can be picked up at ArtsQuest at a designated date and time arranged by the purchaser; minimum order size is 10 people.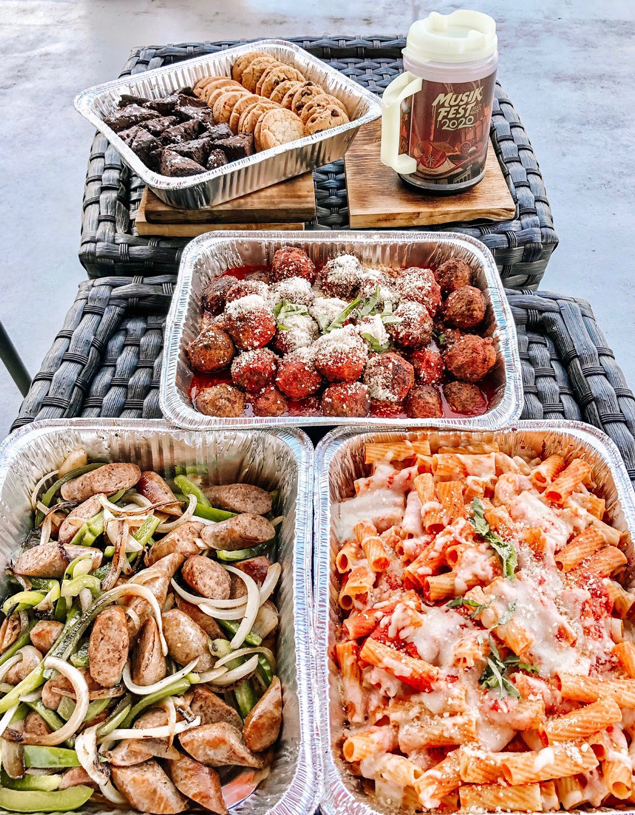 'FESTPack MENUS
ITALIAN RAVELLO ($29 per person plus taxes and admin fees; 10-person minimum)
Salads – Levy's Signature Caesar Salad
Campanelle Pasta Salad
Fresh Mozzarella, Roasted Plum Tomatoes, Basil and Julienned Cured Meats
Entrees (Choice of 2):
Italian Sausage, Peppers and Onions
Chicken Milanese
Cheese Lasagna with Marinara
Italian Meatballs
Sides (Choice of 1):
Penne with Marinara
Fettucini Alfredo
Baked Ziti Vegetables
Chef's Choice Seasonal Vegetable
Rolls and Butter
Desserts – Mini Cannolis and Seasonal Fruit Bowl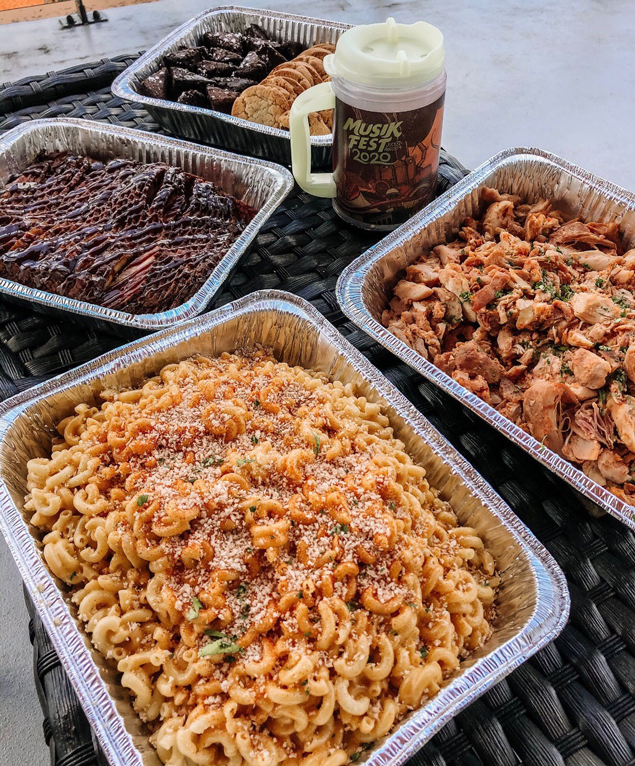 SOUTHERN BBQ ($29 per person plus taxes and admin fees; 10-person minimum)
Protein (Choice of 2):
Pulled Pork
Pulled Chicken
Beef Brisket
Sides (comes with both):
Macaroni and Cheese
Corn on the Cob
Includes Honey BBQ and Carolina BBQ Sauce, Cole Slaw, Tossed Salad with Balsamic, Ranch and Blue Cheese Dressing, House Made Spicy Kirby Dill Pickles, Rolls and Butter Desserts Cookies, Brownies and Seasonal Fruit Bowl.
FESTPack menus and order forms are available at www.musikfest.org/festpacks/ or by contacting ArtsQuest's Chelsea Andreadis at candreadis@artsquest.org or 610-297-7116.