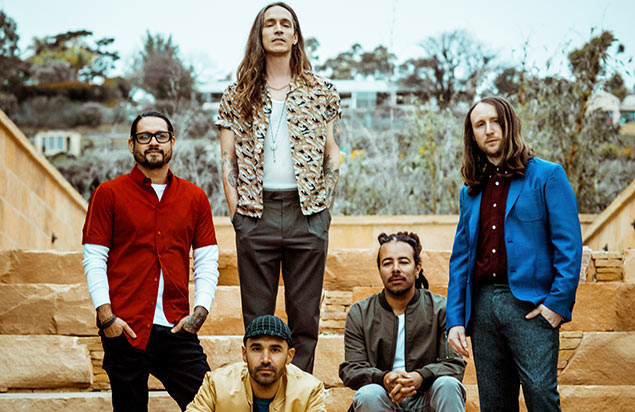 Incubus
with special guest JJ Wilde
Wednesday, August 7 · view days & times
Price: $59-$79 | Steel Terrace: $179
Venue: Wind Creek Steel Stage at PNC Plaza
·
*The Oasis Pass is an add-on upgrade and does not grant access to the Wind Creek Steel Stage ticketed concert
The Oasis Pass gives access to the Oasis area which includes a full cash bar, air conditioned restrooms and ONE parking pass for every TWO passes purchased. NO refunds.
Gates: 6 p.m. | Show: 7:30 p.m.
Novelist Henry Miller once wrote, "One's destination is never a place, but rather a new way of looking at things." Since their formation in 1991, iconic multiplatinum Los Angeles rock band Incubus have consciously and continually shifted their perspective with each subsequent album, preserving the spirit that initially drove them and simultaneously challenging themselves as artists and human beings. Their eighth full-length, the aptly titled 8 [Island Records], proudly upholds that tradition for the quintet—Brandon Boyd [vocals], Mike Einziger [guitar, piano, backing vocals], José Pasillas II [drums], Chris Kilmore [turntables, keyboards], and Ben Kenney [bass].
"As a band, we're collectively interested in challenging ourselves and hopefully finding new, innovative ways of writing music," asserts Boyd. "That ethos has kept things interesting for us."
It's also kept things interesting for listeners everywhere. By 2017, the band's sales exceeded 23 million worldwide, while landing four Top 5 debuts on the Billboard Top 200 and one #1 album. They've graced the stages of festivals everywhere from Lollapalooza and Air + Style to Download Festival and Pinkpop in addition to touring alongside the likes of Linkin Park, OutKast, Moby, Jane's Addiction, Queens of the Stone Age, and many more. After the release of 2015's Trust Fall (Side A) EP and a packed summer amphitheater tour with Deftones, the boys once again treaded uncharted territory. They collaborated with a dynamic talent behind the board as 8 would be co-produced and mixed by Skrillex [Justin Bieber, A$AP Rocky, Lady Gaga]. In January 2016, Boyd and Einziger holed up in a Venice Beach shack, building "Much of the musical framework in a weird man cave," laughs Boyd.
By fall, the five musicians regrouped to flesh out ideas, recording at Jim Henson Studios and at Einziger's personal studio. As the vision came into focus during early 2017, Incubus added another level by enlisting the perspective of longtime friend Skrillex for co-production and mixing. Einziger had spent the past few years, exponentially expanding his personal musical palette. Not only did he oversee production for The Internet's Feel Good and produce three songs for Tyler, The Creator's chart-topping "Cherry Bomb," but he also co-wrote Avicii's six-times platinum smash "Wake Me Up" and served as musical director and performer for a much talked-about 2016 GRAMMY® Awards performance of "Where Are Ü Now" by Skrillex, Diplo, and Justin Bieber. After lunch one day, Einziger played Skrillex some mixes, and "a whole new world opened up" as the producer added his magic to 8.
"It evolved organically out of my friendship with Skrillex," Einziger elaborates. "Incubus is all about friendship. We transferred the synergy of working together into what the band was doing. As we put the final touches on everything, Skrillex brought another level to the album."
As a result, the eleven tracks comprising 8 assemble a mosaic reflective of the band's current mindset. Unease translates to unpredictable guitar riffs that blur the lines between time signatures as cosmic rhythmic transmissions orbit around an epicenter of combustible emotion. Each lyric encodes a parable or what might be a hidden message. The first single "Nimble Bastard" leapfrogs from a rattling guitar snap into an anthemic refrain. "Loneliest" echoes with an existential rumination on solitude over an airy beat and hypnotic guitars. "Undefeated" struts along via a bombastic stomp before culminating on an uplifting chant, while the spacey "Familiar Faces" instantly enchants.
The soothing instrumental soundscape of "Make No Sound In The Digital Forest" illuminates their cinematic side with delicate chimes, simmering drums, and warbling tones. A dial-up modem signals the explosion of "Love In A Time of Surveillance" as the one-two punch of "No Fun" and "Throw Out The Map" tap into a tsunami of distortion and punk-y freedom. "Glitterbomb" represents the glorious push-and-pull of 8, teetering between heavenly harmony and a dramatic twinge.
8 arrives at a significant milestone for Incubus—releasing exactly 20 years since their major label debut S.C.I.E.N.C.E. landed back in 1997. A little older, a lot wiser, quite tighter, but equally ready to challenge themselves and rock music at large, Incubus change their perspective once more in 2017.
"All the time, I hear from fans that our music was the backdrop of their first experience with love or important in getting them through a hard time," says Einziger. "That's the highest compliment."
"When we finished 8, we were flooded with this wave of gratitude," Boyd leaves off. "The fact that so many people are willing to come on this weird ride with us is really humbling. We're filled with this sense of awe around it. We're very happy to share this record with everyone, and we hope they like it." — Rick Florino, March 2017
Price: $264
Wednesday, August 7 | 5:30-9 p.m.
Limited to only 6 students
This is a unique opportunity to go behind the scenes at Musikfest with Brian Hineline, who's photographed hundreds of concerts over the past 20 years for Rolling Stone, The New York Times, Time Magazine, Entertainment Weekly and other publications. Participants start off in our Olympus Digital Imaging Center learning tips and techniques from Brian about taking fabulous concert photographs. Then it's on to the festival grounds to shoot at the free stages at Musikfest, including behind-the-scenes candid's that the public doesn't have access to. Capping it all off, you'll work alongside Brian at Musikfest's Wind Creek Steel Stage media pit, photographing Incubus for three songs (no flash)!
All proceeds from this class benefit ArtsQuest's Arts Education Fund, which helps to support the 500 free concerts at Musikfest and ArtsQuest's educational programming for young people.
Media Partners
Schedule
Venue Information
Wind Creek Steel Stage at PNC Plaza
Musikfest
SteelStacks Campus (South Side)
Bethlehem, PA 18015
610-332-1300
map & directions