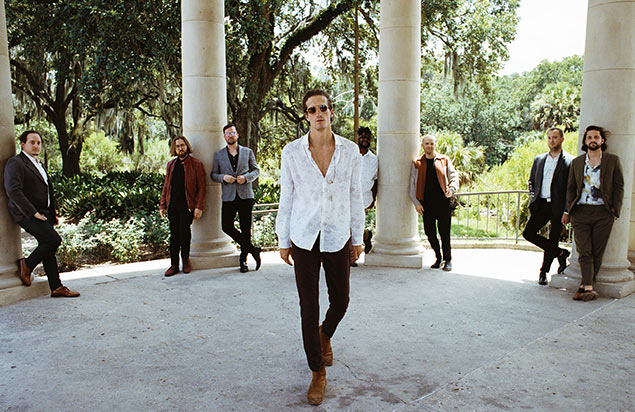 The Revivalists
with special guest SUSTO
Thursday, August 8 · view days & times
Price: $34-$64 | Steel Terrace: $179
Venue: Wind Creek Steel Stage at PNC Plaza
·
*The Oasis Pass is an add-on upgrade and does not grant access to the Wind Creek Steel Stage ticketed concert
The Oasis Pass gives access to the Oasis area which includes a full cash bar, air conditioned restrooms and ONE parking pass for every TWO passes purchased. NO refunds.
Gates: 6 p.m. | Show: 7 p.m.
Some people say luck is the intersection of hard work and opportunity. On their fourth full-length album and first for Loma Vista Recordings, The Revivalists chronicle, catalog, and capture an unbelievable ride where ten years of tireless hard work would be unexpectedly revved up by the wrongly dubbed "overnight success" of the gold-selling number one single "Wish I Knew You." Like any enduring band worth its salt, they reacted the best way possible to newfound popularity - by buckling down and turning up with an album chock full of tunes worthy of even greater success. It's the result of a trip that unassumingly commenced in 2008 with hundreds of underground shows yearly and culminated 10 years later with not only "Wish I Knew You," but three years of back-to-back sold out headline tours. In life, like rock 'n' roll, some questions get answered while others stay unanswered. Our personal backroads tuck, twist, and turn through ups, downs, and everything in between at light speed, sometimes without explanation or a moment for reflection. Mirroring the push-and-pull of the past few years, the boys—David Shaw [lead vocals, guitar], Zack Feinberg [guitar], Andrew Campanelli [drums], George Gekas [bass], Ed Williams [pedal steel guitar], Rob Ingraham [saxophone], Michael Giradot [keyboard, trumpet], and PJ Howard [drums, percussion]—deliver a bevy of anthems marked by moments of sonic complexity, celebration, and catharsis.
PHOTOPASS: The Revivalists Concert Photography
Price: $234
Thursday, August 8 | 5:30-9 p.m.
Limited to only 6 students
This is a unique opportunity to go behind the scenes at Musikfest with Brian Hineline, who's photographed hundreds of concerts over the past 20 years for Rolling Stone, The New York Times, Time Magazine, Entertainment Weekly and other publications. Participants start off in our Olympus Digital Imaging Center learning tips and techniques from Brian about taking fabulous concert photographs. Then it's on to the festival grounds to shoot at the free stages at Musikfest, including behind-the-scenes candid's that the public doesn't have access to. Capping it all off, you'll work alongside Brian at Musikfest's Wind Creek Steel Stage media pit, photographing The Revivalists for their first three songs (no flash)!
All proceeds from this class benefit ArtsQuest's Arts Education Fund, which helps to support the 500 free concerts at Musikfest and ArtsQuest's educational programming for young people.
Media Partners
Schedule
Venue Information
Wind Creek Steel Stage at PNC Plaza
Musikfest
SteelStacks Campus (South Side)
Bethlehem, PA 18015
610-332-1300
map & directions