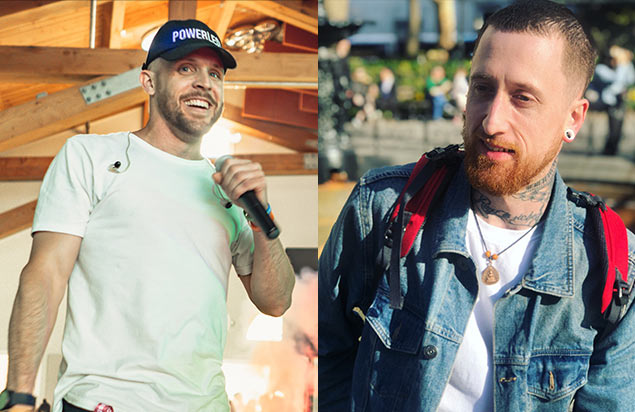 KC Makes Music & Jordan Meyer Band
Sunday, August 4 · view days & times
Venue: T-Mobile Plaza Tropical

FREE
KC Makes Music
Born into a family with musical roots that run deep on both sides, KC Makes Music was destined to find his niche in performing. At 31 years old, KC has nearly split his years living between the East and West Coast.
KC has been honing his lyrical skills for the past 15 years, but has recently made a sole vocation of creating music. His usage of different genres blend together showcasing his flexibility in musical expression. Overcoming addiction and mental health issues are a part of KC's story. The way he weaves his experiences into his lyrical content creates an optimistic vibe that most anyone can relate.
KC has been in the studio, writing, networking and expanding his knowledge of the business. He looks forward to continuing to express his rhetoric, both live and in the booth. As of November 10, 2018, "Powerless", his debut album dropped on all streaming services. In the album's first weekend of release, "Powerless," broke the top 100 on the ITunes Hip Hop Charts, peaking at #72.
Jordan Meyer Band
Jordan Meyer is a classically trained vocalist, and musician, with a soulful, pop-rock sound. He began creating music at the age of 5, and by age 10 was writing his own music & singing in a local theatre group. It was in this group where his passion for performance was born. Through the years he taught himself to play several instruments, earning him a reputation as a "One Man Band." Jordan's music is all self produced in his Connecticut recording studio. He plays and records every instrument in his songs, and even mixes/masters the final product.
His music covers topics such as mental health, substance abuse, love, and the ups and downs of life. His raw emotion & vulnerability have gained him notoriety as both a singer-songwriter, and advocate for mental health/substance abuse. Jordan's musical influences are gathered from several genres, giving him a unique sound that is hard to describe. Be on the lookout for a performance near you, as he is booking shows all over the country.
Schedule
Venue Information
T-Mobile Plaza Tropical
Musikfest
Main and Spring Streets (North Side)
Bethlehem, PA 18018
610-332-1300
map & directions