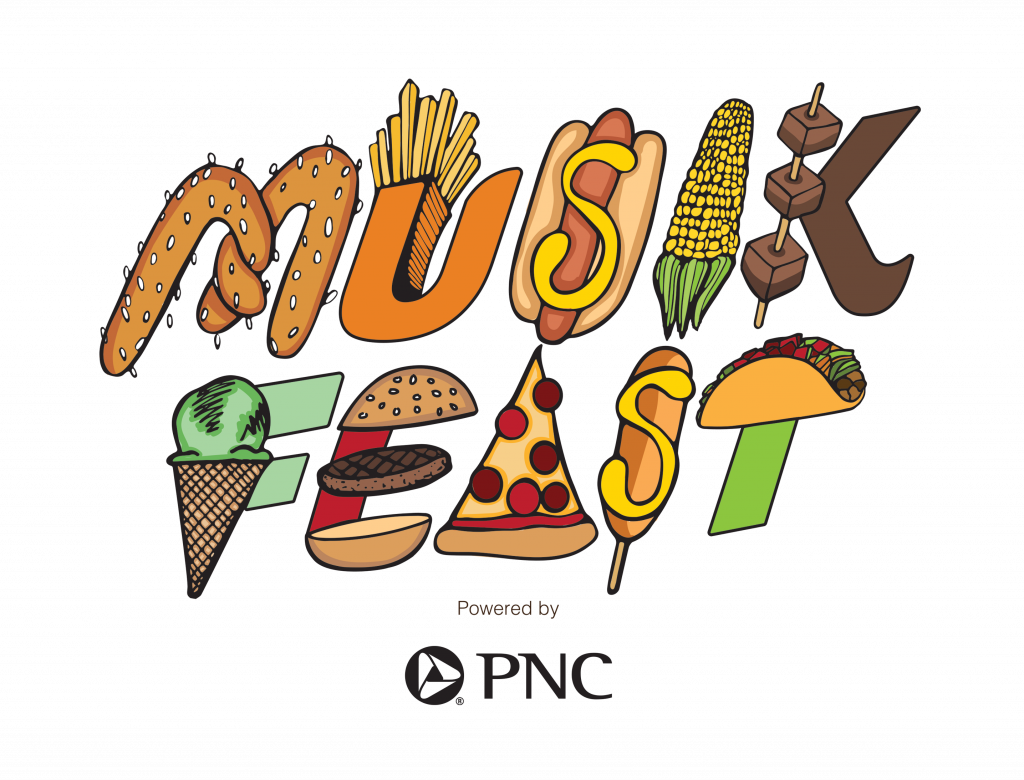 MusikFEAST 2022
powered by PNC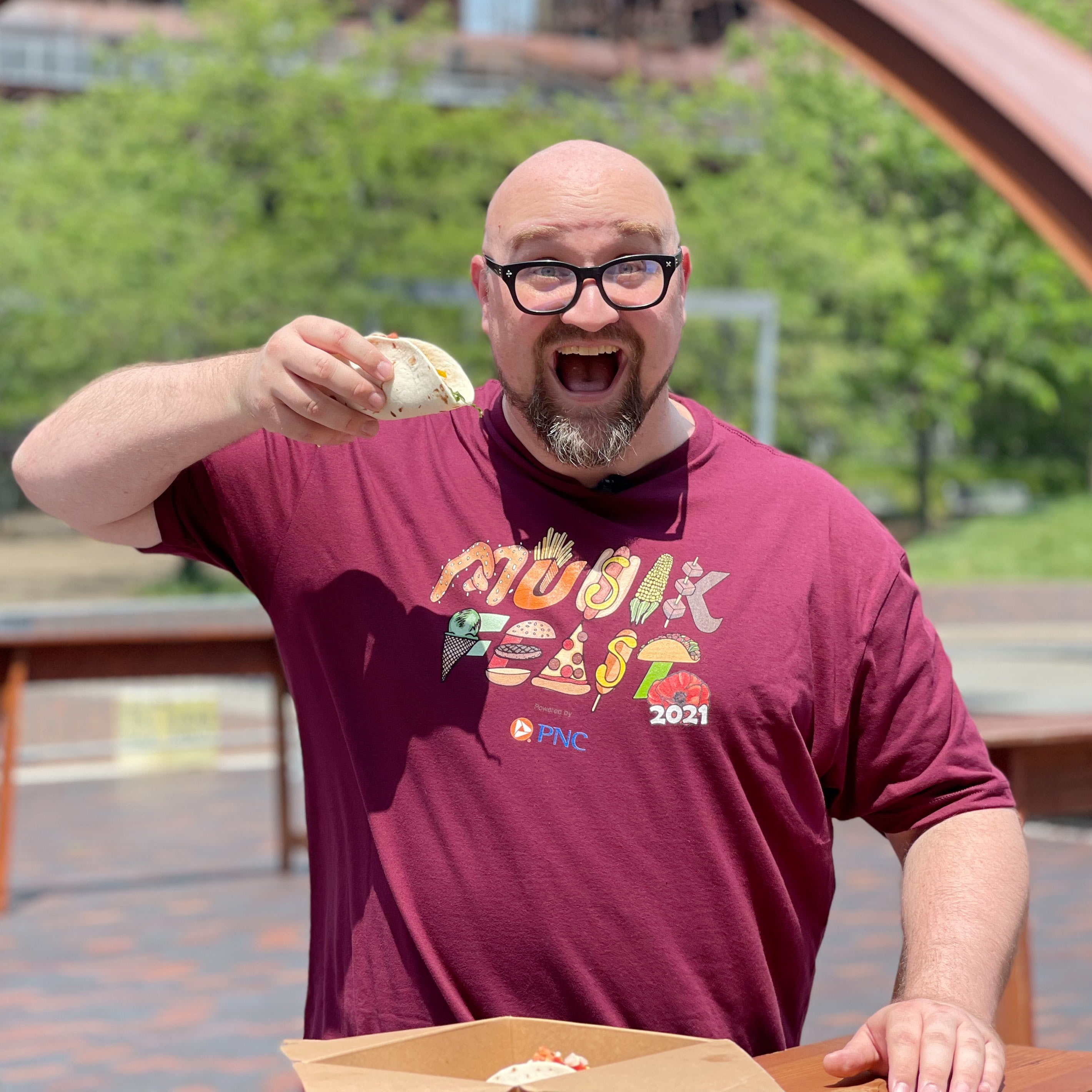 By: Jon Lunger
Sr. Director of Marketing, ArtsQuest
Working behind the scenes at Musikfest affords me the somewhat-unique perspective of getting to eat all my meals at the 'fest for 11-days straight. It's admittedly one of my favorite things in life, so you can imagine I was thrilled that our friends at PNC Bank green-lit another season of "MusikFEAST," the blog and video series in which I eat my way across the festival.
Check back to this page throughout the 'fest for my reviews of 'fest foods, so you can plan accordingly, to maximize every. single. calorie.
Eat well,
- Jon
Saturday, August 13th
Sherry's Crab Cakes are my favorite seafood item at the 'fest. Others are very good, but this MEGA crab cake sandwich is THE BEST!
Confession: I also had another gyro again tonight. I am very full.
Friday, August 12th
Was looking for a change up today, so I hit up Greek Street for their Vegan Gyro, which I had heard such great things about. Friends who recommended it to me - you were spot on! Great, great item, especially when you're looking for something substantial that won't weigh you down whilst 'festing!
Earlier in the day I chomped on one of my yearly staples, the Garlic Chicken on a Stick from Thai Jasmine at T-Mobile Plaza Tropical. Always great (and bonus points for being on a stick). Later in the day, I also had yet another Brown & White from the Fud Truck.
Thursday, August 11th
THEY'VE DONE IT AGAIN!
My friends at Cubano Xpress already serve up my all-time favorite 'fest sandwich - the Cubano BLT - and today they blew my mind and taste buds with another incredible culinary creation, their Chicano Chicken Sandwich!
Other notable calories consumed today included more French Toast Bites, some wonderful shrimp tacos from Harvest Specialty Catering at Martin Guitar Handwerkplatz, and some fresh-squeezed lemonade!
Wednesday, August 10th
Today I want to tell you about a delightful treat that took me completely off guard - the Dill Pickle Pierogies from Island Expressions.
I fancy myself a pierogi expert. It's one of my favorite family traditions, so I approach innovation in pieorgi flavors with extreme caution. That said, gosh darn it are these wildly good!
Not captured on video or in photos, late last night I also grabbed a lamb gyro from Greek Street and it hit the spot harder than anything I've had all 'fest - definitely recommend!
Tuesday, August 9th
History was made today. A new 'fest food has been forged by myself and the team at the Fud Truck - the "Brown & Wicked."
This secret menu item is a hot chicken sandwich TOPPED with a brown & roast beef sandwich. It is redonkulous. Ask for it by name and tell them I sent you!
BUT if you're wanting something a little less intense, I'd like to introduce to one of my absolute favs, the Van Pelt Hot Dog Co.'s veggie dog.
To be clear - EVERYTHING that V.P.H.C. is making is top notch (including this puppy). The veggie dog is my favorite sneaky way to get some veggies while 'festing!
Monday, August 8th
WHAT A DAY OF EATING!
I had my absolute all time favorite today, The Cubano BLT from Cubano Xpress (link is to last year's video of it).
Now... in the immortal words of Salt-N-Pepa (slightly modified):
Let's talk about tots, baby
Let's talk about you and me
Let's talk about all the good tots and the cheesesteak meat I eat
Let's talk about tots...
Sunday, August 7th
Let's talk about one of the world's most underrated sandwiches, the Monte Cristo. It's the perfect balance of sweet/savory - it feels somehow like a meal AND dessert, which in my book makes it a perfect 'fest food!
Swing by the ArtsQuest Center at SteelStacks for this yummy creation.
Today I also wolfed down some absolute CLASSIC items - specifically another Brown & White sandwich from the Fud Truck. We also shot videos for two MUST TRY items this year - Van Pelt Hot Dog Company's veggie dog and Sherri's Crab Cakes' Mega Crabcake Sandwich. Keep your eyes peeled for those videos in the next day or so!
Saturday, August 6th
We hit up two first-time food vendors today, and I'm pleased to report everything was quite delicious!
Started off with some Alligator Sausage on a Stick from New Orleans' Big Wil & the Warden (at T- Mobile Plaza Tropical). Their sausage is around 80% tail meat, with 20% pork to round it out with some more intense flavor. They're grilling 'em up and topping 'em with a remoulade sauce that really makes the dish sing!
Then for a sweet treat, we checked out the French Toast Bites (at Festplatz.
NO JOKE, THESE MAY BE MY ALL-TIME FAVORITE SNACK/SWEET TREAT AT THE FEST!
Plus, they offer unlimited toppings!
We had some microphone issues today, but don't let that distract from the food - both items are homeruns.
For the record - I also wolfed down an amazing Hot Chicken Sandwich from The Fud Truck on 1st Street at SteelStacks. Delightful! Hope to feature it in a video later this week!
Friday, August 5th
On this official opening day of Musikfest, I want to take moment to talk to you about dessert.
Those close to me will confirm, I don't have a big sweet tooth. That said, HOLY COW DOES THIS CHANGE EVERYTHING.
Do yourself a favor and make plans... literally make plans... to get one of these ridiculous bombolones (Italian filled donut) at the Marketplace on the Air Products Town Square (right outside the ArtsQuest Center) at SteelStacks.
Also on the menu this evening was the Cheesesteak Tater Tots from The Munchy Machine. That video is coming tomorrow. Spoiler alert, they're great and could feed a small army (yes I ate the whole thing). But more on that soon!
Thursday, August 4th - Preview Night
It's the official/unofficial start to this year's 'festivities - preview night at SteelStacks!
We start off strong today with The Foundry Burger, available at Palette Kitchen inside the ArtsQuest Center at SteelStacks.
This burger absolutely slaps! It's an 8oz Pat LaFrieda Beef Burger topped with applewood smoked bacon, fried onions, BBQ sauce, AND - the thing that ties it all together? That Boar's Head Smoked Gouda!
And don't worry - I also wolfed down my first Brown & White sandwich too!
Today's Total:
Foundry Burger- Palette Kitchen, ArtsQuest Center
Brown & White Sandwich - Fud Truck, 1st Street
Veggie Dog - Van Pelt Hot Dog Co., 1st Street
See you tomorrow! - Jon
Watch past year's videos
Check out our past seasons-eatings on YouTube:
Sponsored by: