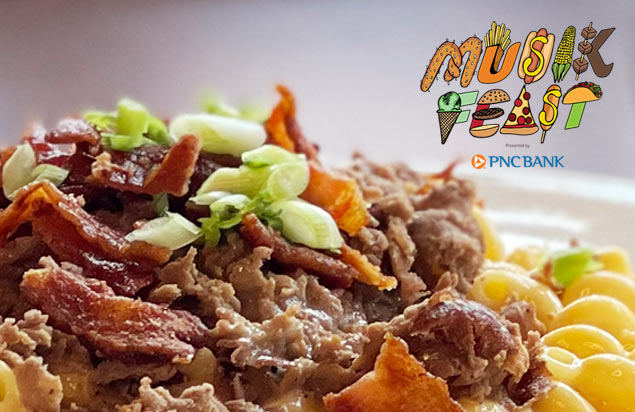 MusikFEAST 2021

powered by PNC Bank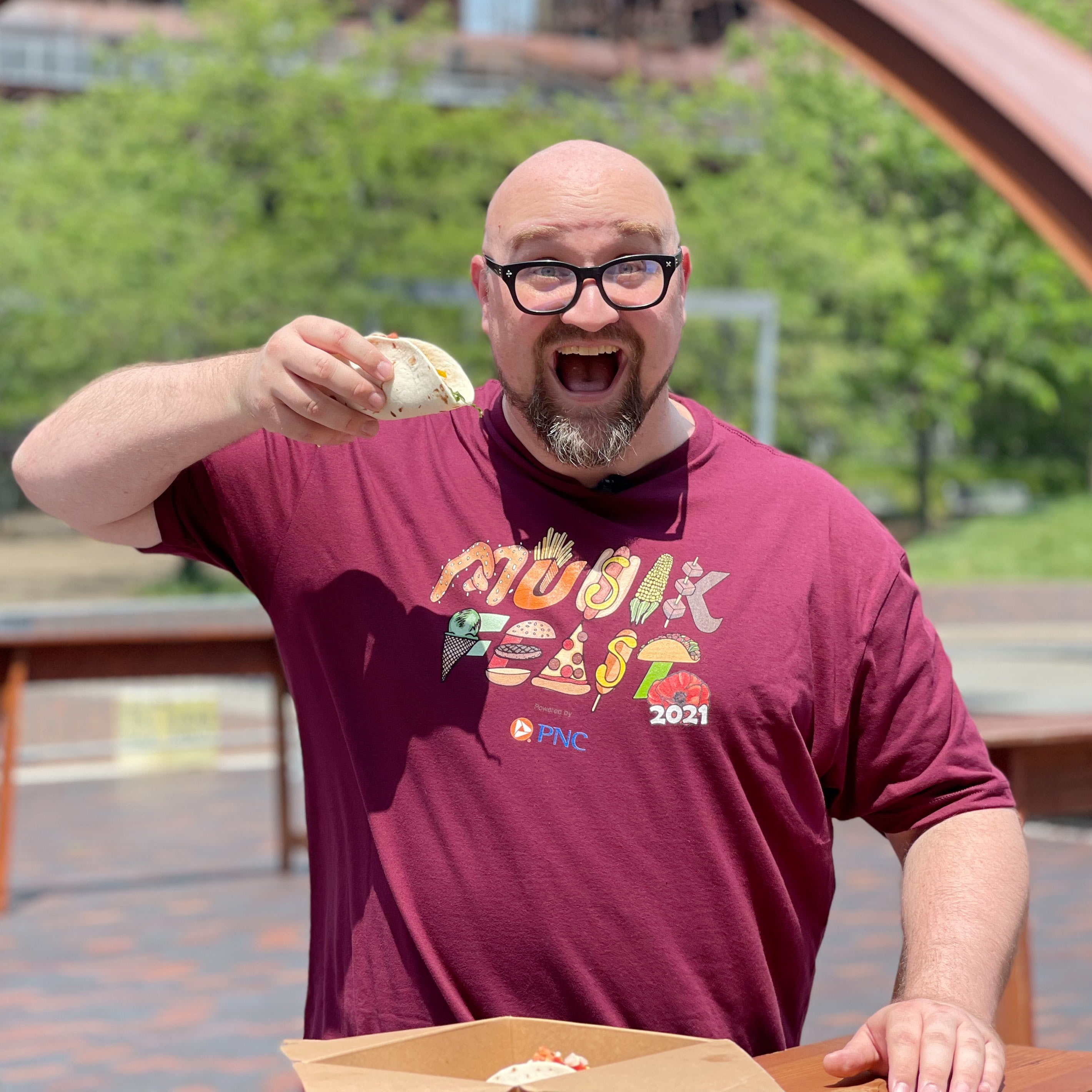 By Jon Lunger, Director of Marketing, ArtsQuest
Working behind the scenes at Musikfest affords me the somewhat-unique perspective of getting to eat all my meals at the 'fest for 11-days straight. It's admittedly one of my favorite things in life, so you can imagine I was thrilled that our friends at PNC Bank green-lit another season of "MusikFEAST," the video series in which I eat my way across the festival.
Check back to this page throughout the 'fest for my reviews of 'fest foods, so you can maximize every. single. calorie.
Sunday, August 15th
It's the final countdown!
One last day to 'fest, one last day to eat. We've hit day 11 of the 'fest which means you've got to come down and get all your final 'fest food eating done TODAY!
What am I going to eat today? Great question, imaginary blog reader!
Today I'm going to make sure to hit up my absolutely favorites this year. What is that going to be exactly? Some combination of any/all of the following:
Cubano BLT – Cubano Xpress
Southern Fried Chicken Sandwich – Palette & Pour
Tater Tots (w/ extra seasoning) – Van Pelt Hot Dog Co.
Maine Lobster Roll – Harvest Specialty Catering
Crispy Pork Belly Steamed Buns – Randevoo
Crab Cake Sandwich – Sherry's Crab Cakes
Traditional Lamb Gyro – Theo's Gyro
Mango Freezie – Dinky's
Crab Pearl Skewer – Island Expressions
If you need more recommendations, check out this year's playlist of MusikFEAST video food reviews.
Will I eat all of that today? Probably not, but heaven knows I'm going to try (and you should too!).
Thanks so much for following along on my culinary trip across the festival this year. Special thanks to the amazing folks at PNC Bank for making it possible. Enjoy the final day of the 'fest, y'all. Hopefully I'll see you down here!
Be well,
-Jon
Saturday, August 14th
Chicken Gyro – Bull & Bear
Located at Air Products Americaplatz on 1st Street
Did you really go to Musikfest if you didn't have a gyro? Debatable.
If you're looking for a twist on the classic, you've got to check out what the Bull & Bear are serving up. In addition to a fantastic vegan gyro (chickpeas are the star), they've got a chicken gyro option which is mightily delicious!
Juicy, shredded chicken wrapped in a wrap pita blanket, topped with all the proper fixins. You know the drill… the gyro is an all-time great sandwich for a reason, and their chicken version is a perfect summer treat.
Friday, August 13th
Let's Recap What We've Eaten So Far!
First and foremost, I need to remind you we're at the start of the 'fest's final weekend. All you culinary warriors out there need to start planning to maximizing your 'fest eating for these next three days!
To start, you can watch all our video reviews here.
Not everything I eat across the 'fest makes it's way into a video… there are only so many hours in the day. That said, just because there isn't moving pictures and audio to capture those items, it doesn't make them any less delicious.
Here's my quick list of delicious items I've devoured off camera at the 'fest (in no particular order):
4 Brown & White Sandwiches – The Füd Truck
Crab Pearl Skewers – Island Expressions
Freezies – Dinky's
Impossible Burger – Mack Truck Stop
Crab Mac &amp Cheese – Sherry's Crab Cakes
Yucca Fries – Cubano Xpress
Krainerwurst – Karl Ehmer's
Lobster Mac & Cheese – Harvest Specialty Catering
Island Noodles w/ Chicken – Island Noodles
Strawberry Lemonade Frozen Smoothie – Island Expressions
Funnel Cake Fries – The Füd Truck
You have my personal recommendation and stamp of approval on all of those fine, fine foods. Happy eating!
Thursday, August 12th
Emmaus Hot Chicken Sammy – The Füd Truck
Located on 1st street, outside the Wind Creek Steel Stage at PNC Plaza
Yooooooooooooooo, this chicken sammy is redonkulous. An absolute must try for any serious Musikfest foodie.
Even if you don't think you like spicy food, you're going to love this bad boy. It's not going to blow you away with heat, but it is going to blow you away with deliciousness.
They're dipping perfectly fried chicken breasts into an IPA-based, homemade hot sauce (think sweet & spicy wings) and then finishing with pickles, lettuce and a touch of mayo. The whole thing rests beautifully on a throne of brioche and currently cracks my personal top-5 all-time favorite Musikfest foods.
Well done, Füd Truck. Well done indeed.
Veggie Dog – Van Pelt Hot Dog Co.
Located on 1st street, outside the Wind Creek Steel Stage at PNC Plaza
First things first – ALL of Van Pelt's amazing gourmet hot dogs are incredible. Mad crazy toppings abound, each one perhaps tastier than the last. I truly mean it.
That said, against all odds, my favorite on their menu? The veggie dog! It's a Fieldroast frankfurter topped with a summer slaw that's dressed with a Dijon red wine vinaigrette and sprouts. This dog is sooooooooooooo tasty, the toppings so crunchy and flavorful… it's a sneaky way to get some veggies into your 'fest-diet and it doesn't way you down in the heat.
Wednesday, August 11th
Crispy Pork Belly Steamed Buns – Randevoo
Located on Provident Bank Main Street
The beauty of simple food is that there's nowhere to hide. Every part of a simple dish needs to bring it's A-game to the table.
That's exactly what we have here. Steamed buns. Crispy, thick pork belly. Cucumber. Hoisin Sauce. That's it. 4 components that come together to make a gosh darn party in your mouth.
Full Disclosure: I was losing my voice when we filmed this video because I yelled too loud in the comedy show I was in the night before, so don't let the tone of my voice under cut how good the buns are. They goooooooooooood.
Garlic Chicken on a Stick – Thai Jasmine
Located at T-Mobile Plaza Tropical
Is it really Musikfest if you don't eat meat on stick?
Portable and delicious, Thai Jasmine is grilling up one of my favorite "on-a-stick" items at the 'fest this year. Two thighs are marinated in a special garlic sauce and grilled to perfection and skewered for maximum portablity. It's just the right touch of garlic, so the meat is sweet and not too intense.
Apparently I forgot how to eat (and also, still have no voice) for this video. You can probably do a much better job than I did… and you should, because this is a great 'fest snack!
Tuesday, August 10th
Frango Churrasco – Simply Skewered
Located at Guardian Life Insurance Company of America Zinzenplatz
Grilled chicken slathered in a lemon garlic cilantro sauce, served up with rice and beans? Sign me the heck up.
The best part of this bowl of deliciousness is how bright and light it is. In a sea of fried foods, this grilled masterpiece brings freshness to the party and you know what? It can totally hang with the best of 'em. You gotta get it!
An Update on My Favs of the 'Fest
In case you missed it, the Cubano BLT from Cubano Xpress is now my all time favorite 'fest food, just barely edging by the Brown & White Sandwich from The Füd Truck.
Truth be told, the match-up is VERY close, and I love them both so very much. To have two world-class sandwiches at the 'fest – one on the North Side and one at SteelStacks – is truly a thing celebrate.
PRO-TIP:
When getting the Cubano BLT, don't sleep on the yucca fries and sofrito dipping sauce.
When getting the Brown & White, don't sleep on the perfect fried hand-cut fries.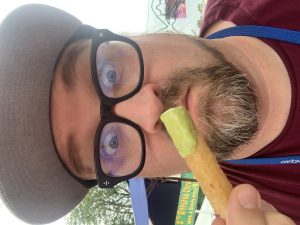 Yes, this picture is sideways. No, I'm not going to fix it.
Monday, August 9th
Maine Lobster Roll – Harvest Specialty Catering
Located at Martin Guitar Handwerkplatz
Is this the most luxurious menu item at the 'fest? Quite possibly.
So fresh and so clean, there are few sandwiches in this world more perfectly balanced than a Maine-style lobster roll, and Harvest Specialty Catering is doing it right.
Just a touch of mayo in their lobster salad, so it compliments the natural sweetness of the meat without overpowering it.
You deserve to eat this, so treat yo'self.
Sunday, August 8th
Cubano BLT – Cubano Xpress
Located at T-Mobile Plaza Tropical
If you've been following along over the years, you'll know that my favorite 'fest food of the last decade has been the Brown & White Sandwich.
Well, intrepid 'fester, there's a new title holder… The Cubano BLT made by the fine folks at Cubano Xpress.
Not only is this incredible culinary miracle my new, all-time favorite 'fest food, it has also earned the honor of being my all-time favorite sandwich. No lie.
You take the best parts of a classic Cubano – roasted pork, salty ham, and swiss cheese and then you throw crispy bacon, lettuce, and tomato on top. It doesn't stop there though. Before they press it, melting the cheese and grilling it to perfection, they top it off with sofrito.
I'm struggling to find words, because nothing I can come up with comes close to doing it justice. Even better? It's massive and easily sharable.
Saturday, August 7th
Chicken Tacos – Hotel Bethlehem
Located inside… well, yeah, Hotel Bethlehem
I learned something that changed my life forever, and you can learn it too.
Tacos + Fries = Heaven.
Hotel Bethlehem is serving up absolutely incredible chicken tacos and pairing it with some of the best fries I've ever had in the Lehigh Valley. And it works. And I love it. And I think you will too.
These tacos are everything you want/need from a taco. Freshness, rich flavors, a perfect combination of textures… by themselves? Fantastic. Paired with those crispy golden potato-boys? Out-of-this-world.
You're welcome.
Mango Freezie – Dinky's Ice Cream
Located at Air Products Americaplatz on 1st St.
Hey vegan friends! The Dinky's Freezies are like light and fluffy vegan milkshakes. They're so good, I pounded mine before I could take a picture and suffered from mild brain freeze (because I am a child who cannot be trusted to feed himself responsibly).
Here's the deal. They take three scoops of water ice (Mango, Blue Raspberry, Cherry, or Strawberry Lemonade) and blend it up with almond milk. Then you drink it and be happy.
10/10, do recommend.
Friday, August 6th
5 Cheese Build-Your-Own Mac & Cheese – Town Square Market
Located on the Air Products Town Square at SteelStacks
Question: What is better than cheese?
Answer: When 5 cheeses combine their deliciousness
This might be the most absurdly-delicious-but-somehow-not-fried food at the 'fest. Super cheesy and super customizable, this entry into the "food as big as my head" category is officially a must-try this year. I recommend sharing with a loved one, if for no other reason, so you can continue eating more things while you're 'festing! Note: the insanity in the video is a double order. That said, the single order is still massive.
Thursday, August 5th – Preview Night
Chicken Tinga Tacos – Palette Kitchen
Located inside the ArtsQuest Center
And we're off! The eating has officially begun with two tantalizing chicken tinga tacos from the Palette Kitchen inside the ArtsQuest Center at SteelStacks.
These bad boys are maaaadddddd tasty and when I say that I'm going to be eating my body weight in them this year, I am being 100% genuine. These tacos are filling but also on the less-heavy side, making them perfect for those toastier days at the 'fest.
The Brown & White Sandwich – Füd Truck
Located on 1st Street at SteelStacks, outside of the Wind Creek Steel Stage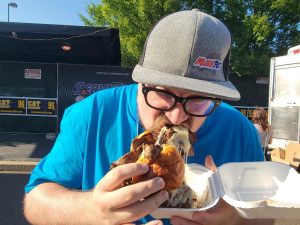 The Brown & White is my favorite sandwich of all time. I'm not being hyperbolic, it's my #1.
Sliced roast beef top with white cheddar and grilled onions is piled high atop a slightly sweet brioche bun. The magic that ties it all together? Garlic aioli.
My long-standing personal record of Brown & White sandwiches consumed over 11 days of Musikfest is 13. Oh, to be young again.
A few years back I was invited to learn how to make this hand-held perfection. It was one of the best days ever.
Sponsored by: